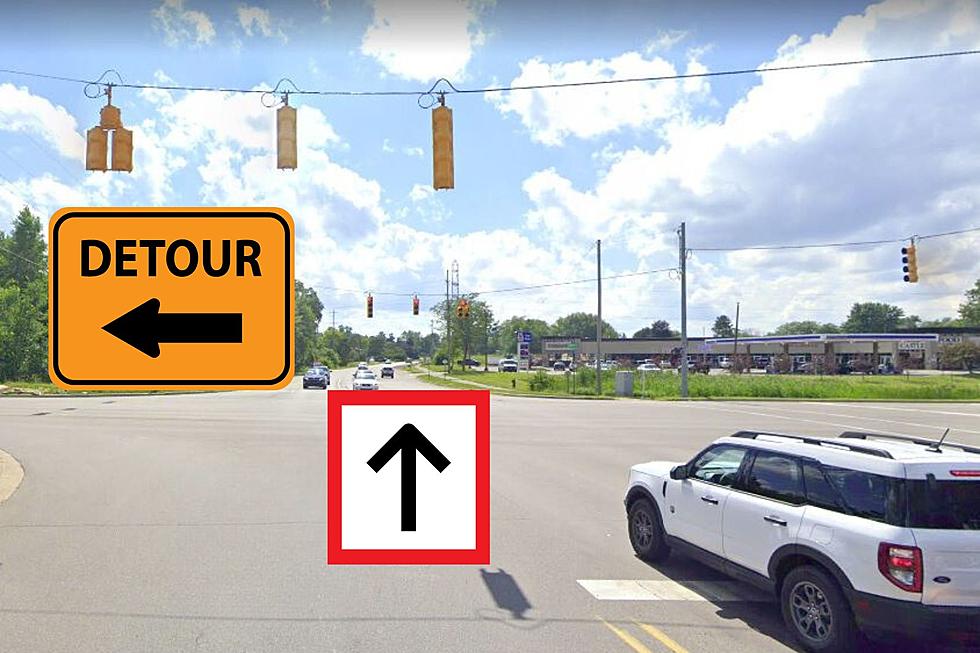 Will Grand Blanc Road Construction Be Completed Before School Starts?
Credit: Google Maps, Canva
Grand Blanc area drivers have been enduring road construction along Grand Blanc Road from Dort Highway to Porter Road for a couple of months now.
How much longer until the project is finished?
See Also: New Roundabouts in Genesee County in 2023.
Grand Blanc Road Reconstruction
I spoke with Grand Blanc Township Clerk, Maria Brown, about the new development on Grand Blanc Road near Thornridge and Brick Street and she volunteered an update on Grand Blanc Road. Brown said she tells people to expect completion by November.
Genesee County Road Commission set a target date for mid-October. Truth is, if we keep getting heavy rainstorms, that could easily delay the project until November. And that's why Brown cautions folks to think later and be pleasantly surprised if it's completed earlier.
Grand Blanc Road Detour
During this project one lane of traffic is maintained for westbound drivers only. (For the directionally challenged, like me... say you were driving from Downtown Grand Blanc toward Fenton Road by taking Grand Blanc Road. That's westward.)
A Popular Genesee Cty Lake Gets New Name...Again
Grand Blanc Road Detour
Genesee County Road Commission has the eastbound detour posted for drivers:
Dort Highway to Cook Road.
Cook Road to Fenton Road.
That means you'll deal with roundabouts near I-75, too. Headed to Downtown Grand Blanc? You could also take Fenton Road to Hill Road. Hill to Saginaw Street and head south.
Of course, with school starting soon, that means you'll need more time for drop off, pick-up and adjusted bus routes until completion.
Creasey Bicentennial Park Access
Fans of the park will want to plan trips wisely -- turning left from Grand Blanc Road might take as long as driving one lane of slow traffic (west) to turn right. If you want to avoid Grand Blanc Road for park access, use the back, Reid Road entrance near GB West Middle School.
What Does Premium Outlets in Birch Run, Michigan Look Like Today?
Michigan's most legendary outlet mall opened in 1986, located just off I-75 approximately halfway between Flint and Saginaw. The mall was originally named Manufacturer's Marketplace/Prime Outlets at Birch Run.
Michigan Lakes With Weird or Creepy Names
Lakes Around Michigan with Names that Sound Strange, Creepy or Like a Horror Movie
Best Tacos Around Flint and Genesee County
These are the most mouth-watering tacos around Flint and Genesee County. Some hidden gems are mixed into the list of long-time, popular Flint favorites. This is officially a taco bucket list.