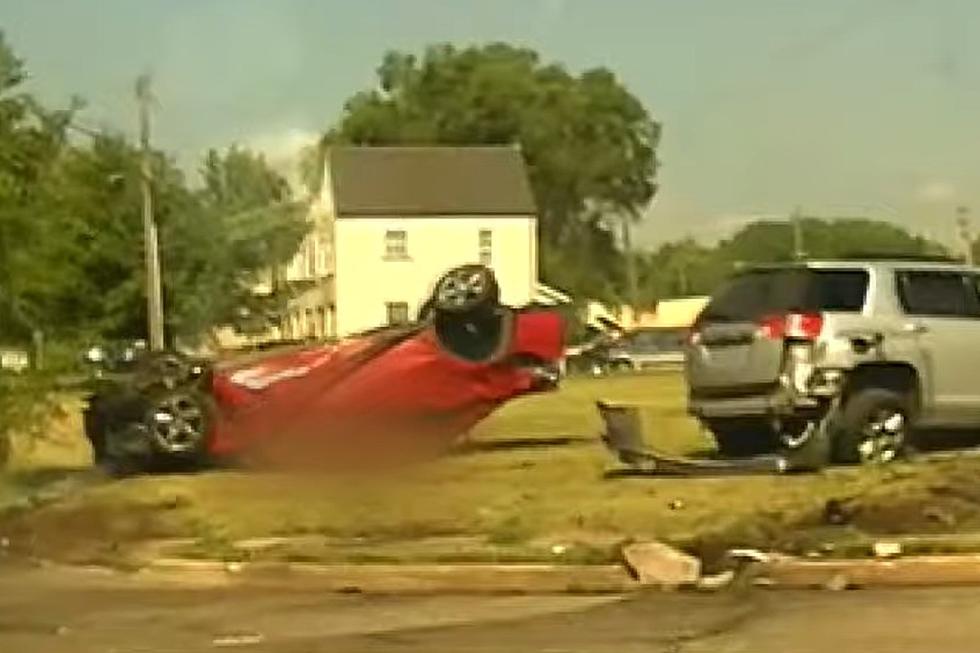 Oakland County Cops Lift Car Off Woman to Save Her Life [VIDEO]
Fox 2 Detroit via YouTube
Take a look at the video below as Oakland County police officers lift a car that had flipped over, trapping the woman underneath.
The driver, who was not wearing her seatbelt, was pinned under the vehicle after being hit by another driver who was running from the police. Her 2-year-old son -- who was properly restrained in the vehicle -- was hanging upside down in his car seat but luckily was not injured.
What are the Details?
The crash occurred Thursday (6/10) morning at the intersection of Rundell and Edison in Pontiac, according to Detroit's WJBK-TV. The man driving the silver GMC Terrain was running from police when he crashed into the red vehicle, occupied by the 24-year-old woman and her toddler.
The woman was partially ejected from the vehicle and trapped under it with one leg sticking out, according to Oakland County Sheriff Michael Bouchard.
Deputies arrived on the scene but quickly decided that they didn't have time to wait for an emergency vehicle to extract the woman. The sheriff credits the quick-thinking officers for lifting the vehicle off the woman.
"They realized this was life and death, she's underneath the car, they couldn't wait for any kind of wrecker assistance, and the jaws of life probably wouldn't even be functional," Bouchard said. "She didn't have the time to wait so they got as many bodies there as fast as they could, lift the car, and pull her out."
.The woman was taken to a local hospital where she was listed in critical condition.
The driver of the vehicle that hit her fled the scene but was caught shortly thereafter.
Watch the Videos Below
The first video below is the news story, detailed by WJBK-TV. The second video below is raw footage of the incident.
UP NEXT: 25 Best Burger Joints in Michigan
See the Must-Drive Roads in Every State