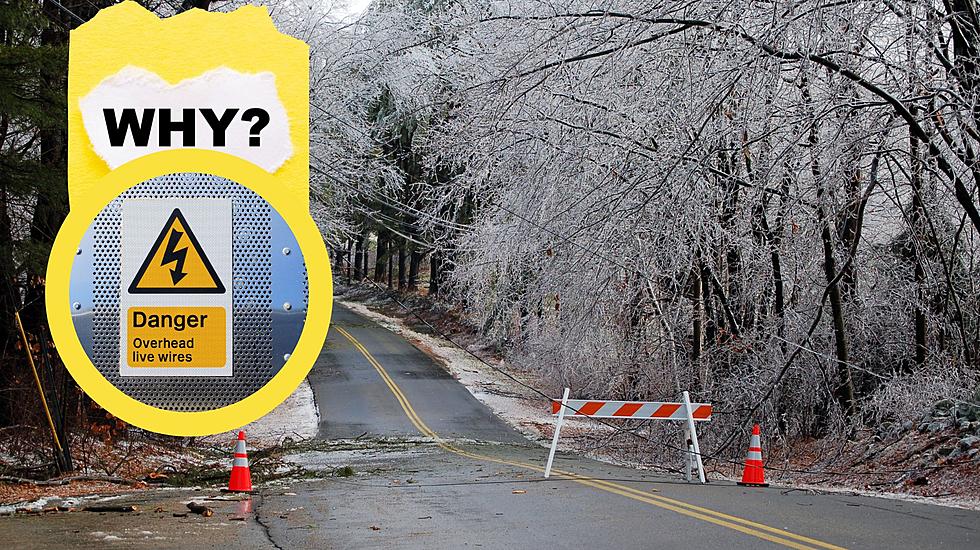 Hi, We're the Problem: Stop Planting Trees Under Michigan Power Lines
Credit: Canva, TSM
During winter 2022-23 Lower Michigan saw a couple of major ice storms. It doesn't take much ice accumulation on trees to wreak havoc. It gets heavy, quickly. Branches can only handle so much until they snap. Then, they fall on power lines. So, why (in your higher power's name) do humans continue to plant trees directly under power lines? Especially in Michigan?
Caution: overhead wires... unless you're planting trees
The recent ice storms left around a million Michiganders without electricity for 10+ days (in some cases). It's not just ice, but severe thunderstorms and tornado activity that causes issues, too. That's a LOT of downtime for:
businesses,
home medical equipment,
refrigerators,
furnaces,
sump pumps
schools,
internet,
phone charging, etc.
Those reasons (and others) are exactly why it doesn't make sense to allow planting trees directly under power lines. According to Consumers Energy trees causing lines to come down is the number one cause of power outages. The company did 7,100 miles worth of "forestry trimming and maintenance" around its lines in 2022.
A common sense fix for trees and power lines
Depending on the location, telephone poles can be 30 to 80 feet tall.
If you're going to plant trees or, knock a few feet off the total height to accommodate line placement and plant the appropriate tree or shrub that won't grow into them.
Or, for the electric company, check the maximum height of the tree line before ordering poles.
Related: DTE & Consumers Energy customers to receive automatic credits for lengthy outages.
Why aren't we burying power lines underground?
While trimming helps reduce outages, it also makes the landscape look like a series of Pac-Man shaped trees. Not exactly aesthetically pleasing to the "curb appeal" crowd. MLive did an extensive report in December 2021 stating how much safer it is to bury lines underground. It results in fewer outages. (Unless you're in my Grand Blanc Township neighborhood...our lines are underground, but the rest of our area "on the grid" isn't. You lose power randomly in addition to stormy conditions.)
So, what's the problem? Consumers Energy stated it would cost over a $600,000 per mile to move lines underground in rural areas and $1.3 million per mile in cities. (I suggest moving them underground after they're fallen by storm or tree damage, but that's me.) Even then, it doesn't mean water damage won't cause issues as underground lines age, etc. In short, there isn't a perfect solution.
Not planting trees directly under power lines or using taller poles is another tool we should add to the "toolbox."
Epic Michigan Willy Wonka Ice Sculpture Wins The Top Prize [PICS]
Willy Wonka Ice Sculpture, Giant Willy Wonka Ice Sculpture, Willy Wonka and The Chocolate Factory, Michigan Ice Sculptures, Award Winning Ice Sculptures
These Weather Memes Are Pure Michigan
These Michigan weather memes are the best of the best.
See Pictures From the Tornado That Devastated Gaylord, Michigan
A rare tornado ripped through the small Northern Michigan town of Gaylord on Friday. The twister left at least one person dead, more than 40 injured, and a trail of destruction to property.