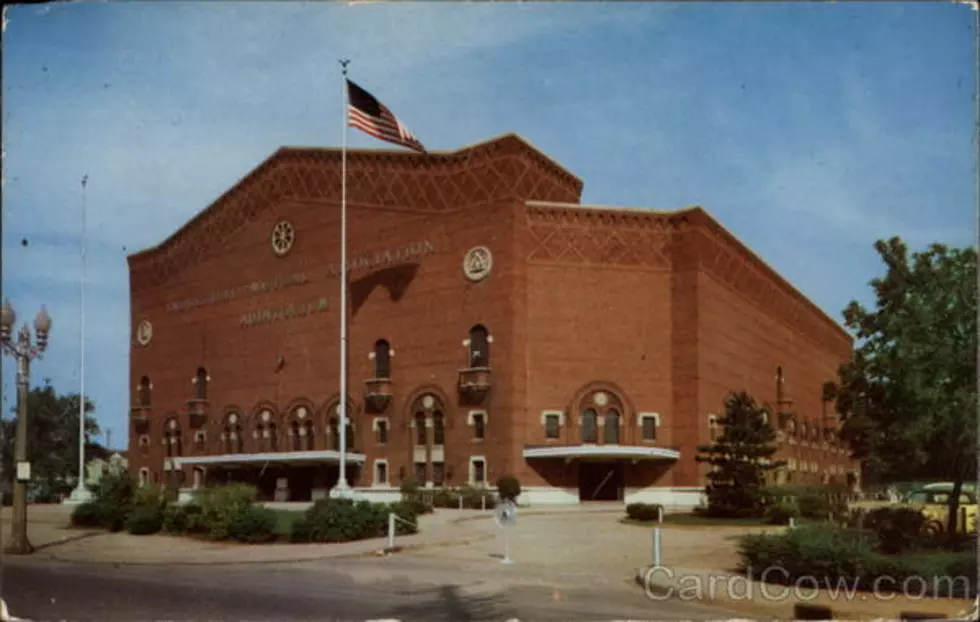 Remembering The Grand Opening Of AutoWorld
cardcow.com
July 1984 was a monumental moment in Flint history!  AutoWorld was opened to the public for the first time.  You could see a real, working V-8 engine, walk "Saginaw Street" and buy things from shops.  You'd even here from the "ghost" of Flint's Founder fur trader Jacob Smith.
Getting to ride the carousel back in the day was completely lost on me.  I didn't realize (or remember) it was an original carousel from a defunct Flint park -- entirely restored.  I remember going with my dad and sister... somehow ended up buying a string of pumpkin Halloween lights.
Former WJRT/ABC 12 reporters Karen Gatlin (then, Karen Owens-Gatlin) and Chuck Ferrell were live for a TV special -- walking viewers through the grand opening, behind the scenes looks and history of how it came to be.  Even an interview with former Flint Mayor James Sharp touting how much of a draw AutoWorld would be for tourism and how we'd need to get used to the traffic because that meant success (in so many words).
Check out this video tour of the Grand Opening of AutoWorld
AutoWorld had restaurants of its own "The Sawmill," "Sausage Works" and a really good Fudge Shop.  The Bryant House was the full-service "fancier" sit-down place to dine  -- plus, nearby Windmill Place would offer dining options, too.  During the grand opening, Water Street Pavilion was just being built -- now owned by University of Michigan Flint.  Don't forget -- it even had an IMAX theater!
Life-long Flintstones might remember Exit 8A on I-475 was the AutoWorld Exit or "Stewart" and "Broadway."  Now, that exit is Robert T Longway Blvd.
Of course, SixFlags AutoWorld would close just a few months after opening... and re-open only on weekends.  Then, close again/open again... you get the idea.  There was even a proposal to make it a casino (which in hind site, would have been a big draw).  AutoWorld closed permanently in 1994 and was demolished (implosion) in early 1997.  The city of Flint gave that land to University of Michigan-Flint which, in-turn, built the "William S. White Building on the property.
Check out more from around Michigan
Abandoned Detroit Zoo
Remember the Belle Isle Zoo? Sadly the property has been neglected - and all but forgotten - since its closing in 2002.
WARNING: Under no circumstances should you enter this property. By doing so you risk bodily harm and/or prosecution for trespassing on private property.
Barge 129 Discovered in Lake Superior 120 Years After Being Shipwrecked
A barge that was shipwrecked by bad weather 120 years ago was discovered at the bottom of Lake Superior by a team working for the Great Lakes Shipwreck Historical Society.
Lego Obsessed Home Outside of Michigan On Market for $250K Blocks & All
Lego Lovers welcome home! This home in Kenosha, Wisconsin is a Legoland frenzy from room to room. Currently, on the market for $250,000, the house is a colorful block-by-block masterpiece paying homage to the famous plastic toys. Look inside this 3 bedroom, 2 bathroom bungalow that is every kid's dream come to life.
An interesting note is a finished basement with not one but two rec room areas & also a workshop with a steel entry door, 2 layers of drywall, denim insulation & green glue soundproofing-perfect for a man cave, workshop, or sound/music studio. Take look!