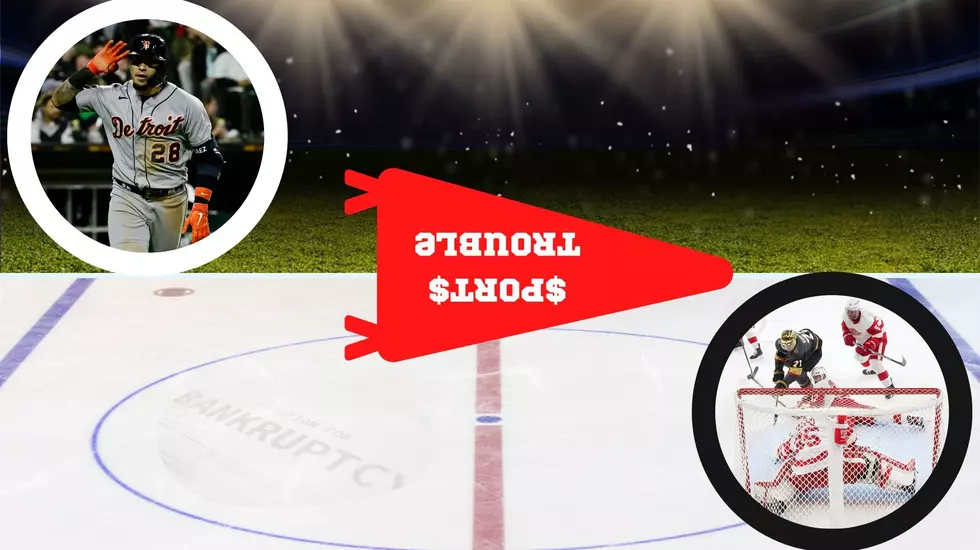 Michigan Sports Fans Want to Know What's Up With Bally Detroit?
Credit: Getty, TSM, Canva
"Shake-ups" always happen in the sports world. Coaches get fired. Players get sidelined. GMs are blown out and ownership changes. It's rare the way we watch our favorite teams is shaken & stirred as much as it's going to be in 2023.
What's happening to the way we watch our favorite teams in Michigan?
A lot. Stay with me for a second -- I'll walk you through the volatility, quickly.
Remember Fox Sports Detroit (and FS-insert-city/region-name-here)? Well, it was formed in 1996 by News Corp.
At some point it was merged with 21st Century Fox
March of 2019 Disney purchased 21st Century Fox/Fox Sports included. Fox Sports and all of its regional networks were required to be sold off in the transaction.
Sinclair broadcasting (owns a bunch of TV stations) bought Fox Sports from Disney, using the Fox Sports (regional-name-here) until a partnership with Bally Sports was completed and rebranded by the end of 2019.

(Sidebar, remember Bally Gyms that went bankrupt? Not sure why the "Bally" name was a go-to, but that's me.)
Now, Crain's Detroit Business is reporting Bally Sports Detroit ownership (the entire network) is preparing for bankruptcy, Chapter 11 which is debt reorganization, not complete failure. This has big implications.
What happens if Bally Sports Detroit and Bally Sports Networks doesn't pay it's debts?
Networks pay $10s of billions for rights to air & stream games. And TV providers pay networks a boatload of money to air the network games, etc. Fans will still get the games -- team ownership and leagues won't let it go away. That said, they won't be getting the millions of dollars paid quarterly, annually, etc. during the re-org either.
Popular Detroit Weather Man Retires After 40 Years
Teams not receiving those millions will have to figure out player salaries, long-term contracts for coaches, etc. That's going to shake up future team spending or cause some renegotiations.
Much of the pain in traditional broadcast rights fees is due to cord cutting. (How did the TV company that purchased Fox Sports, NOT know that?)
A few funding groups are already on standby to start buying the company. Teams and Leagues may end up being partial or total owners of regional networks, in lieu of payment.
Streaming has changed the game in Michigan and the country.
Bally Sports Detroit/Network isn't the only change happening. It's widely predicted ESPN will be spun out of Disney to be its own subsidiary or sold off to completely new ownership this year, according to FOX Business.
The possibility to directly stream ESPN via the app, entirely live, instead of deal with other providers is worth planning for, according to MarketWatch. (Note: ABC/Disney also owns 2/3's of Hulu with NBC Universal owning the remaining third.)
No matter what happens, the show... and games must go on. True fans will always find their favorites.
Look Inside Kid Rock's Former Detroit Home
Kid Rock's former Detroit mansion is stunning inside and out. The beautiful home, located at 9090 Dwight St. in Detroit, comes with a custom boathouse and a fabulous downstairs home theater, bar, and dining area.
And the famous Michigan rocker even left behind a couple of American flag pillows and a bunch of his 'Badass Beer.'
Flint + Saginaw's Most-Popular TV Anchors - Where Are They Now?
A lot of highly talented people have sat behind the anchor desks at the area's TV stations.
We're taking a look at some of the area's most popular news, weather, and sports anchors who have visited our homes electronically and then moved on.
Can You Believe Michigan Loves Curling So Much It Has 9 Clubs?
Curling Clubs from all around Michigan
13 Michigan Restaurants Featured On TV's 'Man vs Food'
13 Michigan Restaurants That Have Been On 'Man vs Food' TV Show