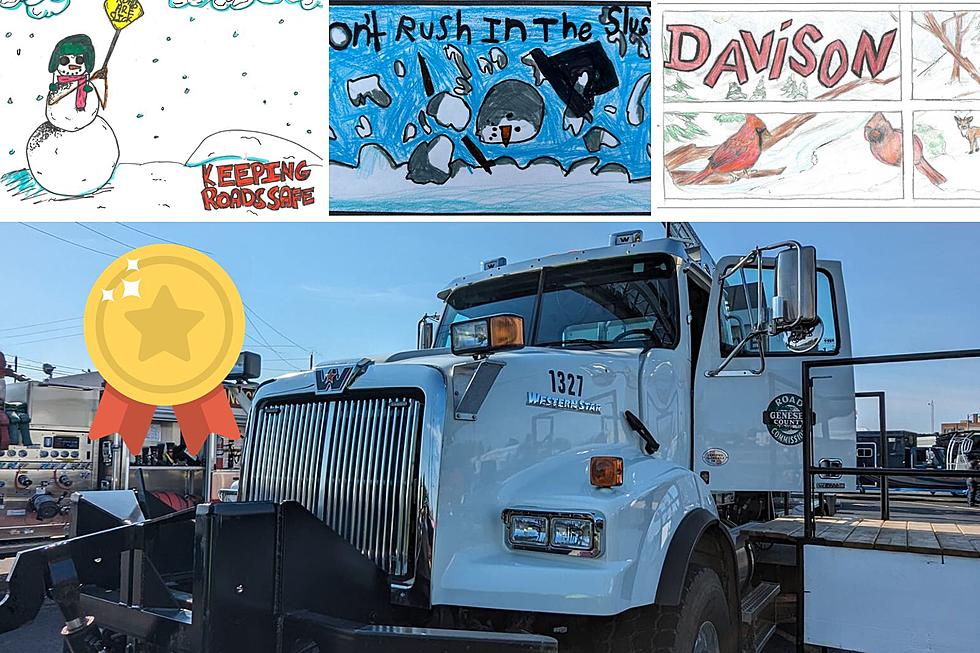 So Cute: 3 Genesee County MI Schools to Have Student Artwork Painted on Snowplow
Credit: Genesee County Road Commission Facebook, Canva
When people around Flint hear Genesee County Road Commission they think "oh no, not more construction," "fix my potholes," or "please plow my road."
Well, this is a creative & fun story about GCRC.
See Also: Michigan's Oldest Candy Store in Bay City is Over 100 Years Old... and Growing.
Paint a Plow Contest
This year, Genesee County Road Commission asked students all around Genesee County to draw and color pictures that might be painted on the side of a snowplow.
Pretty cool, right?
12 area schools had students from elementary through high school submit their work.
The community was invited to vote and comment which helped to choose three winners.
Winning Paint a Plow Artwork in Genesee County, MI
Three students from our area were chosen to have their artwork, literally, be painted on a plow.
Here are the winning designs.
There's a bunch of proud parents, friends and other family in Genesee County, for sure.
This writer is partial to the snowman that was... plowed. Even the top hat went flying off.
These local schools had winning submissions.
The winning student artwork came from three schools in the area.
Atherton Community Schools
Grand Blanc Community Schools
Davison Community Schools
It's worth noting, the contest was open to all Genesee County Schools. Many didn't have any participation.
See, this really was a good, positive story that didn't involve construction projects or feet of snow being removed from area roads. And a great way to get students interested in future trade work, if that's their thing.
Just beware, construction season is ending, and it only means one thing... winter is coming.
Michigan's 299 Snowplows Get the Cutest Names Ever
The Michigan Department of Transportation has revealed the winning names assigned to each of its snowplows throughout the state.
Here they are, sorted by region.
Can You Believe Michigan Loves Curling So Much It Has 9 Clubs?
Curling Clubs from all around Michigan
Michigan Lakes With Weird or Creepy Names
Lakes Around Michigan with Names that Sound Strange, Creepy or Like a Horror Movie