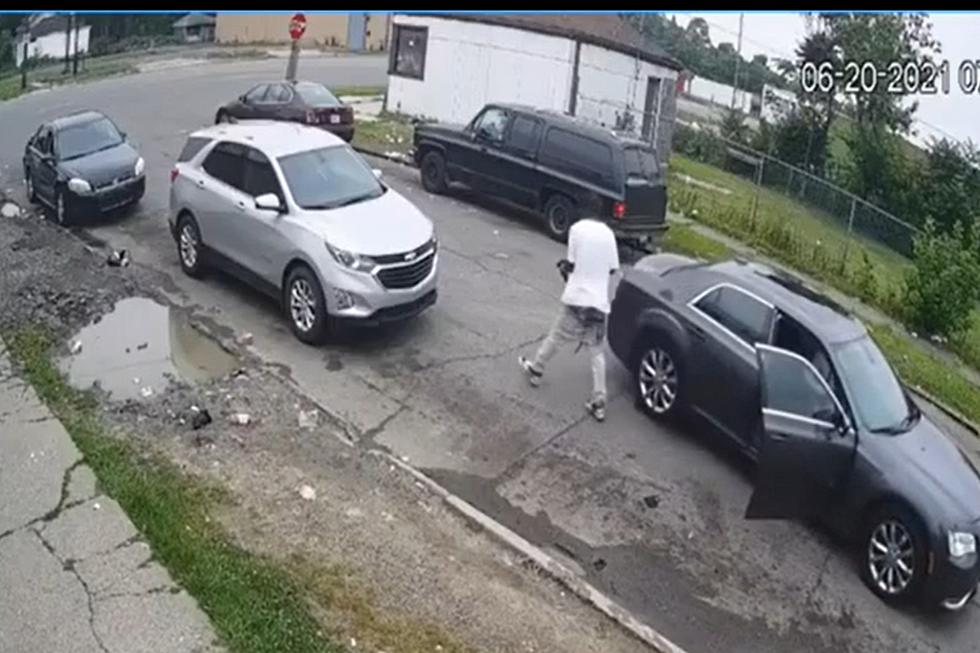 Detroit Cops Release Surveillance Video of Gunman Firing Into SUV [VIDEO]

Click On Detroit | Local 4 | WDIV via YouTube
I wish I could offer a solution for the gun violence that seems to be plaguing many metropolitan areas including Detroit. Unfortunately, Flint is finding itself in essentially the same situation, as Flint's Juneteenth celebration was underscored by violence when a 19-year-old woman wound up dead after shooting at a Flint police officer.
What can be done to stop stories like this?
Father's Day turned ugly in the Motor City as a gunman fired several shots into an SUV, injuring two men and an 11-year-old boy. The entire incident was captured on surveillance video, which has just been released by Detroit police.
The horrifying video is below.
The incident, which occurred Sunday (6/20) morning at about 8:00 shows a car pulling into what appears to be an alley near St. Mary's Street and Plymouth Rd. on the west side of Detroit. The video clearly shows the gunman jumping out of the passenger side of a Chrysler 300 and firing several shots into the nearby Chevrolet Suburban. The man with the gun then got back into the car as it sped off.
The victims are a 33-year-old man and his 11-year-old son along with another man in his 30s.
Detroit Police commander Arnold Williams expressed his frustration with rampant gun violence that seems to have plagued the city of Detroit.
"Right now, people should celebrating Father's Day and what we have is a father and a child in the hospital with gunshot wounds," Williams tells WXYZ." We have an issue with gun violence in this city that is just ridiculous."
The victims were taken to an area hospital where they are reported to be in stable condition.
The gunman has yet to be identified.
17 Michigan Children Have Gone Missing Since January 1, 2021
17 Children Have Gone Missing in Michigan Since January 1, 2021
LOOK: What are the odds that these 50 totally random events will happen to you?
Stacker
took the guesswork out of 50 random events to determine just how likely they are to actually happen. They sourced their information from government statistics, scientific articles, and other primary documents. Keep reading to find out why expectant parents shouldn't count on due dates -- and why you should be more worried about dying on your birthday than living to 100 years old.