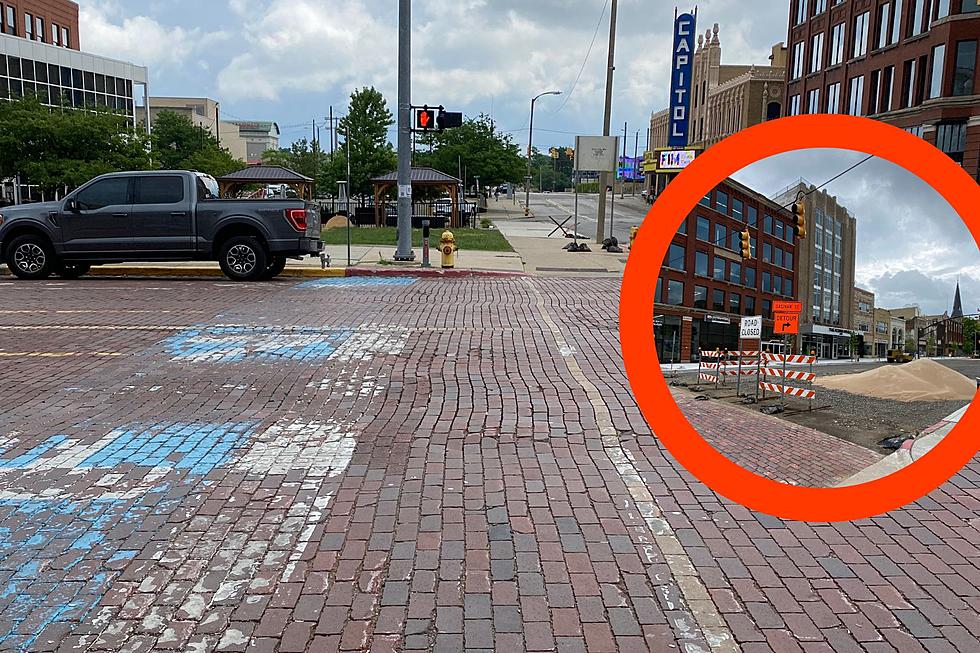 Are They Making Progress on Saginaw St, Flint's New Bricks? [PICS]
Credit: Nate Reed, Canva
We first reported the Flint, Michigan brick replacement construction project back in April. While it was originally supposed to happen last year, it made more sense to wait and do water main replacement and sidewalk upgrades all at once.
Why rip it up twice and make traffic awful, right?
How many bricks are part of Saginaw Street in Downtown Flint?
Before this project, nearly 1,000,000 bricks made up the historical section of Saginaw Street. After this project, it's not clear how many fewer will be in place. Intersections will no longer be brick. Brick-stamped concrete will be used, which will allow for better wear and easier access to underground utility repairs when necessary.
Upgrades along Saginaw Street in Downtown Flint
It isn't simply a brick replacement project. Things above and below ground will see changes, too.
Most of the sidewalks will be replaced.
Crosswalks will be upgraded all along Saginaw Street in the Downtown area.
Water main replacement(s).
Concrete intersections (formerly brick).
Here's a look at the before and after, so far (and many more pics of the progress, changes, below):
Imagine a much smoother driving surface on the right. For the history buffs, like me... as many of the original bricks as possible are being used in the resurfacing project.
When is the last time the bricks in Downtown Flint were replaced?
Nearly 87 years have passed since the bricks on Saginaw Street had a major overhaul. That's 1936-ish if you're not a mathematician. Bricks were first used in Downtown Flint in 1898. Can you imagine driving a horse & buggy on something other than dirt, back then?
Now Open: Spectacular Spudz New Downtown Storefront
There has been a lot of social media chatter about bricks being set only on sand and how awful that would be (again) -- as you'll see in the pictures below, that's not the case. Sand is used in the project, but not as the base surface. Whatever they're using requires a steamroller to flatten, before the thin layer of sand, then bricks.
New Bricks on Saginaw Street in Downtown Flint, Michigan
Flint's first bricks were installed during horse & buggy times in 1898. They were taken up in 1936 to place concrete below and replaced. Maintenance has happened through the years, but never an entire overhaul in nearly a century.
Flint Area Restaurants at Least 50 Years Old
These Genesee County Restaurants Have Been in Business Over 50 Years.
Looking Back at the Last Days of Beloved Playland in Flint, MI
Playland originally started in Flint off Pasadena. Then, in the early 1980s moved toward Grand Blanc at 5290 Dort Hwy in Flint right behind Grand Blanc Township Offices. It was closed for good in 2018.