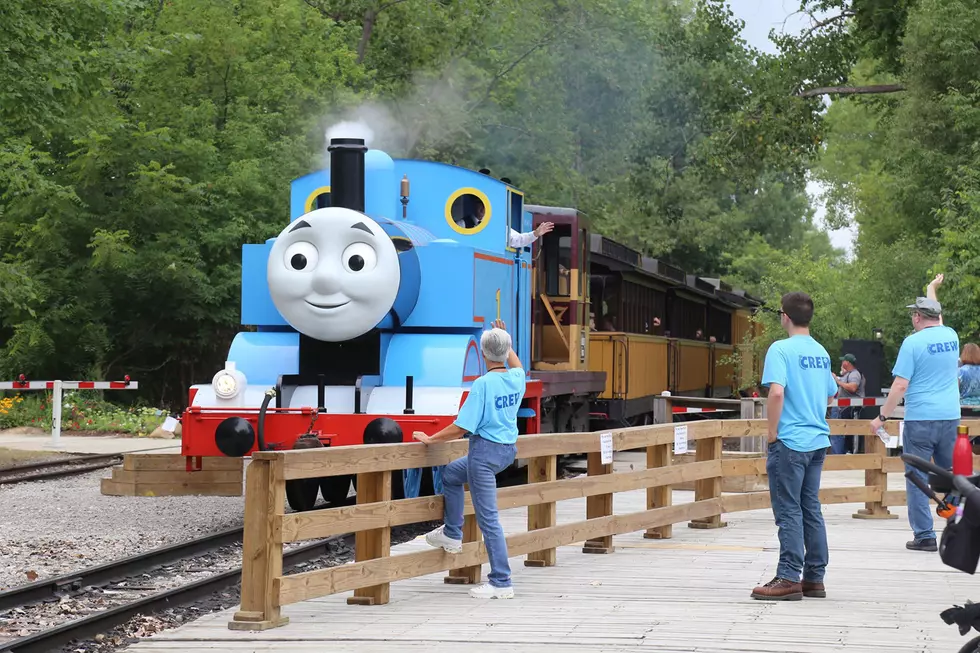 How to Make the Most of a Day Out with Thomas the Tank Train at Crossroads Village
Crossroads Village & Huckleberry Railroad via Facebook
All your little engineers are invited aboard Thomas the Tank Train when he returns to Crossroads Village this month — along with Sir Topham Hatt, the Controller of the Railway, and Bob the Builder.
A Day Out With Thomas is packed with Thomas & Friends-themed activities, including "crafts, story telling, videos, train play tables, coloring, temporary tattoos and much more," according to the Crossroads Village website. Plus, guests can take a 40-minute train ride behind Thomas, with rides departing hourly from 10 a.m. to 3 p.m. daily over two weekends: Aug. 16-18 and Aug. 23-25.
Here are five tips for making the most of your visit:
1) Plan ahead. Tickets are on sale now for $22 per person. They are sold by departure time, so groups who want to sit together should plan to board together. Tickets often sell out, so visit ticketwebdowt.com or call Ticketweb at 866-468-7630. They suggest guests arrive at least an hour before the departure time.
2) Celebrate Thomas & Friends before you visit. The storybook train was created by a father who wanted to share his love of trains with his young son — and over the decades, he's appeared in several books, DVDs and the Thomas & Friends television show. Watch him online and find coloring and activity sheets at thomasandfriends.com.
3) About your transportation ... There is plenty of free parking at Crossroads Village, 6140 Bray Road, Flint, MI 48505, and there is a stroller parking area where you can leave strollers during your train ride. Cameras are welcome (use #DayOutWithThomas) but they ask you to leave your pets at home.
4) Day with Thomas is handicapped-accessible. "Most village homes are handicap accessible," according to the event website. "Our train does have a wheelchair lift and our coach can accommodate up to 10 wheelchairs at a time."
5) Explore the rest of Crossroads Village. Day Out With Thomas includes a magic show at the Colwell Opera House, farm animals, storytelling and video viewing, a straw maze and more. A map, show times and more details are available on the Handbill, which you can download here.