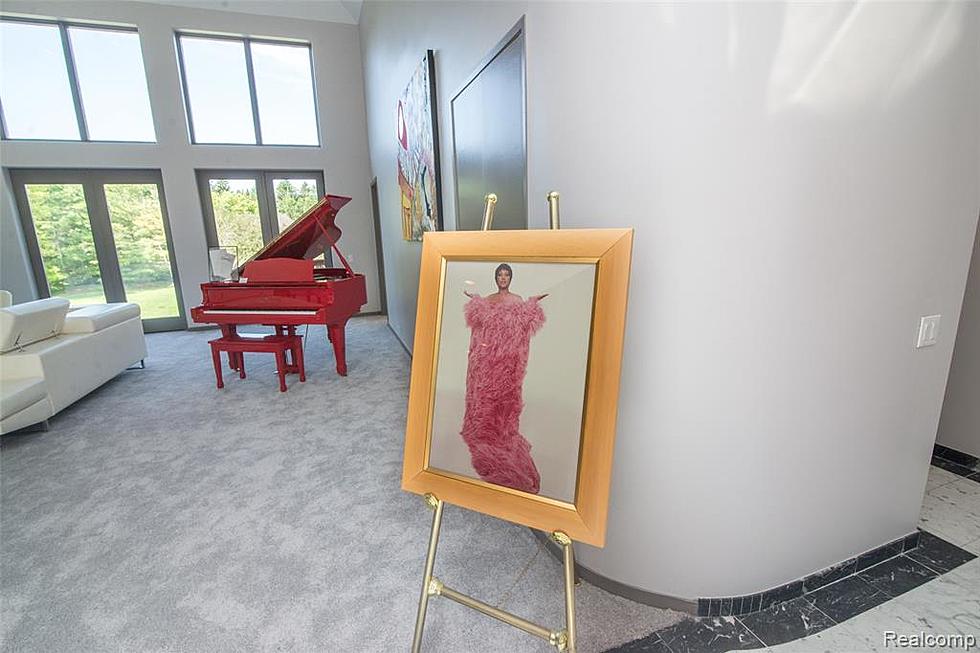 Peek Inside Aretha Franklin's Bloomfield Hills Home, Selling for $1.3 M
City Living Detroit/Realcomp
Nearly four years after her death, Aretha Franklin's former Bloomfield Hills home has been sold for $1.3 million. It is stunning.
SEE ALSO:  Jury Finds Aretha Franklin's Will Stuffed in Couch Coushins Totally Legit
SEE ALSO:  Rainbow Appears During Moment of Silence for Aretha at Comerica Park
The Queen of Soul's six-bedroom, five-and-a-half-bath home hit the market in July of 2019 after she lost her lengthy battle with cancer. Aretha Franklin was just 76 years old.
Something Old, Something New
Interior designer Rodney Howell staged the home as it was prepared for sale. He brought in some new furniture in order to stage the home but a lot of what you'll see in the photos below is original. The appliances in the kitchen, for instance, are the ones used by Aretha herself.
Something Red
Another original piece that is a focal point in the home is a beautiful red piano. The piano was moved from Franklin's Detroit home and it really is the centerpiece of the home's main floor.
Howell told WDIV in 2019 that Aretha's bedroom with its attached master bathroom is one that's fit for a queen.
"Everything here in the bathroom is original," Howell said. "Of course, this is the tub that the queen bathed in, as well as the shower -- you see the roses that are on the glass here."
The 4,200 square foot home is located in a gated community in Bloomfield Hills, at 4585 Kiftsgate Bend.
Amenities and Then Some
Although the Queen of Soul wasn't using this beautiful home as her main residence at the time of her death, it certainly provided all the comforts fit for someone of her stature.
The home features a finished basement, sauna, tennis court, pool, and a glorious deck on the back of the home.
Rest in peace, Aretha. We're sure your home will provide its new owners with many years of comfort and probably some fond memories of the music you shared throughout your career.
Check Out Aretha Franklin's Former Bloomfield Hills Home
After a few years on the market, the Queen of Soul's Bloomfield Hills home has been sold for $1.3 million.
The home, located at 4585 Kiftsgate Bend, was owned by Aretha Franklin up until her death in 2018. It features a pool, tennis court, sauna, finished basement and original appliances used by Aretha herself.
This House of Mirrors is Super Shiny Inside (and a wee bit Hideous)
This house of mirrors, located in Oakbrook, Illinois, is something to see.
The owners put mirrors everywhere they could think of, including the edges of the pool table.
Flint + Saginaw's Most-Popular TV Anchors - Where Are They Now?
A lot of highly talented people have sat behind the anchor desks at the area's TV stations.
We're taking a look at some of the area's most popular news, weather, and sports anchors who have visited our homes electronically and then moved on.
Take a Peek Inside Alex Trebek's Studio City Mansion
Alex Trebek's beautiful, Studio City, California home just hit the market and it is breathtaking. T
The home is owned by Trebek's widow Jean and his daughter Emily is listing the home through Compass.
The beloved game show host, who passed away in 2020, purchased the home about 25 years ago for $2.5 million and is said to have taken on many DIY projects himself, giving it his own personal touch.
Take a Peek Inside Eminem's Sprawling Michigan Mansion
For a cool $3.23 million, you could own this beautiful mansion that was once owned by Eminem and the former CEO of Kmart.
Or, for no money whatsoever, you can take a look at the pictures.
Be sure to check out the guest house (toward the end) and a couple of bathrooms that strike us as just a bit odd.