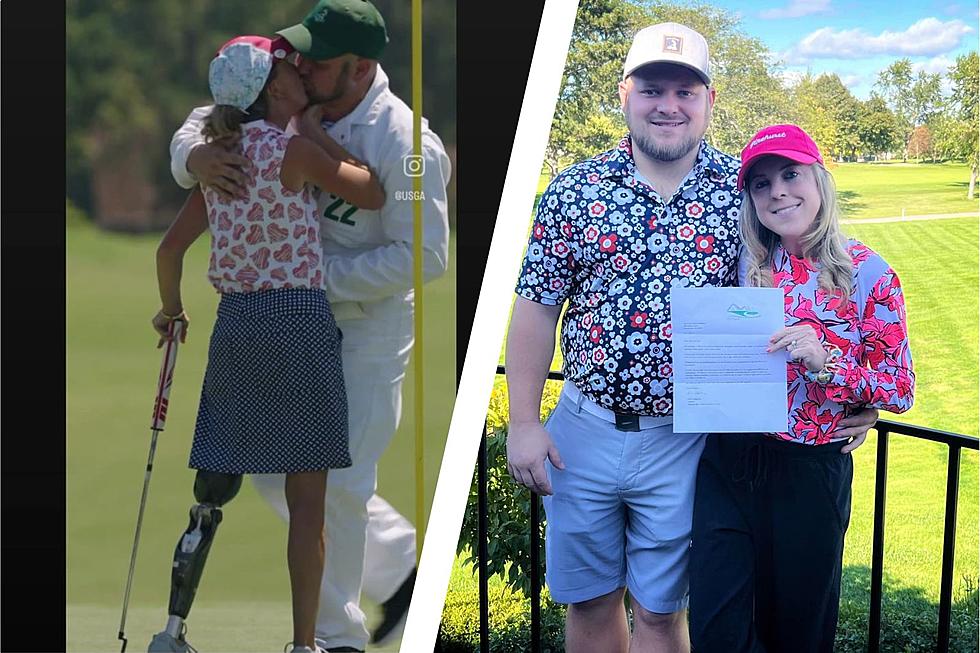 Grand Blanc Couple Score Special Gift from Legendary Golf Course
Photo: Courtesy of Kelsey Koch
Their engagement was one for the books! A local Grand Blanc golfer, playing a major tournament on her favorite course, scores more than birdies, but an epic proposal from her boyfriend. Can it get any better? Yes...yes it can.
We told you in July the story of Grand Blanc golfer Kelsey Koch. This amazing woman has spent her entire life chasing her dreams and achieving goals while inspiring people along the way and never using the word "can't".  Koch, who was without a tibia bone had a leg amputation done at 11 months old.
The 31-year-old now wears a left prosthetic leg, and it hasn't slowed her down a bit challenging her to live her best life with pride and gusto. In July, Koch was out doing what she loves, playing golf, teeing it up at one of her favorite courses, Pinehurst. Kelsey was competing in the U.S. Adaptive Open. She started playing with her father Jeff Koch serving as caddy and eventually switched to her boyfriend Josh White joining her on the fairways.
It was during that final round on the 18th hole of the famous course that Koch turned around to see White, her boyfriend of 2 years, down on one knee...ring in hand. The proposal was a dream come true for the duo, but it was about to get even better.
Just a few weeks ago Kelsey and Josh received a very special engagement gift from Pinehurst. A letter arrived addressed to the couple letting them know that the couple was made honorary lifetime members of the legendary golf club. Pinehurst No. 6 Community Association noted that the moment the two shared on the course touched everyone at Pinehurst.
"In order that we might share this joyous moment with you, please find an engagement gift from our membership. The Board of the Pinehurst No. 6 Community Association has voted to make you honorary lifetime members. Additionally, we extend to you an open invitation to golf with us whenever you return to Pinehurst", the letter read.
Kelsey was quick to say that the honor is something that neither she nor her future husband take lightly.
Sending congratulations once again the one of the most amazing and inspiring couples you'll ever meet. Kelsey and Josh, may your journey be filled with birdies, eagles, and a lifetime of love on and off the course!
LOOK: The best minigolf in every state
Using 2022 data from
Tripadvisor
,
Stacker
compiled a list of the highest-rated minigolf courses in all 50 states including Washington D.C.
LOOK: Here are the 10 US golf destinations with the most courses per capita
Discover where you can find the best access in the country for your pick of courses, the unique terrain that lends itself to world-class golf, and what makes select clubs noteworthy.