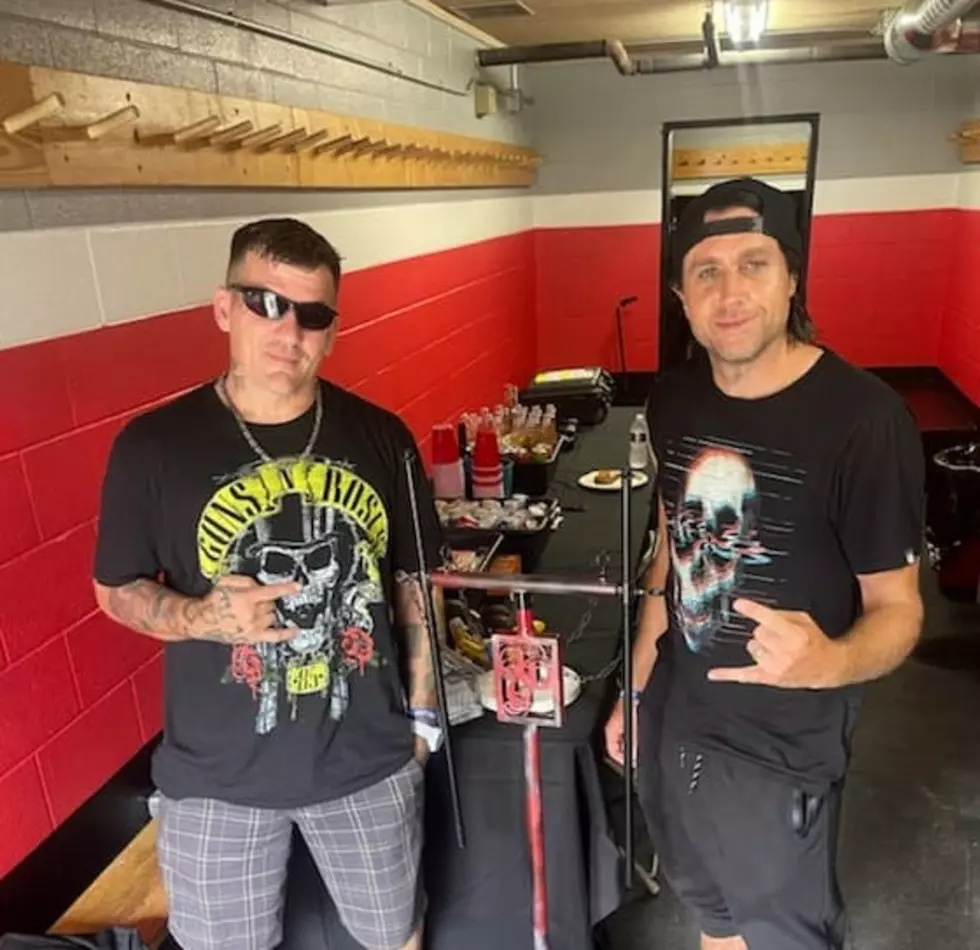 Flint Man Creates Stage Gear For Three Days Grace
Ryan Kilpatrick Photo
Ryan Kilpatrick of Flint continues to add to his rock star resume. Kilpatrick has created and designed stage gear for quite a few big-name bands, and most recently had the pleasure of working with Three Days Grace.
Before Kilpatrick started working with rock bands, he created and built this one-of-a-kind piece located in downtown Flint.
I have known Ryan for many years and was thrilled when he told me was working with Three Days Grace. After congratulating him, I had questions and Ryan was kind enough to answer them and share some pictures from the project.
How did your partnership with Matt Walst and Three Days Grace come about?
I have always loved his style when he was working with My Darkest Days. Matt had 2 mics that he used and wanted them turned into just one mic. A few people had heard I was building, gave him my name and we were able to make a deal. I love a challenge and was excited about the project.
How long did it take to create the concept and or design?
I would say roughly two weeks. The build took two days. I had a little trouble tracking down a couple of minor pieces, but it all came together.
Did the two of you develop the style and design together- or did you design on your own?
He had a few minor dimensions I needed to keep so the 2 mics would feel comfortable for him. Other than that I kept him in the dark. I had a few things in my head that I wanted to surprise him with.
How cool was it when Matt saw the finished stand? What was his reaction?
It was OUTSTANDING!! He was very happy. Watching him use it on stage last weekend at Upheaval Festival in Grand Rapids was a very proud moment for me.
How cool is it that a mic stand you built will be used and photographed all over the country?
Beyond anything, I could put into words. I take a lot of pride in my builds and just seeing them in a picture or a video someone posts on youtube makes it all worthwhile.
Are open to doing more mic stands for other bands?
Oh, hell yes! I have a lot of surprises coming! I've got a long list of projects I am currently working on. Keep your eyes peeled. I will let you in on a small clue. It's a show already scheduled at The Machine Shop and it's two separate mics this time.
What other specialty items are you open to creating?
I will build anything. If I don't try, I won't progress.
How long typically does it take to make a mic stand and riser?
From concept to design, if I get free reign it will take me two or three weeks for a mic stand. Risers are easier, those take only a day or two. Paint is always a factor too.
What other bands have you made pieces for and what did you make?
Check out the pics below of the mic Ryan made for Matt Walst from Three Days Grace below. Congrats my friend, I for one cannot wait to see what you do next.
Flint Man Creates Stage Gear For Three Days Grace
UP NEXT: 9 Great Selfie Spots In Downtown Flint
SEE MORE: Famous Machine Shop Hallway Band Pics