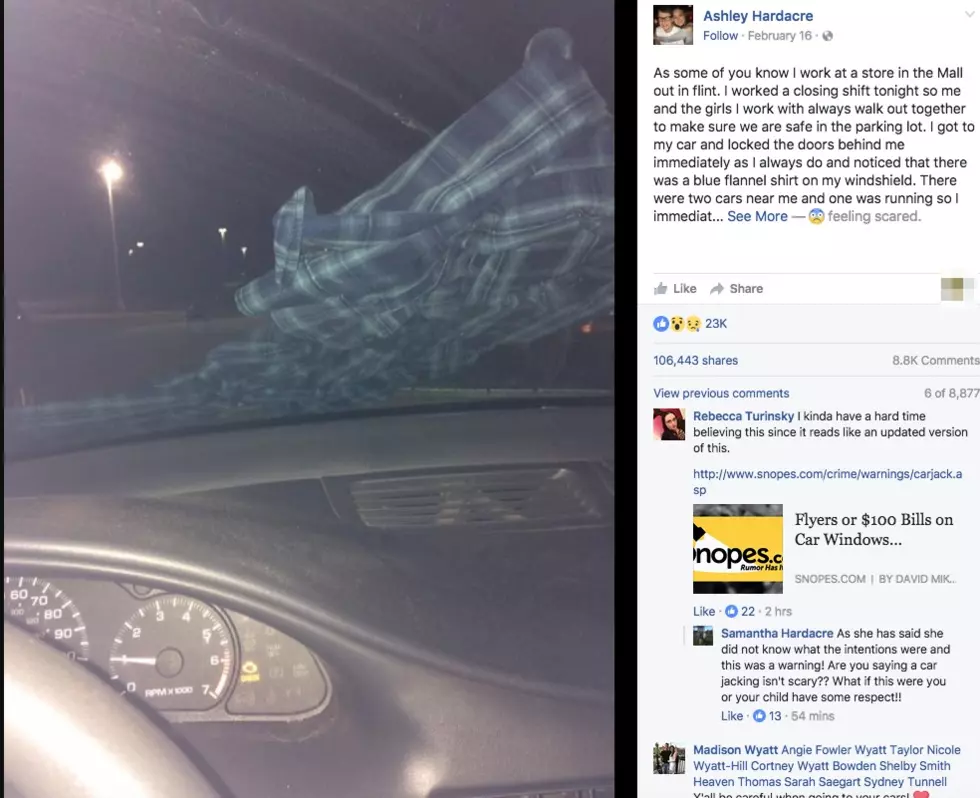 UPDATE: Two Men Admit to Prank at Flint Mall – Not Human Trafficking
Screenshot via Ashley Hardacre via Facebook
Update to a story that we brought you on Tuesday. We feel bad for the woman that this happened to. :(
On February 21st, we posted a story about a viral Facebook post that came right out of Flint - Ashley Hardacre, who works at Genesee Valley Center, came out to her car after her closing shift and noticed a flannel shirt tied to her windshield.
She'd remembered something that her mom had said about human traffickers leaving items on car windshields to lure women out of their cars. Additionally, there were two cars running near hers. She decided to drive away and take the shirt off in a safer location.
The post quickly went viral, and mall security, as well as the Flint Township PD started looking into the story.
After two men were identified, they admitted that it was just a prank.Security footage showed them leaving the parking lot over an hour before Ashley got to her car. They didn't know that it could've been construed as a human trafficking attempt, and have since apologized.
We feel bad for Ashley. With Michigan being #2 in the country for human trafficking, she was smart to be safe in this situation and to share it with others. The only people at fault here are the two men who pulled the prank.