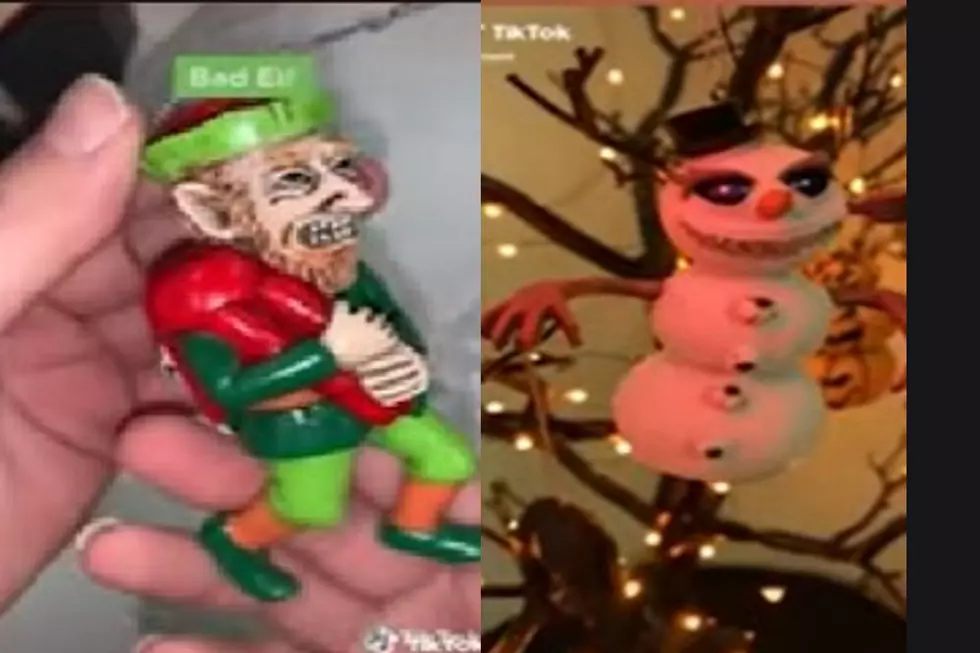 Horrornaments: Michigan-Based Family Company Creates Unique Horror-Themed Christmas Ornaments
Now This News via YouTube
A Michigan-based company that makes horror-themed Christmas ornaments has gotten a new lease on life thanks to a viral TikTok video.
SEE ALSO:  Which Styx Song Was Inspired by Day Drinking at a Bar in Niles, Michigan? 
Just a couple of weeks before Christmas, Makayla Burns and her father were worried that their business based in Grand Rapids would go under. Their struggling company, known as Horrornaments, makes non-traditional ornaments like bad elves and evil pickles. So Makayla made a video documenting her father's consternation as paced their facility.
"It's the middle of December and my dad is currently walking around our warehouse wondering why we aren't busy with orders," she notes in the video.
Not long after that, the video went viral, and the two suddenly found themselves flooded with orders.
Cool Company, Hard to Pronounce
Contrary to what Makayla says in the video below, Horrornaments doesn't exactly roll off the tongue. The company derives its name by combining the words 'horror' and 'ornaments.'
The pair note that in just two days after Makayla's video dropped, their company got as many orders as they'd had in the first 11 months of this year.
Her father expressed his gratitude as Makayla was recording another video, saying, "You saved this business."
Most Christmas ornaments on the company's website sell for about $13. They're as adorable as they are creepy, featuring Christmas skulls, possessed trees, zombie gnomes, braindeer, and more. They also feature ornaments (or Horrornaments) that celebrate other holidays.
Inside Michigan's Most Expensive Airbnb
Located inside a historic building in the heart of the city, The Turret in Ann Arbor is considered the most expensive Airbnb in Michigan with a rate of $5000 per night. The Tribeca-styled loft offers fantastic views, artistic decor, and 2500 square feet of space for guests. There's also a private rooftop deck to enjoy. Take a look inside.
Grand Rapids in the Winter of 1978
A look back at what Grand Rapids looked like in the winter of 1978.