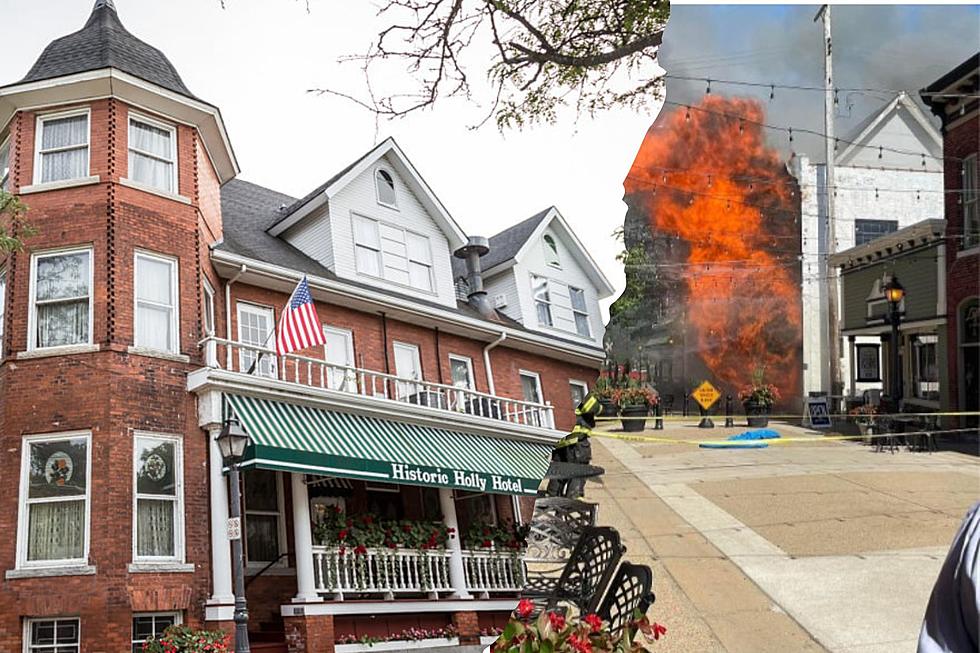 Holly Hotel Announces Grant and Plans for New Reopening Date
Photos: Maggie Meadows/ Holly Hotel Facebook
It will be a year on June 21st since the historic Holly Hotel on Battle Alley in downtown Holly sustained heavy damage from fire, smoke, and water after a nearby building caught fire and quickly spread. Since then the owners of the iconic hotel have been working hard to rebuild the timeless business and now have received some much-appreciated help.
From minute one, the owners and staff of the hotel were committed to the thought "down, but not out" and were set on bringing the business back to the community that had shown such support for years. The rebuilding has been ongoing and things are beginning to take shape, but the hotel just received a little boost in the right direction.
The Holly Hotel recently received a grant of $40,000 from American Express and the National Trust for Historic Preservation. The funds will aid in restoring the legendary hotel and help take it one step closer to reopening. According to reports, the Holly Hotel was one of just 25 historic small restaurants which received the grant. The grant is part of the "Backing Historic Small Restaurants" grant program.
"We had so much support just for this grant. It took us all by surprise when they sent us an email saying, "Hey, you're getting this grant money and it's because of the people who love you so much." It made us extremely happy," said Brian McIsaac, a manager at the hotel.
Although things are moving along with renovations and repairs, the reopening date is still a little way off. Originally, McIsaac had indicated the hotel hoped to reopen on the anniversary of the fire, June 21st. Now, according to McIsaac, the new target date is expected to be this fall or winter at the latest.
LOOK: Stunning, historic hotels from every state and the stories behind them
Stacker
curated this list of stunning, historic hotels from every state. To be considered for inclusion, the structure must be more than 50 years old. Many of the selected hotels are listed on the National Trust for Historic Preservation, and several are purported to be haunted.
$5M 1929 Casa Del Lago is Everything Michigan Lake Life Should Be
Currently
for sale for $4,995,900
, this incredible property has over 400′ of prime Spring Lake water frontage and views for days. Sitting on 3.47 acres, the property that was built in 1929, is full of historic vintage details from the magnificent grand staircase, crown molding, arched entries, massive 8-panel doors, and a total of 9 fireplaces.
With the 12,500 square feet of living space you will find 7 en-suite bedrooms with the master featuring an incredible elegant bath and to die for his/her walk-in closets. Enjoy the incredible property with a multi-level deck, outdoor kitchen, and private beach area.
Welcome to Michigan perfection!