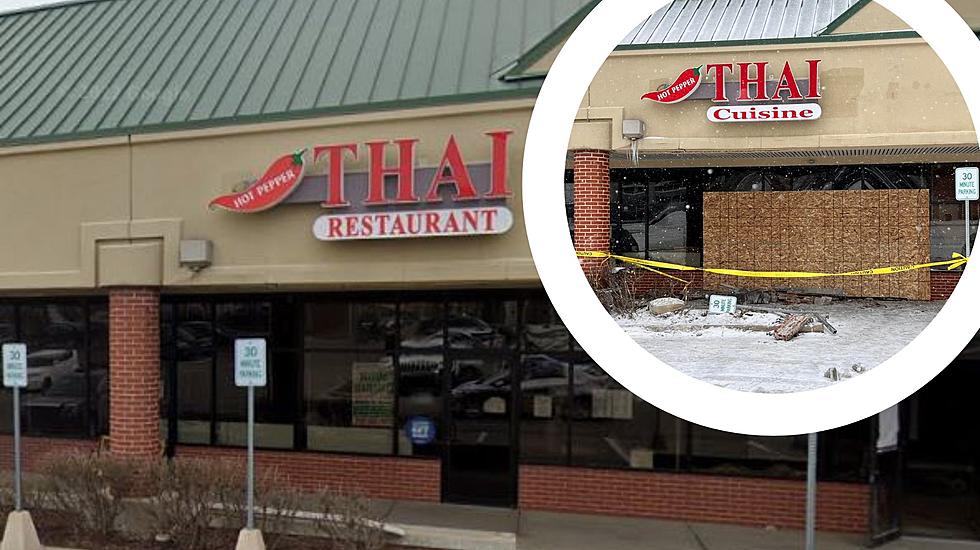 Months After Holiday Crash, Grand Blanc Thai Restaurant to Reopen
Credit Google Street View, Hot Pepper Thai Cuisine Facebook, Canva
If you've driven through Downtown Grand Blanc near Planet Fitness, Sophia's and the Yemeni Coffee Shop, you've noticed the latter's next door neighbor has been boarded up since the holidays.
What happened to Hot Pepper Thai Cuisine in Grand Blanc?
Back in December, shortly after a little snow, a van somehow ended up crashing through the front of Hot Pepper Thai Cuisine. Shortly after the windows were boarded up and the business had to remain closed.
This happened only a few months after new owners took over and people were really loving their food. Oddly, it's not the first time a car has crashed through a business in that strip mall. Apparently, the slight slope coming into that parking lot is a problem in the winter.
Best Mother's Day Brunch Spots Around Genesee Cty
What took so long for Hot Pepper Thai Cuisine restaurant in Grand Blanc to reopen?
Following the December 2022 crash through the entrance, it took police some time to investigate, insurance adjusters had to evaluate, too. And, if you've tried building or remodeling anything in the last year, you know "the build-out" takes a while.
Cars crashing into businesses around Genesee County
Accidents, literally, happen. Sometimes mechanical issues with a vehicle, a distracted driver or weather. Only a few days ago an unmarked police car crashed into a Flint KFC restaurant. Just a couple days later Dom's Diner in Flint had a car come crashing through the dining room wall.
You May Also Like: Soon Grand Blanc Staples Will Be Only Location in Genesee County.
Hot Pepper Thai Cuisine reopens the week of May 1st. A specific date will be provided following inspections. Then, shared on their Facebook. For the sake of pedestrians, drivers and business owners, please... drive carefully in that parking lot.
Flint Area Restaurants at Least 50 Years Old
These Genesee County Restaurants Have Been in Business Over 50 Years.
Genesee County's Best Steak
Flint Area's Best Restaurants for Father's Day and Steak Dinners
Fan Favorites: 16 Flint Area Spots With The Best Ranch Dressing
Fan Favorites: 16 Flint Area Spots With The Best Ranch Dressing