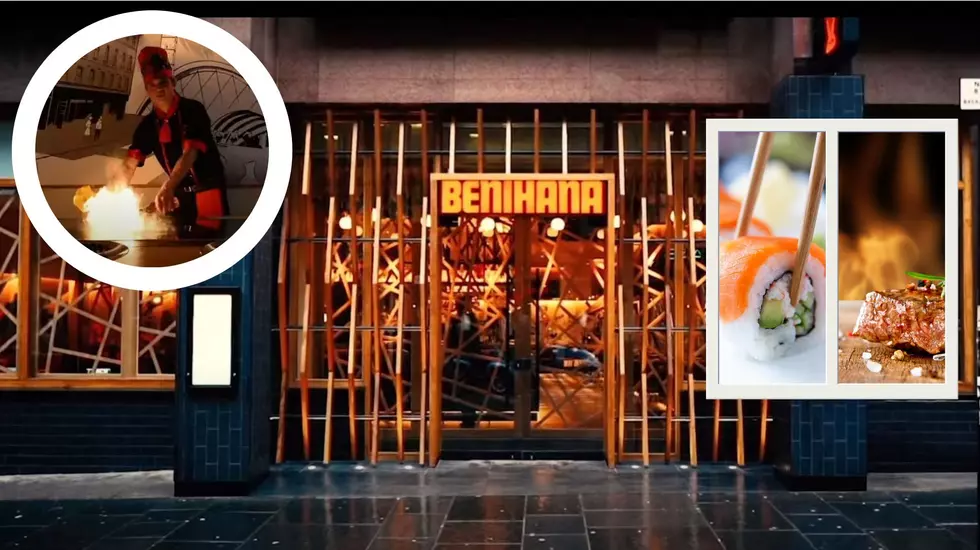 First of 2 Popular Benihana Locations Opens In Saginaw, Michigan
Credit: Benihana YouTube, TSM, Canva
We first reported in April 2022 Benihana would be coming to the Tri-Cities, replacing the former Genji locations in Saginaw and Midland, MI. Genji was a Japanese Steakhouse uniquely featuring a karaoke bar.
Where is Benihana located in Saginaw, MI?
Saginaw's new Benihana is located in the old Genji location at 3870 Bay Road, Saginaw, MI 48603. If you're wondering where you could still find a Genji location, a quick search says Novi, is the closest... in case you need to sing with your steak & sushi.
What kind of restaurant is Benihana?
Benihana is a Japanese Steakhouse that started in the 1960s. Think hibachi, where chefs cook the food in front of you with flare. They have sushi, sake and fantastic flavors.
Their goal is a great, all-around experience. They'll even capture family photos you can download from their website to mark special occasions or a child's first visit.
Related: See 7 chains Flint would welcome with open arms, one is coming soon, thankfully.
What kind of grill do they use at Benihana?
People refer to the restaurant as a hibachi-style. According to the Benihana website, they technically use "steel teppanyaki grills." There's nothing like watching faces of diners that haven't been up close to the chef theatrics & flames right in front of them.
Check out this clip of the chef's impressing diners:
When will the new Benihana open in Midland, MI?
The old Genji location states it is "temporarily closed until further notice" as of January 11, 2023. That's so it can be remodeled to become Benihana.
The address is 2929 S Saginaw Rd, Midland, MI 48640. According to a recent report by Midland Daily News, state they hope to have it open in March 2023. The owners told MDN they were intrigued by how well Benihana navigated and succeeded through the pandemic and wanted to be a part of that.
Welcome to the Tri-Cities Benihana... We'll welcome you in Genesee County whenever you're ready.
Delicious Dining: Saginaw County's 11 Must-Try Popular Eateries
Saginaw County Michigan's Must Try Restaurants. Saginaw County's local restaurants serving the best food.
Shiawassee County's Best Restaurants
Try these restaurants, bars, diners and grills around Shiawassee County. You'll love the food and atmosphere every single time.
20+ Good Eats: Genesee County, MI Restaurant Bucket List
Best Bars and Restaurants In Genesee County, MI