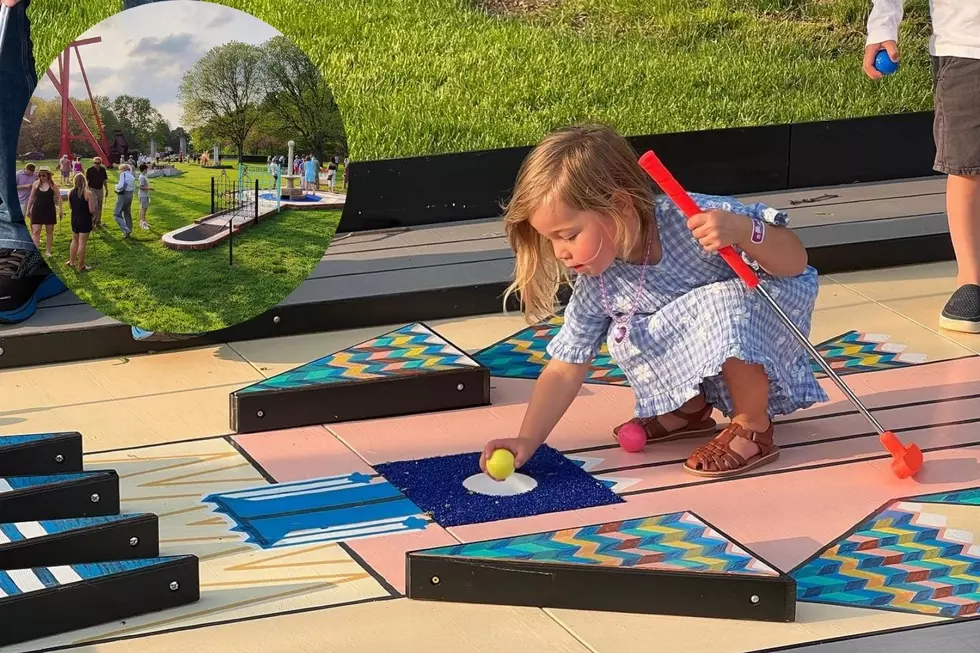 Cranbrook Brings Together Art & Mini Golf For Some New Michigan Summer Fun
Photo: Facebook
What happens when a group of incredible artists designs a mini-golf course? One of the coolest twists to miniature golf you've ever seen. The marriage between art and golf has become a reality at Cranbrook Art Museum just in time for summer.
The new miniature golf course is on the grounds just outside the Cranbrook Art Museum on Woodward Avenue in Bloomfield Hills, Michigan. Named "Cranbrook on the Green,"  the new attraction is an artist-designed outdoor miniature golf course. Here you won't see windmills or hippo mouths to shoot through, but individual art creations.
According to the press release, each of the nine holes of the course is inspired by a different element of Cranbrook's historic campus and history, from the campus gardens to unique landmarks and famous art and furniture designs of Academy of Art alumni. There's a special tenth hole that kicks off the action on the course.
"With Cranbrook on the Green, we are inviting audiences to play as they learn and explore our incredible grounds during the summer months," said Lyla Catellier, Curator of Public Programs at Cranbrook Art Museum. "We hope new visitors will get to know Cranbrook's National Historic Landmark campus through this unique experience, and that longtime enthusiasts of Cranbrook will be surprised and delighted at each hole."
Read More: Step Back in Time at This Vintage Michigan Amusement Park
9 Unique Holes Ready to Test Your Skills
Ready to test your skills are 9 holes with such themed names as "Sunken Garden": Get lost in the hedges of the sunken garden…but don't lose your ball in the flower beds or "Bertoia Bronze": Strike a chord with Harry Bertoia's Sonambient sound sculpture-inspired hole.
Maybe you'll make a hole in one playing "Triton Poolsball": The Triton Pool has been turned into a giant foosball table! Don't get caught up dancing with Carl Milles' sea creatures. You must make it past the Tritons to score! Or finish big on the final hole, "Peristyle Playthrough": End your play at Cranbrook's grandest architecture. A portal has opened in the Orpheus Fountain – can you make it through? Or will the Peristyle become your limestone trap?
The course will be open from 11 a.m. to sunset, Wednesday through Sunday, starting May 25 through September 25. Those wishing to play are encouraged to purchase tickets online in advance via Cranbrook Art Museum's website, which will be sold by time slot. Each ticket will also include free admission to the galleries to explore other exhibitions on view at Cranbrook Art Museum.
Admission is $15 for adults, $10 for Art Members & Detroit Residents, and
$8 for children under 12. Click here to purchase your tickets.
27 Michigan Golf Courses With a 4.7 or Higher Google Rating
The people have spoken (well, rated them on google), and here are 27 golf courses in Michigan that have a 4.7 or higher rating on Google.