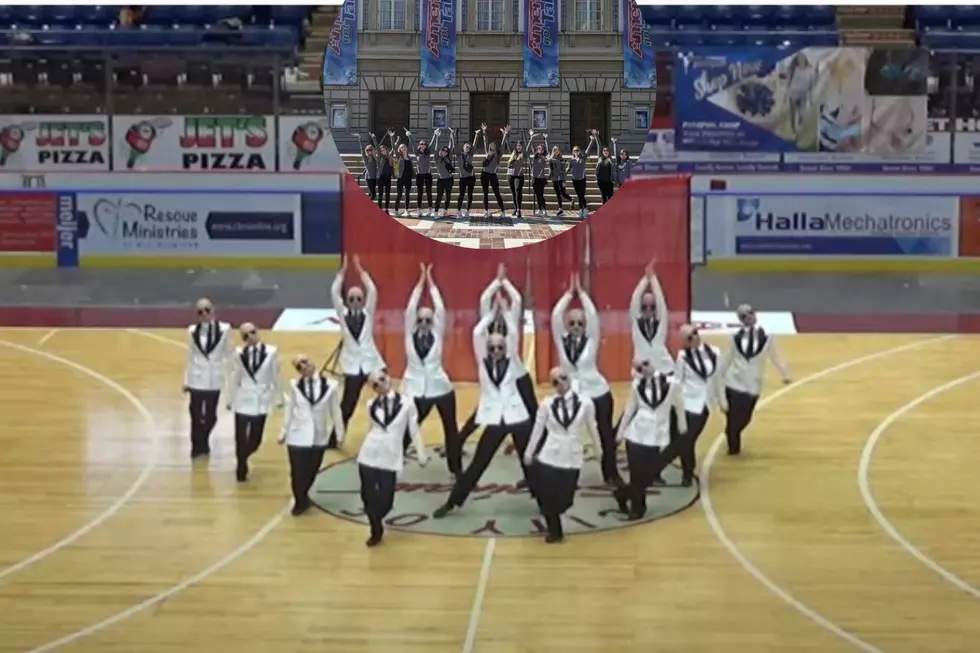 Thanks to Singer Pitbull Bay City High Dance Team Will Hit the 'AGT' Stage
Photos: YouTube/ JG Booster Facebook
What happens when your award-winning dance routine "Mr. Worldwide" is noticed by not only the Rockettes but the man himself singer Pitbull? Easy, it has over 8 million views on Tik Tok, goes viral, and you get an invite to perform on the hit show America's Got Talent.
That is exactly what has happened to the award-winning dance team from Bay City's John Glenn High School. The Varsity Dance Team certainly knew the assignment when they took the floor back on November 7th for the Mid-American Pompon Hip/Hop & High Kick Championship at the Dow Event Center in Saginaw. The team, under the direction of coach Shelby Putnam, brought their "A" game and then some.
The team kicked out their Pitbull-inspired routine complete with balding heads and suit coats. It was true creativity to the full degree, and it immediately caught everyone's attention. The flawlessly choreographed routine scored John Glenn first place in the Medium High Kick division, but it also gained them a new fan that was singing their praises on social media...Pitbull.
The singer shared the routine on his social media with the caption,
"The most good ones! Truly honored. 🔥☄️🌎. Congratulations to the John Glenn Varsity Dance team from Bay City, Michigan on placing first in the MidAmerican Championship High Kick division. Dale! #motivationmonday"
But that was just the beginning.
The team received an invitation to audition for the popular NBC show America's Got Talent, and they jumped at the chance. Coach Putnam told NBC25,
"For them to be recognized on such a high level. I'm proud of them when they are performing in our gym and I'm proud of them when they were on that AGT stage. I'm proud of it all and It's been so rewarding to see them get the recognition they deserve."
So how did they do? You can find out tonight when the team takes the stage on NBC at 8 p.m on America's Got Talent!
Check out the award-winning routine below!
$3 Million Michigan Playground Estate with Resort Style Pool & Room for 20 Cars
Cars lovers listen up! For those who love resort-style living, this one is for you! The best part is we are talking about just one home. This Rochester, Michigan home is on the market for $3M and is loaded with extras you could only dream of. Love cars? There's room for 20 of them. Enjoy wine? It has its own wine cellar with a tasting room. Did we mention a pool and backyard area that resembles a 5-star resort? It has that too. Take a look at this masterpiece.
Take a Tour: Taylor Swift's Childhood Home Is for Sale
Look inside Taylor Swift's Reading, Pa. childhood home where she allegedly wrote the songs "Love Story" and "Teardrops On My Guitar."