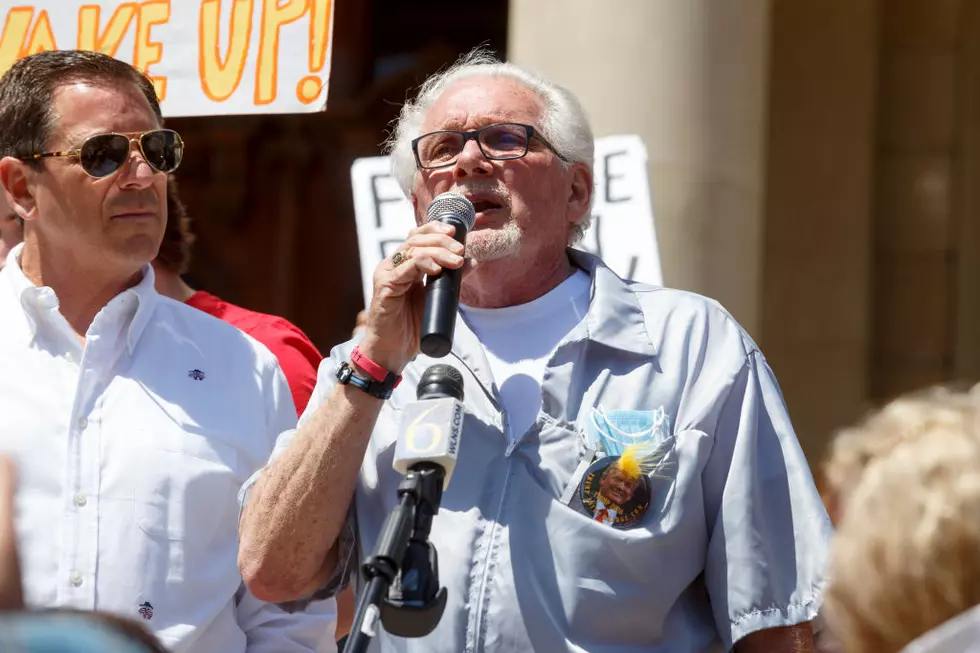 White Privilege 101: Karl Manke [OPINION]
Getty Images
Are these conversations uncomfortable? Yes. Do we need to have them? Absolutely.
As we begin to have tough, uncomfortable, and probably long overdue talks on race relations as of late, you may find yourself seeing terminology that you aren't familiar with, or perhaps have a misconception about what it may mean about them. For today, were going to talk about white privilege.
For those not up to date, I can give you a TL;DR version. White privilege means that white people have inherently, even unbeknownst to them, enjoyed advantages in life.
Example A in today's presentation is Owosso barber/author/landlord Karl Manke. Karle made national headlines and raised a lot of money when he defied state orders by not closing his barbershop, despite executive orders legally given by the governor. You can get the detail here and here.
Not to get into the weeds on this issue and to avoid the partisan trap that was set off, you must zoom out and take a comparison view, not only with Mr. Manke but also with situations that you have encountered in your life happen you to be caucasian. And this can be hard. Real hard. No one probably wants to admit that you are in any way, shape, or form privileged. It has an aura to it. And it takes away the fundamental American value of "work hard, get ahead." I used to apply the term in the financial sense only since I came from an immigrant family who was blue-collar until my mom went to college in the 1960s. How could I be privileged? No way! My Great grandparents hopped on the boat from Poland, and look at us now!
1999 - I was wearing the wildly in style, and rebel fundamental, gear of any Chicagoan at the time. A leather jacket from The Alley that was mainly a copy of a Chicago Police jacket. The only difference was that the  "PO" on the police patch was blacked out. They were all over the city, and the juxtaposition was always easy to spot out, usually a young guy, crazy hair, piercings, ripped-up jeans, and this cop jacket on. So punk. Probably also so illegal. This brings me to the tale of two coats, mine and my buddy's.
I was pulled over for speeding as a 21-year-old in 1999, driving home from my first radio gig in a rural stretch that connected the small town my station was in and my apartment in  Chicago. The law enforcement officer was a county sheriff. And he immediately zoomed in on the jacket as he approached the car and asked for my badge. (Now, sadly, we all know had I been part of the blue line I probably would have been waved on.) Unfortunately, I babbled my way to some, "I'm not a police officer, but..." excuse, which leads to a very stern lecturing from this Sherrif about what he "could do" to me. I think there were threats of calling the K-9 to search the vehicle up to some felony impersonating an officer charge. In the end, he said, don't ever let me see you wearing it again. If he did, all the threats become real. And he sent me on my way. Message received.
My buddy was walking through the North Side of Chicago, oddly close to where the actual jackets are sold when he too had an encounter over the famed piece of clothing. His interaction was with the actual CPD and went about as 180 different degrees than my situation, as you can imagine. His included the normal, hands up, against the wall, give me your bag, give me your jacket police force you see when SVU rolls up on the bad guys at 8 PM Eastern/7 PM Central time on NBC. Except for the bad guy, in this case, was my 30-year-old classmate at Columbia College Chicago. An artsy guy who resembled a cross between Prince, gothic warrior, and Shaft. The jacket accompanied his standard look of knee-high boots and a flop of long curly hair. Oh yeah, and he was black. After his hand against the wall stop and frisk, he was relieved of the jacket, well, partially, the CPD officer used a pocket knife to cut out the patch of the CPD. And in a not so subtle fashion gouged a patch sized hole in the jacket in the process. Have a beautiful day, and on your way.
This takes us back to Karl Manke and his refusal to close his barbershop barring the return of Jesus or the Governor's resignation, his words not mine. Whether he is aware or not, Karl uses all the white privilege in this instance to openly disregard the law. He says it is because he is 77 and you cant tell him anything. Or is it perhaps that he has had 77 years of white privilege that has brought him to the point where he openly disregards the law and continues to do so as of the publishing of this piece to no immediate consequence. I would dare ask to see a comparison of a black small business owner who has been openly tolerated by government agencies as they flagrantly broke the law. I'll wait because I couldn't find it.
Listen, tough conversations can lead to real change. Opening eyes and realizing that we are all in the same storm, yet very different boats, can go a long way in beginning to heal our broken hearts. It's ok to admit you weren't aware, empathy goes a long way. I hope you can maybe comb through your life and find an instance where your race if you are white, helping you catch a break. Not saying you were looking for it, but it came your way regardless. Now imagine if it hadn't happened that way, and how would your life be different? I know one thing. My left arm would have been a lot less warm in those Chicago winters had my skin color been a few shades darker back in 1999.
Enter your number to get our free mobile app
PHOTOS: Protests around the world in the wake of George Floyd's death