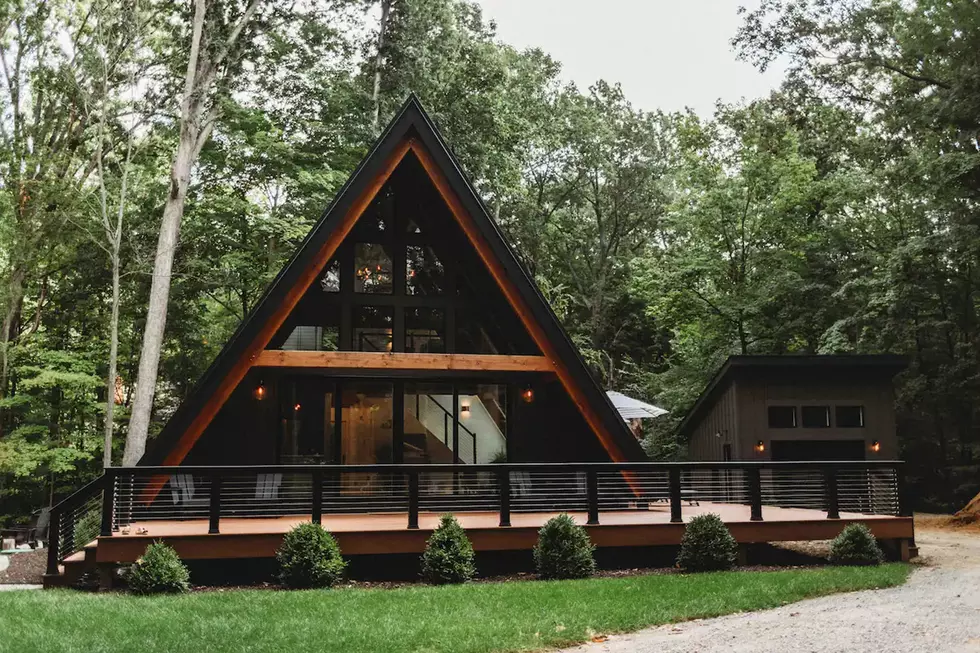 Take a Look at This Unique A-Frame Airbnb Near Lake MI
Airbnb
A unique A-Frame nestled in the woods is what you'll get when you scoop up this super cool-looking Airbnb near Lake Michigan.
Before we go any further, let me explain what an A-Frame house is for those that don't know. An A-frame house is a building/home with a triangular roof that resembles the letter A. Typically, an A-frame is a two-story or three-story home with a wide first-floor living area, a smaller second story above the living room, and a tiny top floor that serves as a sleeping loft.
I've always been a fan of A-Frame homes which is why this one that's located in Harbert, Michigan really caught my eye. It really is a beautiful-looking home.
The exterior is really dark and blends nicely with all the trees surrounding the house. While this inside is super bright and clean looking. I love it.
Airbnb host:
The Harbert Hideout is located on a quiet street surrounded by nature. Relax on the 1,400 square foot patio by enjoying the hot tub or grilling and dining outdoors. At night, start a fire in the fire pit and stargaze in an Adirondack chair.
This home was built in 2021 and is relatively close to breweries, restaurants, and the beaches of Lake Michigan.
Harbert Hideout has four beds and sleeps eight comfortably.
The place also comes with a hot tub, grill, outdoor dining, and a big fire-pit off the deck.
How Much Does Harbert Hideout Cost?
It is a little on the pricy side at roughly $800 per night but not a big deal if you're splitting the cost between a few couples.
Ready for a tour? Let's do it.
Unique A-Frame Airbnb Near Lake Michigan
Built in 2021, the Harbert Hideout is located on a quiet street surrounded by nature.
Chalets on Lake Michigan
The resort is spread on 36 acres directly on Lake Michigan with a private beach, fishing pond, 2 swimming pools, a wading pool for kids, shuffleboard, basketball, horseshoes, and tennis.
This Log Cabin Airbnb is Only 22 Steps From Lake Michigan
This Airbnb can accommodate 12 people, comes with a private beach, and it's Only 22 Steps From Lake Michigan
Enchanted Treehouse on Lake Michigan
There's treehouse rentals and then there's this place. Trees, beaches, and endless sunsets. You get it all with this unique treehouse stay.