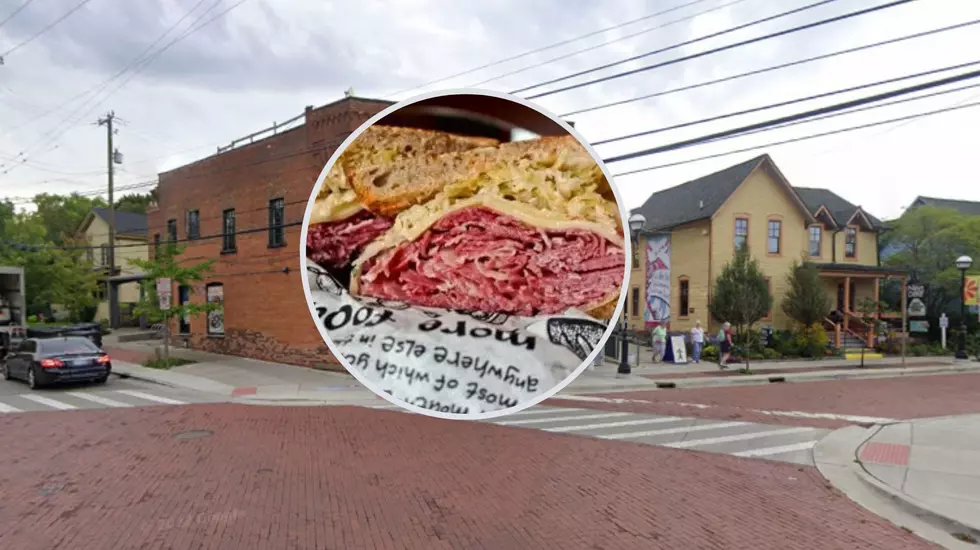 Tasty Trip: Michigan's Best Reuben Is A Short Drive From Flint
Credit: Zingerman's Delicatessen, Google Street View, Canva, TSM
Michigan food is shining on lists all around the country for "must try" and "best" lists.  Check out Michigan's favorite pizza (hint: it's not from Detroit) here.  This time, it's a deli sandwich just a short drive south from Flint.
Who has the best sandwich in Michigan?
According to cheapism.com the best sandwich you'll get in Michigan is located in Ann Arbor at Zingerman's Delicatessen. Specifically, the Corned Beef Reuben. It's not a cheap sandwich despite the aforementioned website giving it all the love. Depending on your add-ons, it will cost around $20.
They serve the sandwich on fresh grilled rye bread (made in-house), locally made/brined 'kraut, Russian Dressing and Swiss Cheese.
What's so special about Zingerman's Delicatessen in Ann Arbor?
They opened in 1982 and have expanded a few times since. Their website says they have 10 food-related operations around Ann Arbor. The Reuben is so popular the sell "mail order" kits (also pricey, but feed several people) for fans to assemble at home. And don't worry, they even have a tutorial video, so it'll taste just like they made it for you.
7 MI Businesses We Miss
What else does Zingerman's Deli make?
The whole menu is giant, and everything is homemade... right down to the pickles & soups. The bakery side of things is always making delicious breads and sugary treats. Those are featured in Zingerman's "Next Door Cafe"... literally located next door to the deli.
Take a look inside -- people are obsessed.
The Reuben is so popular they even sell "mail order" kits for people to make at home. While those are pricey, too... they feed several people. And, so you get the full experience of flavors, there's even a tutorial teaching you how to prepare it just like they do in-store. (Pro tip: read the reviews on that same page. Famous people rave about the flavors)
Where is Zingerman's Delicatessen in Ann Arbor, MI located?
You'll find the shop at 422 Detroit Street, Ann Arbor, MI 48104. The owners strongly suggest calling your order in ahead of time unless you have time to wait in line.
20+ Good Eats: Genesee County, MI Restaurant Bucket List
Best Bars and Restaurants In Genesee County, MI
10+ Good Eats: Lapeer County, MI Dining Bucket List
Great restaurants and bars to try in Lapeer County with friends and family.
See Inside: Flint's Farmers' Market
See views and businesses from inside the flint farmers' market