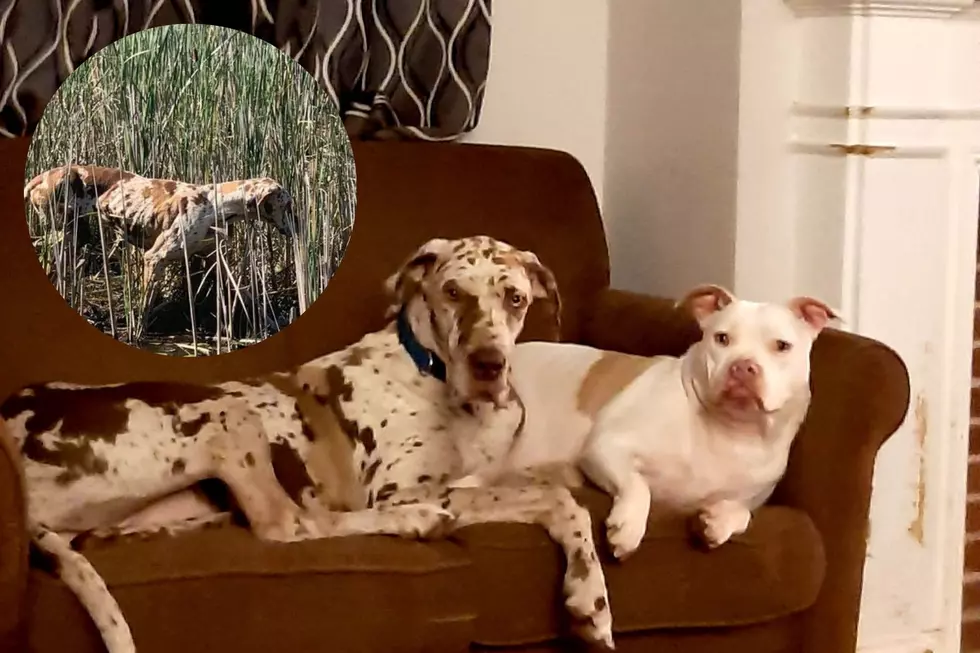 Happy Ending for Great Dane Stranded for Weeks on Harrison, Michigan Lake
Photo: Humane Society of Midland County
Consider it a Christmas miracle of sorts. Just in time for the holidays, the dog stranded for weeks on a Harrison, Michigan lake has found her "furever" home.
We first told you the tragic story of the Great Dane named Zaria that started to unfold in August when the dog got off her collar and somehow made its way into nearby Cranberry Lake and swam across making her way to an island. Once there, Zaria could not make her way back and became stranded.
Rescuing the stranded pup was not as easy as it seemed with the area she is wandering in being about the size of five football fields. It is surrounded by marsh and low muddy land except for the center of the area which is higher. As rescuers would get closed, Zaria would run off in fear.
Finally, after weeks of unsuccessful attempts, Zaria was rescued with the help of a food trap and taken to the Clare County Animal Shelter, where she was assessed and cared for before she made her way to a foster home after her owners signed her over. Since then, Zaria has been waiting for a new human to love...and the wait is over.
What started at Zaria's foster home, has now become her forever home thanks to Beth Wellman, shelter director of The Humane Society of Midland. Wellman had offered to foster Zaria until she could be adopted. Wellman had the perfect foster home for Zaria with a 6-foot fence and plenty of space filled with lots of love. It was soon apparent...it was the perfect place forever.
Wellman noticed that the once shy Zaria began to trust more and became the "best dog" she ever fostered. The Humane Society of Midland County, which handled the adoption,  posted on social media that "Beth just couldn't let her go".  Wellman, who now calls the sweet girl Zara, made it official, and just in time for Christmas, the pup has her new home. Zara was the last adoption of the BISSELL Pet Foundation's Empty the Shelters event at the humane society.
Merry Christmas sweet Zara.
Check out these 50 fascinating facts about dogs:
LOOK: Here Are 30 Foods That Are Poisonous to Dogs
To prepare yourself for a potential incident, always keep your vet's phone number handy, along with an after-hours clinic you can call in an emergency. The ASPCA Animal Poison Control Center also has a hotline you can call at (888) 426-4435 for advice.
Even with all of these resources, however, the best cure for food poisoning is preventing it in the first place. To give you an idea of what human foods can be dangerous, Stacker has put together a slideshow of 30 common foods to avoid. Take a look to see if there are any that surprise you.
LOOK: Here are the pets banned in each state
Because the regulation of exotic animals is left to states, some organizations, including The Humane Society of the United States, advocate for federal, standardized legislation that would ban owning large cats, bears, primates, and large poisonous snakes as pets.
Read on to see which pets are banned in your home state, as well as across the nation.