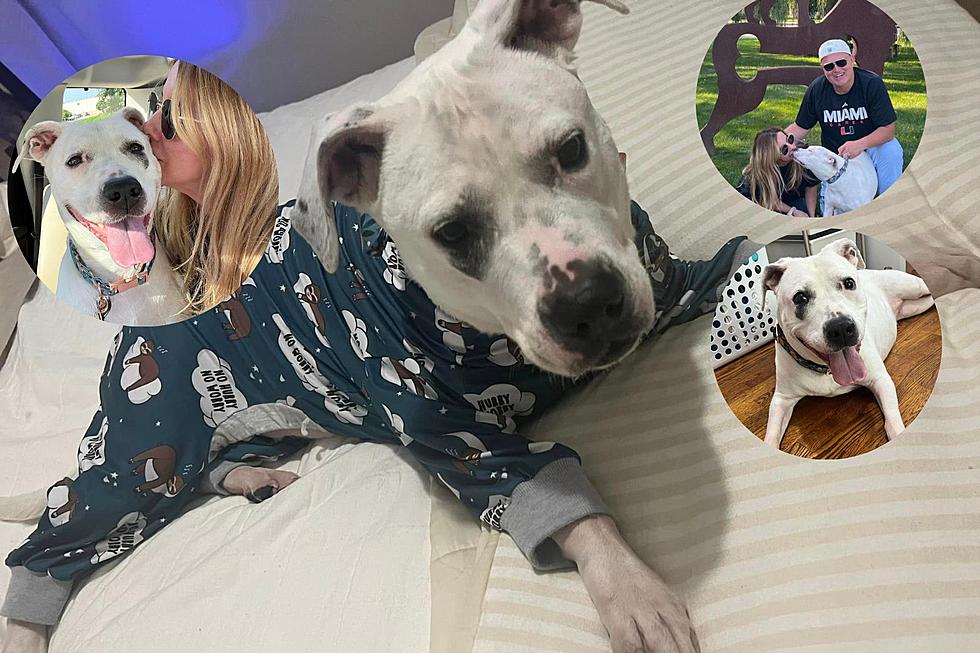 Flint Heroes: Couple Rescues Ailing Dog & Heals Her with Love
Photos: Jesi & Rodney Ott
In a world where love & kindness know no bounds, we bring you a heartwarming story that will surely tug at your heartstrings. It's the story of a Flint couple that had space in their hearts for a sweet dog that was giving up.
It all began when a lost dog wound up on the downtown Flint porch of Jesi & Rodney Ott.  It was a moment that would change the course of not only the dog's life but also the lives of Jesi & Rodney as well.
"We didn't want to call animal control, but felt like we had to give the owner a fair chance to come forward so the next day they picked her up and I made a promise to myself she was still there 30 days later, I would come to get her", Jesi told us.
Unfortunately, once at Genesee County Animal Control, it was discovered that the sweet girl was in bad shape. She had already had surgery on one leg and the original didn't do the surgery needed to the other leg. It was swelling up like a balloon and she couldn't walk. She's going to need surgery on this leg and a medical rescue was needed.
All Jesi & Rodney could do was help raise funds and hope the dog would be okay since they weren't allowed to adopt her under the circumstances, but they didn't give up. Although the couple wasn't looking to add a new dog to their family, they just knew she was meant to be theirs.
"We originally had no plans of getting a new dog just because we lost two of our dogs, ages 15 and 16 within six months of each other both unfortunately succumbed to old age and cancer, but she is the sweetest little girl ever she absolutely has my heart".
The dog, now named Peaches, was moved to the Humane Society of Western Michigan for treatment.  After antibiotics for a few weeks, which felt like months for Jesi & Rodney, the big reunion happened. On Saturday, September 23rd, the couple made the trip to Grand Rapids to officially rescue their new fur baby.
Since then Peaches has quickly settled into her new wonderful life filled with love. "We told Peaches when animal control came to get her that she would not be forgotten. She had a long road to travel to the other side of the state, but she will never have a worry again", Rodney said.  She even has a new bed and fancy jammies too....life is good.
So, the next time you see a furry friend in need, remember the incredible journey of Peaches, the pup who found her forever home with Jesi & Rodney. It's a story that reminds us all that love truly does conquer all, and with open hearts, we can make the world a better place, one wagging tail at a time.
RANKED: Here Are the 63 Smartest Dog Breeds
Does your loyal pup's breed make the list? Read on to see if you'll be bragging to the neighbors about your dog's intellectual prowess the next time you take your fur baby out for a walk. Don't worry: Even if your dog's breed doesn't land on the list, that doesn't mean he's not a good boy--some traits simply can't be measured.
KEEP LOOKING: See What 50 of America's Most 'Pupular' Dog Breeds Look Like as Puppies
LOOK: Here Are 30 Foods That Are Poisonous to Dogs
To prepare yourself for a potential incident, always keep your vet's phone number handy, along with an after-hours clinic you can call in an emergency. The ASPCA Animal Poison Control Center also has a hotline you can call at (888) 426-4435 for advice.
Even with all of these resources, however, the best cure for food poisoning is preventing it in the first place. To give you an idea of what human foods can be dangerous, Stacker has put together a slideshow of 30 common foods to avoid. Take a look to see if there are any that surprise you.