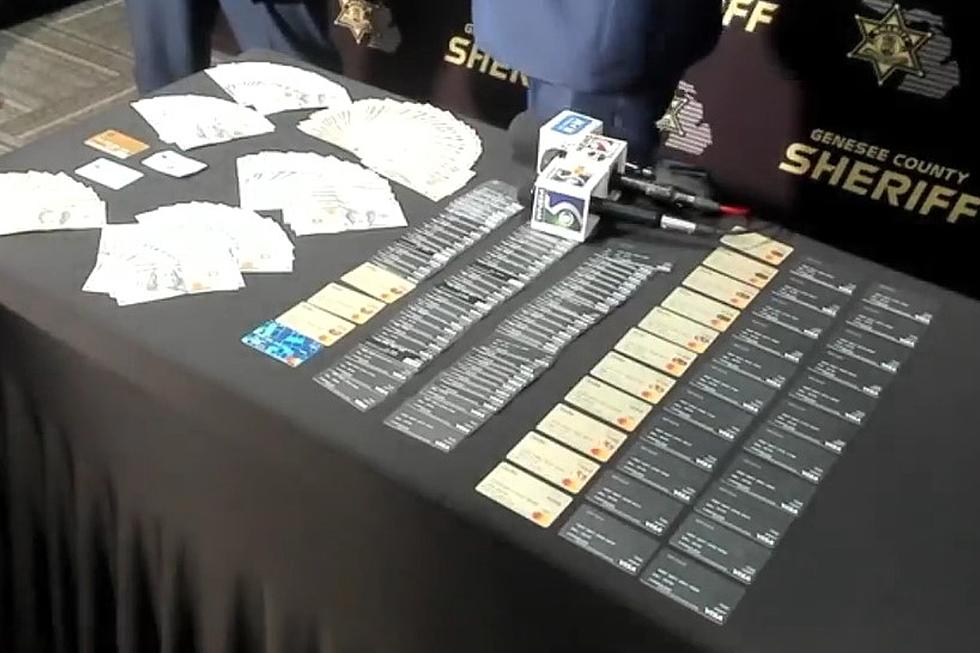 Flint Township Target Store Scammed Out of $93,000 in Four Days
Genesee County Sheriff's Office via Facebook
The Target store on Miller Road in Flint Township has lost $93,000 in gift cards over a four-day period, after falling victim to a repeated scam.
SEE ALSO:  Eight Michigan Men Who Have Been Exonerated Thanks to the Innocence Project
Genesee County Sheriff Chris Swanson laid out the details in his weekly Facebook briefing, detailing the case beginning at the 5:50 mark.
Nationwide Scam
Swanson said the nationwide scam which is known as the "K1 Scam" is responsible for millions of dollars in losses for stores across the country each week.
Scammers usually look for vulnerable cashiers who are new on the job or are busy. They use fake credit cards and convince the cashier to run the fake card as cash. The scammers then use the money obtained from the fake cards to purchase gift cards, thus rendering the scam untraceable.
"This is a grand theft from our stores… all of us pay for it," Swanson said.
The sheriff went on to urge cashiers at Meijer, Menards, Home Depot, and other big-box stores in the area to not give in to pressure from customers who could be trying to scam the store and to call a manager if something feels out of place.
Local Scammer Busted in a Traffic Stop
Sheriff Swanson says the man responsible for scamming the Flint Township store was busted when fraudulent gift cards and a large sum of cash were found during a traffic stop.
Shaheem Wright was in possession of 106 gift cards, 91 of which were obtained through the fraudulent 'K1 Scam.' Wright had a ring of seven other people who were involved in the gift card scam.
Wright has been charged with possession of a fraudulent transaction device and receiving and concealing stolen property.
Historic Mackinac Island Estate Can Be Your Own Private Grand Hotel For $5M
It's not the Grand Hotel, but it sure looks like a miniature version, porch and all. Cairngorm Cottage, built in 1888, is an 8,000 square foot Mackinac Island West Bluff Victorian era home currently on the market for $5,150,000. It features beautifully renovated and decorated rooms that come completely furnished with the selling price. The estate features 7 bedrooms, 6 bathrooms, plus a completely furnished 2 bedroom, 2 bath carriage house behind the home. In addition to the magnificent porch with a breathtaking view, the new owner will enjoy a beautifully landscaped backyard with a swimming pool, Jacuzzi, gazebo, and stone terraced gardens. This piece of Michigan history is a must-see. Take a look!
Meet the Flint Area Folks Who've Competed for Real Money on TV Game Shows
Jeopardy, Wheel, Millionaire, you name it, Flint-area folks have been on it.
Over the last several decades, we've seen lots of people from our area competing for and sometimes even winning big money.
Our list includes a former Grand Blanc resident whose Jeopardy strategy is still used today and is reputed to be a maneuver that Alex Trebek hated.
And we even have one gentleman from Flint who's considered a game show expert, appearing on five different shows over the years.
Michigan Lakefront Estate with $1 Million Indoor Pool : Look
If the magnificent location on the lake isn't enough, or the breathtaking design throughout the 9500+ square foot space doesn't blow your mind, just wait until you see the pool.
Located in Union City, this estate with 6 bedrooms and 7 bathrooms would blow anyone away, but that's just the tip of the iceberg. Inside is an incredible resort-style indoor pool with waterfalls & slides. The pool was built at a cost of over $1.2M. Yes... $1.2M.
To put it into perspective, the home is currently on the market for $1,995,000.
Take a look inside.