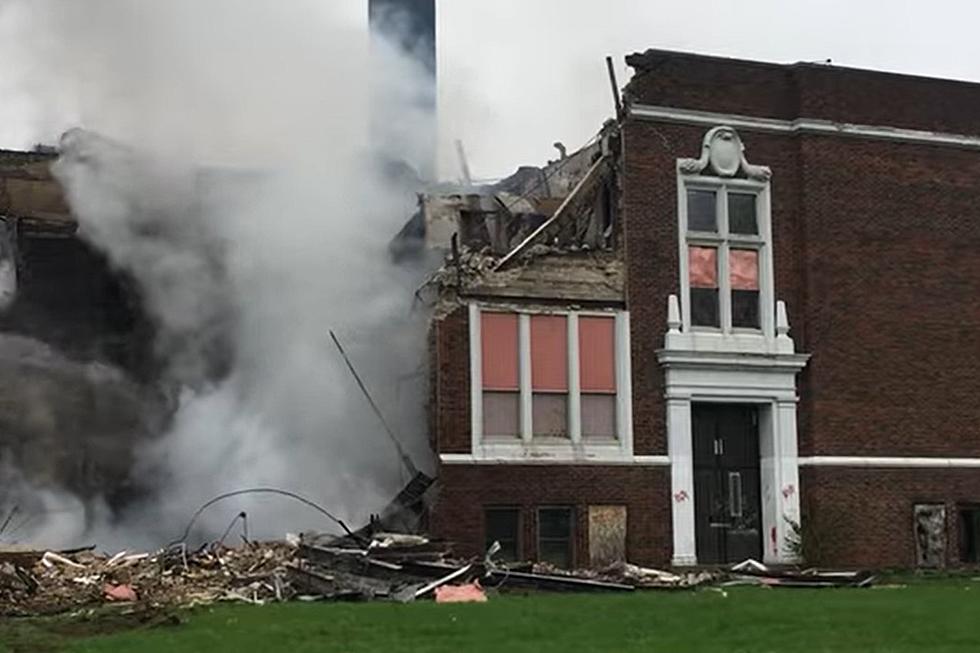 Fire Destroys Nearly Century Old Flint School Building [VIDEO]
Mlive via YouTube
Fire crews were called to Washington Elementary School early this morning as flames engulfed the building.
Our news partner Mid-Michigan Now reports that multiple calls came in to report the fire beginning around 12:20 am. Fire crews arrived to find that the roof of the abandoned building was on fire, but flames quickly spread to multiple sections of the building.
Flint's Oldest School Building
Washington Elementary School, located at 1400 N. Vernon Avenue in Flint, was built in 1922 and is one of the oldest school buildings in the Flint Community School district. The building closed in 2014. Mid-Michigan Now reports that there have been at least two fires at the building since its closing.
SEE ALSO:  Flint Community School Teachers Get New Contract, First Pay Raise in Nearly a Decade
Citing concerns that the dilapidated condition of the building could cause it to collapse, firefighters were forced to pull back and let the structure burn.
No Official Cause for the Fire as of Yet
Firefighters have yet to determine the cause of the fire. One witness who lives in the neighborhood reported online that he witnessed several people in or near the building on Wednesday (10/6) although those people have not yet been connected with the fire.
The video below from Mlive shows some of the destruction caused by this morning's fire. There's an extensive gallery that details more of the destruction sustained by today's fire here.
Keep reading to see the 10 most-dangerous roundabouts in Michigan
10 Most Dangerous Michigan Roundabouts
Roundabouts are popping up all over Michigan, here are the 10 most dangerous roundabouts in the state according to 2020
crash data
.
Keep reading to explore Flint from A to Z
Getting to Know Flint From A to Z
Whether you're new to the area or have lived here all your life, here's a look at what Flint has to offer, from A to Z.