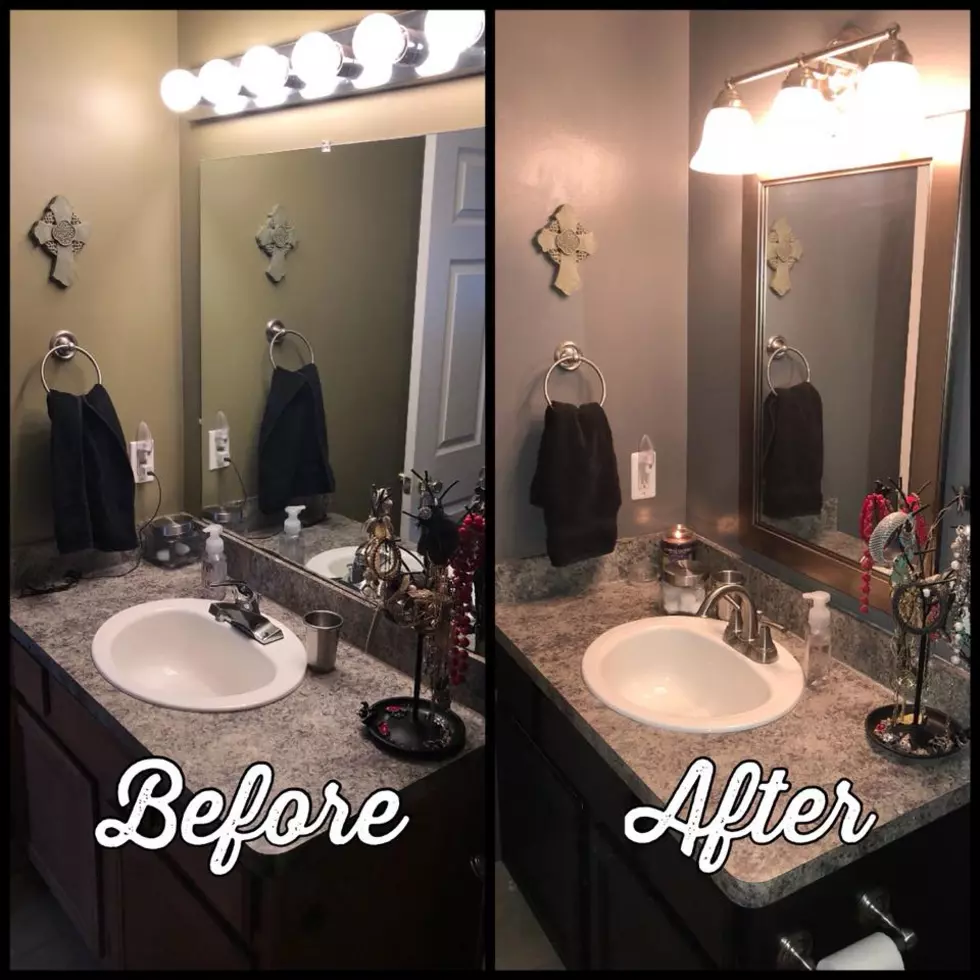 DIY: I Did a Soft Remodel On My Bathroom in 3 Days [VIDEOS]
via Pat & AJ
I have NO prior experience. I literally used YouTube tutorials and asked a ton of questions at Home Depot. 
I believed I could, so I did.
Our house was in foreclosure when we bought it, so there were a lot of cheap fixes, bad paint jobs, and ugly fixtures. We've managed to upgrade a little bit, but the upstairs bathroom has always bothered me. Ugly color, rust on the mirror and the lights...it was time to bite the bullet and do it. Do it...myself.
Contractors are great; I'd rather pay somebody and have it done right the first time. But, when the money to pay a pro isn't there, and you've done enough research to know that you MIGHT be able to pull this off by yourself, you go for it.
I painted the walls, the ceiling, and the vanity. I replaced the mirror, light fixture and faucet. Other than those three things and the paint, the only purchases I made were new towel & curtain rods (which were also rusted out), and a basket for the top of my toilet tank.
I worked on Thursday and Friday from 3-8 PM, Saturday from noon to 6 PM and did my last touch-ups on Sunday.
A couple of observations:
I thought that the hardest part would be the light fixture which, in fact, only took me a half hour.
The hardest part, in fact, was a combination of two things: painting the ceiling and replacing the faucet.
Saturday was, by far, the most frustrating day.
But wrapping it up on Sunday (even though I spent most of it sweating under the sink) was worth it.
In conclusion, if you've been thinking about doing a soft remodel, trust me - YOU CAN DO IT. If I can, so can you. I used only YouTube tutorials and advice from the friendly staff at the Home Depot on Court Street. I'm no Joanna Gaines, but for what I wanted, I'm super happy. And empowered. Do I get my own TV show now? ;) Good luck, DIYers!