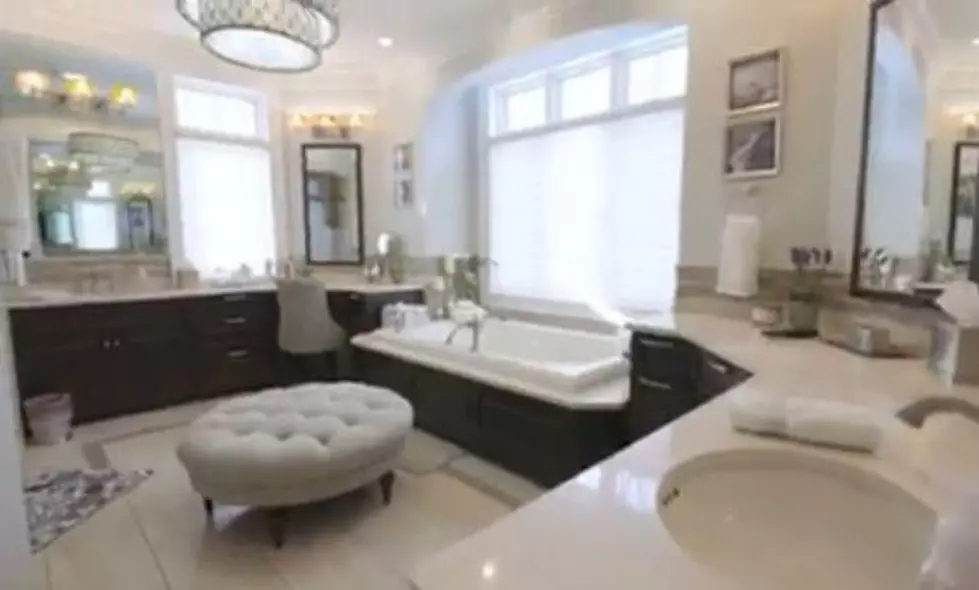 Look Inside Disgraced Chassé Ballroom Owner Michael LaJoice's Multi-Million Dollar Fenton Home
Todd Warda, Wentworth Real Estate Group
It's been seven years since Michael LaJoice surrendered to police after embezzling nearly $20 million from a Clarkston credit union. His multi-million-dollar Fenton home was sold, with the proceeds going toward paying back some of the restitution he was ordered to pay.
SEE ALSO:  Uncle Kracker's Harrison Twp. Home Has a Pub, Underground Tunnels, and more
Today we're taking a peek inside LaJoice's beautiful, custom-built home in Tyrone Township and wondering if it was overtaken by mannequins after he went to prison.
About Michael LaJoice
LaJoice was the owner of the now-defunct Chassé Ballroom and Latin Dance Studio in Fenton. He was known for his philanthropy, famously paying $4,000 for a pie at a church fundraiser and generously donating to numerous local charities.
As Chief Financial Officer of the Clarkston Brandon Community Credit Union (which has since been absorbed and rebranded as a Michigan State University Federal Credit Union), LaJoice funneled millions of dollars into personal accounts which he used to pour money into a downtown Fenton development project, fund lavish family vacations, and build the multi-million-dollar home pictured below.
Arrest, Sentencing, and Parole
LaJoice's house of cards came crashing down in January 2016 when auditors followed a money trail that implicated him in numerous state and federal crimes.
He was sentenced in May 2017 to seven to 20 years in state prison on various embezzlement charges and landed an 11-year federal sentence to be served concurrently. According to TC Times.com, LaJoice's state sentence was paroled earlier this month (Jan. 5, 2023) but he will remain in custody as he continues to serve his 11-year federal sentence.
Tyrone Township Home
LaJoice's Fenton home was off the chain. The opulent home on Macintosh Drive in Tyrone Township featured a home theater, pool, sauna, five bedrooms, and six and a half bathrooms.
We attended an open house shortly after the 10,000-square-foot home was built and marveled at the amenities.
In one of the kitchen photos below, you can see into the home's laundry room, which featured two sets of high-efficiency washers and dryers.
Take a look at the downstairs bar area. It features a big-screen TV flanked by four smaller screens for watching multiple sporting events.
It was simply over the top.
Sold in 2021
The home is not currently on the market. It was listed for sale in 2021 by the Wentworth  Real Estate Group and according to Zillow, sold for about $1.7 million.
The photos and promotional video below will have you wondering if the home was overtaken by mannequins. However, if you look closely, you'll notice that while the people in the video are motionless, there is live action on many of the TV screens and the ceiling fans are clearly in motion. I'm told this is a remake of the popular "Mannequin Challenge" trend that started on Vine circa 2015. Makes a lot more sense in that context.
Step Inside Michael LaJoice's Former Fenton Home
Take a look at this Fenton Home, custom built for Michael LaJoice.
Did mannequins overtake the home after LaJoice went to prison?
Check Out the Net Worth of 13 Famous Celebs from Flint, MI
Flint, MI has produced some serious talent over the years. Check out the net worth of 13 different famous celebrities from the city.
LOOK: The most expensive weather and climate disasters in recent decades
Stacker
ranked the most expensive climate disasters by the billions since 1980 by the total cost of all damages, adjusted for inflation, based on
2021 data from the National Oceanic and Atmospheric Administration (NOAA)
. The list starts with Hurricane Sally, which caused $7.3 billion in damages in 2020, and ends with a devastating 2005 hurricane that caused $170 billion in damage and killed at least 1,833 people. Keep reading to discover the 50 of the most expensive climate disasters in recent decades in the U.S.