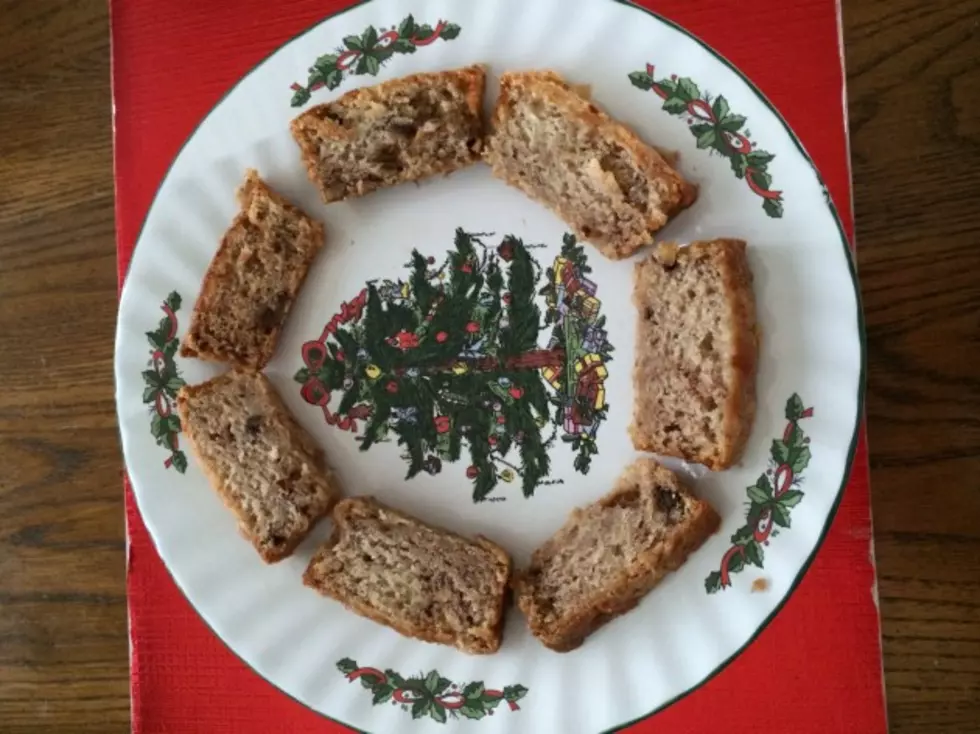 Deborah's Banana Sour Cream Bread — Cars 108 Recipe of the Week
Deborah M., Cars 108 Listener
Holiday season is also baking season and this week's recipe is a perfect candidate for a "thank you" gift to give family, neighbors, teachers, co-workers... anybody really. Find out how to make Deborah's delicious Banana Sour Cream Bread here.
1/4 cup white sugar
1 teaspoon ground cinnamon
3/4 cup butter
3 cups white sugar
3 eggs
6 very ripe bananas, mashed
1 (16 ounce) container sour cream
2 teaspoons vanilla extract
2 teaspoons ground cinnamon
1/2 teaspoon salt
3 teaspoons baking soda
4 1/2 cups all-purpose flour
1 cup chopped walnuts(optional)
Preheat oven to 300 degrees F (150 degrees C). Grease four 7x3 inch loaf pans. In a small bowl, stir together 1/4 cup white sugar and 1 teaspoon cinnamon. Dust pans lightly with cinnamon and sugar mixture. In a large bowl, cream butter and 3 cups sugar. Mix in eggs, mashed bananas, sour cream, vanilla, and cinnamon. Mix in salt, baking soda and flour. Stir in nuts. Divide into prepared pans. Bake for 1 hour, until a toothpick inserted on center comes out clean.
To submit your recipe simply click the box below to email it to recipes@wcrz.com. Send the ingredients a brief walkthrough and a picture of the finished product and you could win a $25 gift card to your favorite restaurant and be featured as the Cars 108 Recipe of the Week!
By submitting your recipe (including any photographs or other content submitted with the recipe), you agree that it is your own and does not violate any right of any third party, including copyright, trademark, privacy or other personal or proprietary right. You also grant Cars 108 and Townsquare Media, LLC the irrevocable, non-exclusive, perpetual, fully paid, worldwide, royalty-free right and license to publicly display, sell, have sponsored, transmit, broadcast, distribute, reproduce, edit, promote, make derivative works of, sublicense or otherwise use the recipe in any manner or medium now existing or hereafter developed (including but not limited to print) without compensation of any kind to you or any third party.