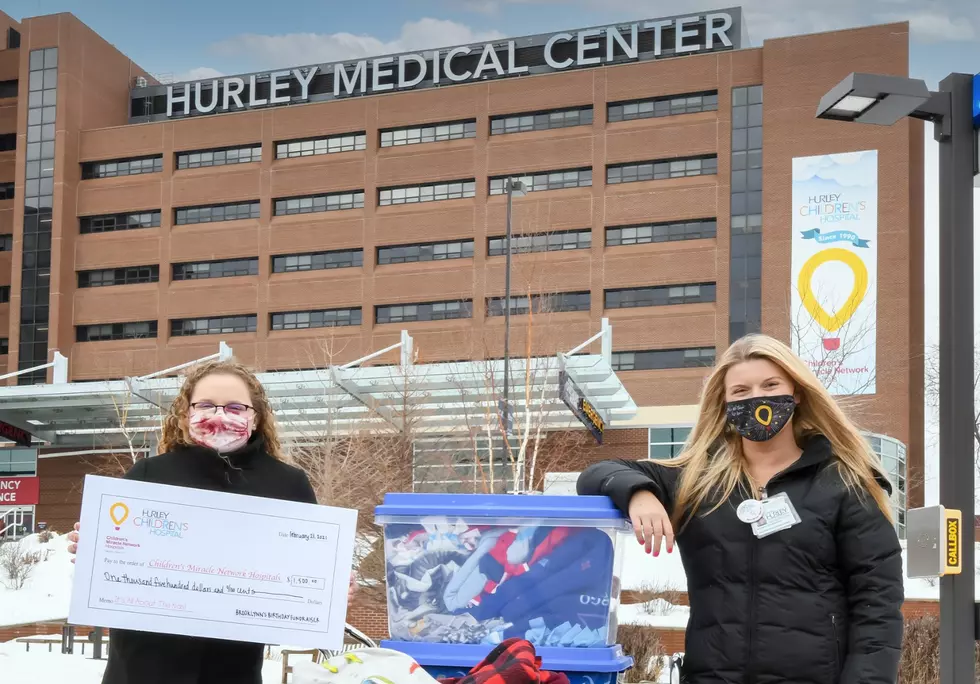 11 Year Old Miracle Maker Donates $1,500 To Hurley Children's Hospital For Her Birthday
Doug Pike, Hurley Children's Hospital
Brooklynn is only 11 years old, but she is showing everyone in Michigan that age is no factor when it comes to making miracles.
Brooklynn decided that instead of asking for presents for her birthday this year, she wanted to be the one doing the giving. Brooklynn started an online fundraiser for Hurley Children's Hospital with a goal of $500. That's a pretty ambitious goal for anyone doing a fundraiser, but Brooklynn managed to blow that goal out of the water. When the donations were all counted, Brooklynn had tripled her goal and presented a check for $1,500 to Hurley.
Brooklynn is an amazing kid, and she should be so proud of herself for raising so much money. In the fundraiser Brooklynn simply said that she only wants to help kids in need.
It would have been enough to donate all of that money, but Brooklynn didn't stop there.  Brooklynn and her friends got together over the weekend and made about 30 blankets for kids at her church. Brooklynn and her friends have been making blankets for the kids in the pediatric unit at Hurley Children's Hospital since 2018.
This just blows me away!
I have two kids in the same age range as Brooklynn, and I can testify how difficult it can be to get them to think of others first. That's why I am so impressed with Brooklynn and her dedication to helping the kids at Hurley.
Brooklynn has big plans for the future as well. She talked about wanting to become a pediatric doctor when she grows up. I can't think of a better profession for Brooklynn. Thank you Brooklynn for your heart, and for being such a great example for other kids to follow.
The Goods are brought to you by The Twisted Burger Diner.
LOOK: Answers to 30 common COVID-19 vaccine questions
While much is still unknown about the coronavirus and the future, what is known is that the currently available vaccines have gone through all three trial phases and are safe and effective. It will be necessary for as many Americans as possible to be vaccinated in order to finally return to some level of pre-pandemic normalcy, and hopefully these 30 answers provided here will help readers get vaccinated as soon they are able.