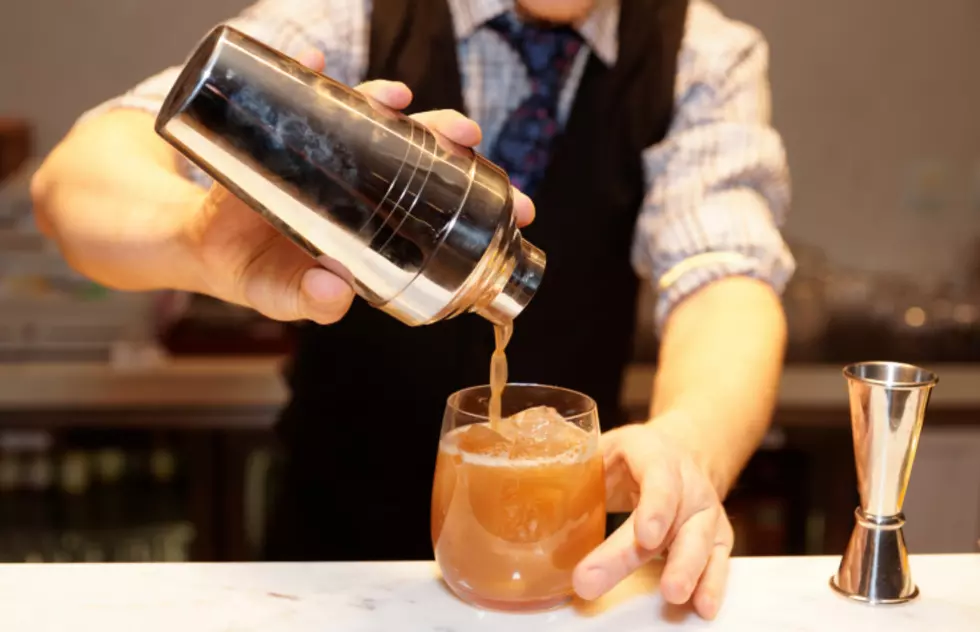 Ypsilanti Bartender Says He Was "Pushed Out" for Self-Quarantining
Kondor83
This is a common practice in the service industry, unfortunately, and now it's happening because of COVID-19.
Will Brawley, a bartender/bar manager in Ypsilanti, has taken to social media to claim that he was pushed out of his job for choosing to self-isolate after a coworker tested positive for coronavirus.
So I recently was working at a bar and restaurant in the depot town area of Ypsilanti. The bar is called Sidetracks Bar and Grill. I was hired in June. My first initial experience with working there was when they asked me to come in for orientation. During this orientation they had me help them reset up the bar area as they were opening the following weekend after being closed for Covid. Nothing was clean. Bottles were still sticky, bar top was still sticky, nothing was organized. Although this scared me, I thought I would give it a chance.
We opened with the promise of lower capacity, access to staying clean and sanitary, the promise that we would be and feel safe and healthy in a high volume, fast paced, work environment. I only had four training days to learn the menu, the unnecessarily excessive amount of cocktails, the bar set up, and the computer system. On my fourth night training, a Saturday, my trainer did not show up to work leaving me alone on the main bar, not knowing my bearings.(this bar is the most unorganized bar I had ever seen.)
Michigan law stated that bars and restaurants could only be open at half capacity. This is so that the kitchens and service staff could stay safe and sanitary and avoid being too close to people or overheated in the kitchen.
This bar decided to go around that order and open up half of their back parking lot and turn that into a patio and then open the entire front block of street and turn that into a patio as well. This turned the half capacity restaurant right. back into full capacity. Half of the kitchen staff were either not wearing their masks or not wearing them properly. Those of you who know me know that my bartending comes from a background of EXTREMELY HIGH volume, craft cocktail, craft beer bartending and have been doing so the last 7 years, working in college bars and in downtown Minneapolis. Long story short here; it was busy as hell, I was alone with a broken dishwasher, no bar back or support staff, a literal flood of dirty glassware nonstop coming to my bar, all while answering the never ending phone calls for take out orders and trying to serve my bar guests. DURING A PANDEMIC.
I made it through. Went home and immediately took a shower. I decided to make the best of this and try to use my experience in the industry to "help" this place. I made a very long list of improvements, cleaning tasks, and other things that every bar has or already does besides Sidetracks Bar and Grill. I scheduled a time to meet with the owners.
During this meeting they made me bar manager. I was excited. I was going to turn this bar around and make it better and more safe for all the employees. I had ideas and was thrilled to get started.
On July 9th I closed the bar. This was after talking to the management about teamwork and cleanliness and trying to help everyone feel more safe. I had already began instilling cleaning and closing procedures, helping with their horrible fruit fly problem. Once again, it became uncontrollably busy. I tried my absolute best to keep up with dirty glassware but the amount burnt me out within an hour. From 7:30pm to midnight, my entire bar rail was filled with dirty glassware, spilling over to the other bars glass area. Not once was I asked if I needed help.
There was a server working that night who was not "asymptomatic". He was coughing. He was clearing his throat. He was sweating profusely. His voice was gone. I told him to go home. His respond was that he did not want to get fired. He told me he was purposefully avoiding his tables, as much as he could, and the manager so they would not hear his cough and voice. He knew that he was sick and should not have been there. I pulled a manager aside, "have you talked to ... he sounds horrible and I don't think he should be here." She looked at me and rolled her eyes and said "I know." then walked away. I understand the whole reason that service does not call in sick, its a whole thing in the industry, trust me, I know. NOT DURING A PANDEMIC.
I was not able to clear all the glassware until 45 mins after the restaurant closed that evening. As soon as we closed, the sick server, as well as every other employee, removed his mask. I continued to wear mine, closed as fast as I could and got out of there.
That following Saturday night, I was up north camping when I received a text from my non service industry friend with a screenshot of a post made by Sidetracks informing the public that one of their servers tested positive for Covid 19. They stated that management was unaware and that the server was unaware, stating he was asymptomatic. In this post they also stated that they had informed all of their staff and that all staff were to be tested negative before returning to work. They also stated that they were to be closed for 3 days for professional cleaning. ONLY THREE DAYS. I was not contacted until the next day at 1pm. Management sent a mass text to the bar staff stating that we will be closing until Wednesday and to call with any questions. Thats it. No "Hey a server was tested positive for Covid" or "everyone should go get tested before returning" Just we are closed until Wednesday. I tried to contact the manager and they pushed me onto the co owner. I told them that I was working with the server and that they were blatantly showing symptoms and that out my own personal safety and the safety of others I would be self quarantining for 14 days.
I did not hear from them after that.
I found out from fellow bartenders that they replaced me almost immediately with a new bartender and they demoted my manager position, all without contacting me, within less than a week. No respect for me or concern for my well being what so ever.
I was pushed out of a bar manager and bartender position at Sidetracks Bar and Grill because I chose to self quarantine after a server that I worked with tested positive for Covid 19.
I 100% recommend not supporting Sidetracks Bar and Grill. They are an unclean, dirty restaurant with no concern for their staffs well being. I am leaving the restaurant industry for now out of my own safety. I 100% recommend not going out to eat until Covid is manageable and on the mend. Please support your local business and restaurants by donating, ordering take out, having cocktails with straws on the patio. Be safe. Your life is the most important thing. Take care of yourselves and stay healthy.
**************************
We spoke to Will on the phone this afternoon, and he described it as being "zeroed out," which happens a lot in the service industry. Your hours are cut, without communication, until you are no longer scheduled.
He told us that he's gotten a lot of messages from people who have experienced the same thing but never spoken about it and that it's "something that needs to stop," especially when it comes to a global pandemic like coronavirus.
Let's be honest - a bartender, who likely wasn't given the opportunity to pay for health insurance, was protecting himself and others. Why, WHY should he be "zeroed out" when he works in close contact with the public?
I don't know about you, but we're taking note of businesses that are treating their employees poorly during this pandemic, and we hope that you do, too.
Enter your number to get our free mobile app
READ MORE: See how some companies are changing their businesses to combat COVID-19