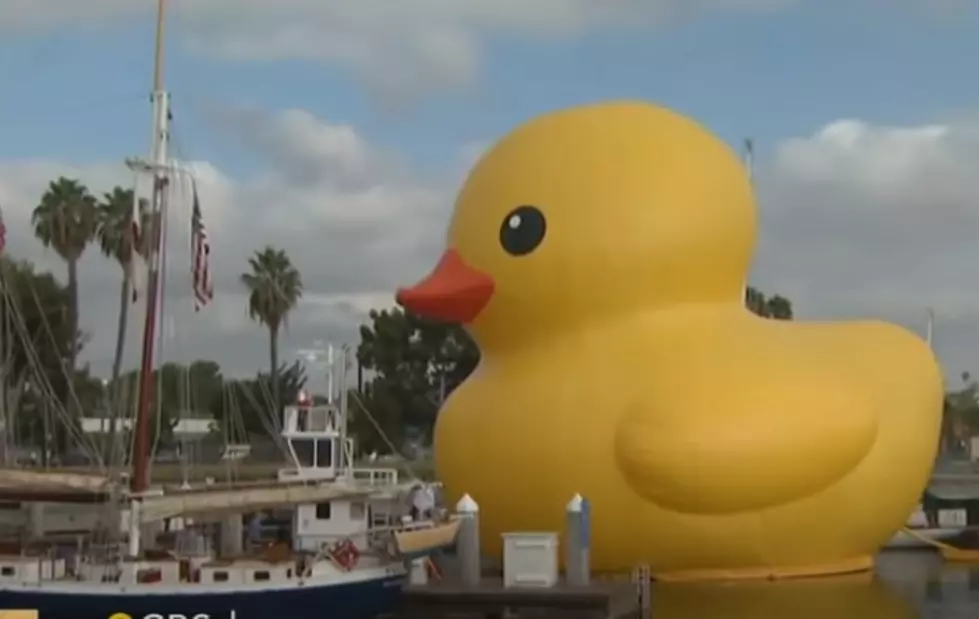 World's Largest Rubber Duck Making Two Stops In Michigan This Summer
CBS This Morning via YouTube
Just when you think you have seen and heard it all - there's Mama Duck.
Weighing in at 31,500 pounds, Mama Duck is the World's Largest Rubber Duck. If seeing is believing, you can do just that this summer in Michigan. The large and in charge duck will be making two appearances in the Great Lakes State this July and August.
You can see Mama Duck in all of her glory at the Festival of Sail Alpena on Friday, July 15th through Sunday, July 17th. The festival runs from 10:00 AM to 6:00 PM all three days.  All ticket levels at the event will include the opportunity to see the World's Largest Rubber Duck, up close and personal on display in Lake Huron.
Your next opportunity to see Mama Duck happens in August at Marquette's Mattson Lower Harbor Park, along Lake Superior, from Friday, August 12th through Sunday, August 14th.
According to Click On Detroit, Mama Duck has some serious stats. Check out these digits,
The duck is 61-feet high
The duck is 69-feet wide
The duck is 79-feet long
I hate to ruin the illusion for you, but Mama Duck will not be arriving by water into Michigan. Mama Duck travels in a semi-truck. I am guessing this duck can be a bit of a hothead because according to its owner Craig Samborski, it takes three high-intensity blowers to keep Mama Duck inflated at each event. Can you say, duck diva?
If you are currently planning a summer vacation or a summer road trip, keep these two events in mind. Duck it - go see Mama Duck.
12 Places in Michigan to Take a Hot Air Balloon Ride
Here's a list of places in Michigan that offer hot air balloon rides.
Battle Creek Home Comes with Private Island, Hovercraft, and More
This Battle Creek property comes with two homes, one of which is on a private island, a hovercraft, pontoon, jet skis, and more.
Saint Ignace Home Comes With Full Bar and 2,000 Gallon Fish Tank
This home in Saint Ignace was once a seafood restaurant and contains a full bar set up and two huge fish tanks, the largest being a 2,000-gallon tank.