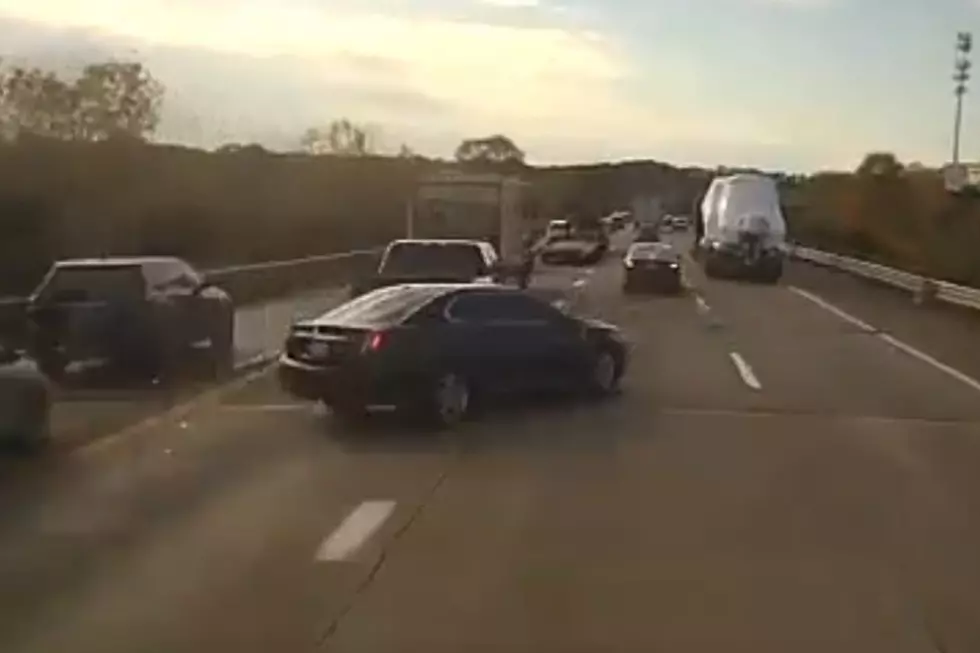 Watch: Distracted Driver Causes Six-Vehicle Crash Near Ann Arbor
MSP First District via Twitter
The video below will show you just how dangerous distracted driving can be.
Did that opening line sound preachy? I didn't mean it to sound preachy or imply that you are guilty of distracted driving... (Although there certainly are a lot of distracted drivers - accidents waiting to happen - out on the road as of late.)
Distracted Driving Near Ann Arbor
Michigan State Police Officers were called to the scene of an accident involving six cars on M-14 westbound near the US 23 interchange near Ann Arbor. In the video below, you'll see the silver car on the left edge of your screen rear-end another car which causes that vehicle to lose control and swerve into the path of a semi-truck that hit that vehicle and another truck.
The video was recorded by the semi-truck driver who was recording the dash-cam video.
The accident happened Thursday (10/20), around 3 pm.
"MULTIPLE VEHICLE TRAFFIC CRASH:  This video clip is an excellent example of being distracted and speeding while driving. The silver vehicle in the left lane was the at fault driver."
The Michigan State Police went on to say that no one was killed or received life-threatening injuries, but two people were taken to the hospital.
They went on to note that the driver of the silver car that started the chain-reaction wreck was ticketed, and they reiterated how dangerous distracted driving can be.
See Genesee County, Michigan's Most Famous Historic Places
These Genesee County buildings are part of the National Historic Places Registry
Inside the Spectacular $18M Walloon Lake Retreat in Petoskey
Consider it all Pure Michigan is the form of a home. This spectacular home situated on the iconic Walloon Lake is currently on the market for $18M making it the most expensive home for sale in the state. Although it shares those bragging rights with a rustic Alpena lodge, there is nothing rustic about this 14,000+ square foot home.
From the massive master suite with a drool-worthy closet to the lower level entertainment area with indoor golf, gym, gaming area, and bunk room/ theater room, the home has everything you can dream of. There is even a guest suite with its own kitchen area and private entrance. The outside is just as mesmerizing with a lakeside gazebo, manicured grounds, and a boat house for 2 nautical toys. Round it all out with a garage with space for 4 cars with its automatic lift and heated driveway.
Take a look inside!
The Oldest Residence in Michigan