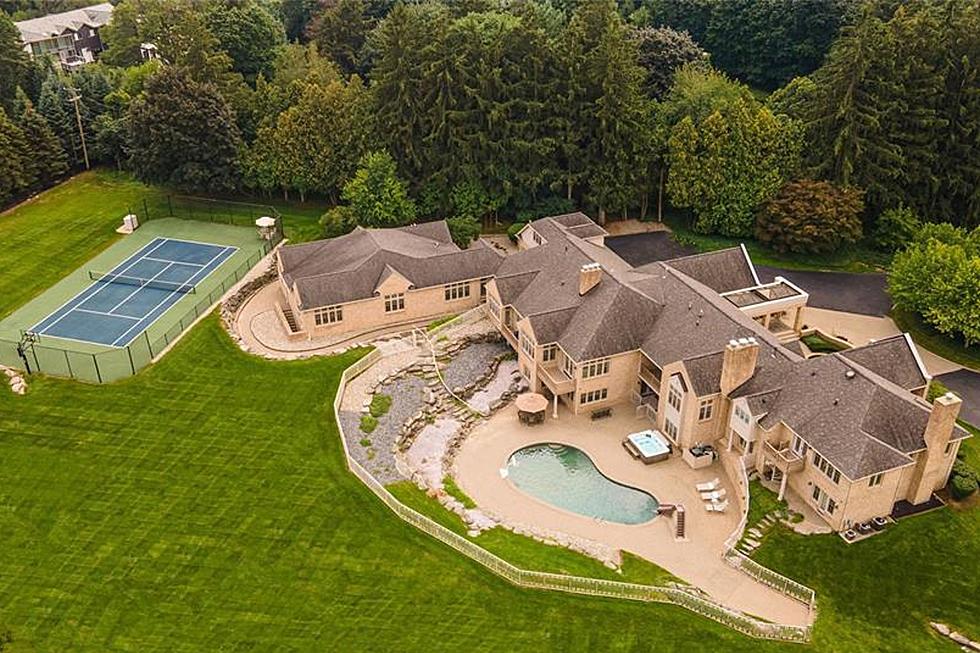 This Bloomfield Hills Home is Huge, It Even Has a Killer Indoor Basketball Court
Red Fin
Located in Bloomfield Hills, Michigan, this massive 11,000 square foot home has something you don't see every day in someone's home...its own indoor basketball court. However, I assure you, that's not all it has.
Imagine living in a home where you can simply walk down the hall right into your very own indoor basketball court to shoot some hoops. That's exactly what the owner of this $4.2 million home will be able to do when they buy this monster of a place.
It's really more than just a basketball court, According to Redfin, it's referred to as an all-purpose indoor sports recreational court that can be used for volleyball, basketball, and tennis. It's even big enough to put in a golf simulator.
This place also comes with a full smart-home control system, 7 fireplaces, 9 bathrooms, 6 bedrooms, custom library, sauna, outdoor tennis court, pool, 6-car garage, and a bunch of other stuff that most of us can't afford.
It doesn't surprise me that we're finding a house of this magnitude sitting on 3.4 acres in Bloomfield Hills. I mean, it does rank consistently as one of the top 5 wealthiest cities in the United States.
Whoever used to live in this house must have been a die-hard Detroit Lions fan because there's a huge Lions rug in one of the rooms and a Lions wall hanging in one of the bathrooms. You gotta love the die-hards.
We may not be able to afford a home that costs $4.2 million but we sure as hell can dream about it, right?
This Oakland County Home Has Its own Indoor Basketball Court
Located in Bloomfield Hills, Michigan, this home is 11,000 square feet of awesomeness.
$1.6 Million Home in Lapeer Co Looks Like Something Straight Out of Yellowstone
Located in Metamora, this 3,100 square foot Lapeer County home looks like something straight out of the Yellowstone television series. This killer custom built home even comes with heated floors and an in-ground saltwater pool.
Enjoy a Pure Michigan Vacation on This Houseboat AIrBnb
Everyone knows there's nothing quite like summertime in Michigan. From the dunes to the lakes, and everything else in-between, Michigan has it all. If you are looking to change up your usual summer stay away, why not try a little houseboat life? Known as the "Floathaus of Saugatuck", this Airbnb is an actual houseboat on the water near Saugatuck on the west side of the state. Located in the Tower Marina, the house has 2 bedrooms and 1 bathroom to sleep 4 comfortably. Guests will also enjoy a waterfront pool and park, kayaks, and be able to grill out on those amazing summer nights. The houseboat won't be able to set sea but trust us when we say, you will love every minute while staying docked. Take a look inside!