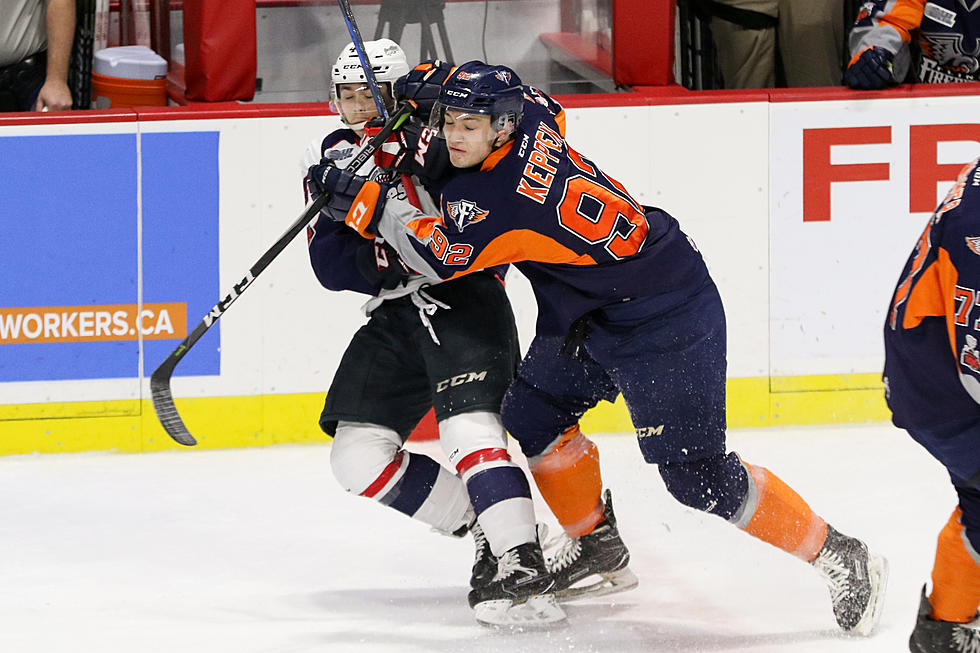 The Flint Firebirds Regain the Lead in Playoff Series
Getty Images
The Flint Firebirds picked up another win in their playoff journey.
The Flint Firebirds were back on home ice on Sunday in playoff hockey action. With a 5-1 victory over the Owen Sound Attack, the Firebirds took the lead in the series. The team is up three games to two in this race to seven.
Game six will see the Firebirds hitting the road to play Owen Sound on their home ice at Harry Lumley Bayshore Community Centre. The game is set to take place on Tuesday, May 3rd at 7 pm. If the Firebirds pick up the win, they win the series and will be on to round two. If they don't, the series will come down to game seven on Wednesday, May 4th at the Dort Financial Center.
OHL Playoffs - Round One
Here is what the rest of the playoff teams are looking like at this point.
The Windsor Spitfires will be moving on to Round 2 after winning their series against the Sarnia Sting 4-2.
The London Knights lead in their series against the Kitchener Rangers 3-2.
The Soo Greyhounds will move on to Round 2 after defeating the Guelph Storm four games to one in Round 1.
The Hamilton Bulldogs shut out the Peterborough Petes four games to zero in Round 1.
The North Bay Battalion swept their series and will be moving on to Round 2 after four straight victories over the Ottawa 67's.
The Kingston Frontenacs will be moving on after a 4-2 series against the Oshawa Generals
The Mississauga Steelheads lead their Round 1 series against the Barrie Colts three games to two.
For more information on the Flint Firebirds and their playoff journey, click here.
Source: Flint Firebirds
Celebrity Guests Who Attended Motor City Comic Con - May 2022
The first Motor City Comic Con of 2022 in May was awesome! We can't wait to see who will be there in October!