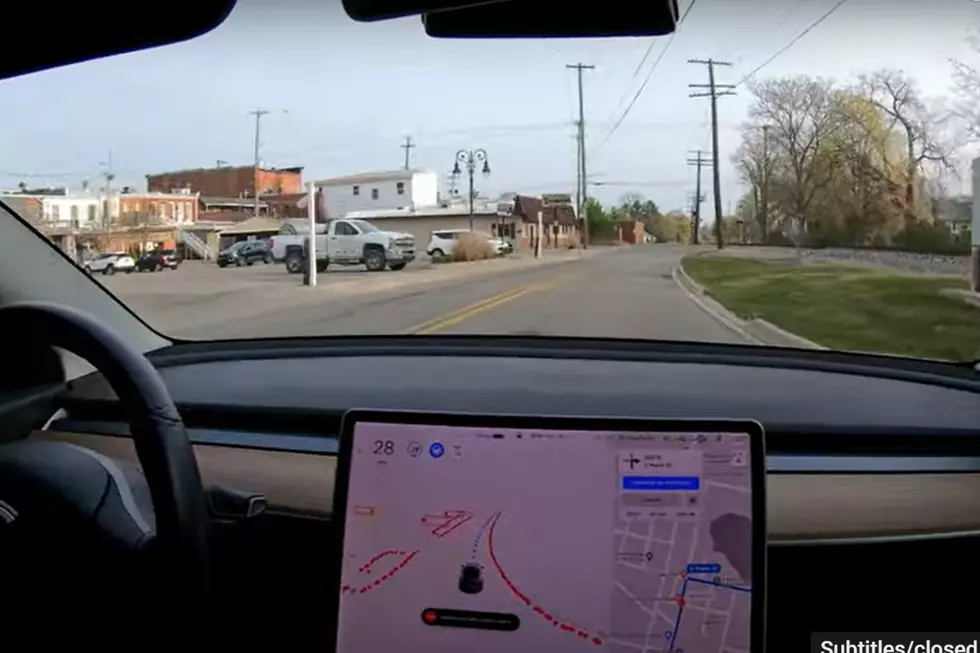 Take a Leisurely Drive Through Southeast Michigan in a Self-Driving Tesla [VIDEO]
Dirty Tesla via YouTube
Wonder what it's like to sit behind the wheel of a self-driving car? Come along for a 40-mile drive through Southeast Michigan as a Tesla employee puts the company's 'Full Self Driving' or FSD Beta software through its paces.
SEE ALSO:  Tesla on Auto-Pilot Crashes Into Michigan State Police Card [VIDEO]
It should be noted that Tesla's Full Self Driving software is still in the beta-testing phase. The driver notes that while he does frequently let the car take over, he is still in full control of the vehicle, ready to intervene as needed. You'll notice an indicator on the screen inside the vehicle that the blue hash marks in front of the vehicle indicate that the car is in self-driving mode while the gray marks indicate that the human is driving.
On this particular test drive, you'll see the Tesla encounter chickens crossing the road (Why do they do that?), a school bus, squirrel, and a dreaded Michigan left.
(A Michigander in the comments section notes that the chickens are from his wife's aunt's house.)
You're bound to recognize lots of familiar roads and landmarks.
You'll probably notice that at one point, you're on northbound I-75, passing by the Lapeer (M-24) exit. There are signs for Milford Rd., Rose Center Rd., Sackner Rd., Fenton Rd., and Fish Lake Rd. all in the first few minutes.
And how many times have you driven by the Weber Rd., Dixie Highway/Waterford, or Sashabaw Rd. exits?
Toward the end of the video, you'll see the Tesla easily navigate one of those damn Michigan left turns in Pontiac.
Self-driving technology is maturing
The video, released today by Dirty Tesla, demonstrates Tesla's self-driving software, version 8.2. The next major version, version 9.0 is expected to be released soon, although an official release date is not yet available.
Take a look, and let us know what areas and landmarks you're able to spot.
MORE: Michigan Concept Cars - Some Become Stars and Some Are Forgotten
See Inside Garth Brooks and Trisha Yearwood's Malibu Beach House: