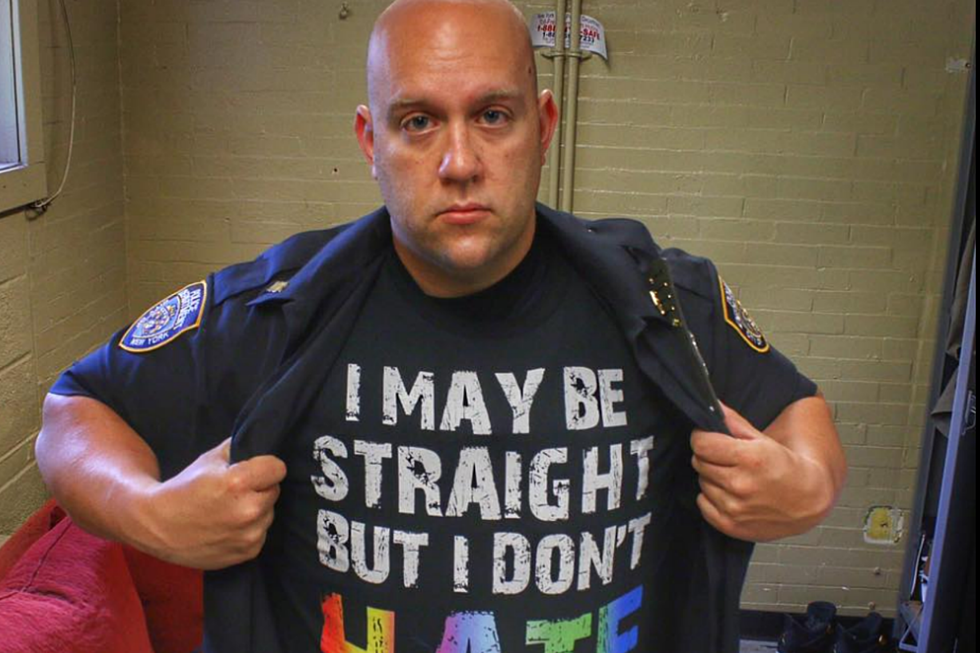 Straight Cop Has Personal Reasons to Support LGBT Community [PHOTO]
Huge Fat Loser via Facebook
As he prepared himself to work New York's Pride Festival over the weekend, a police officer shared some very personal reasons for supporting the LGBT community.
In a Facebook post that's been shared over 5,000 times, the officer donned a shirt with a poignant message:  "I may be straight but I don't hate." He went on to list family members and acquaintances that have been a part of his life, and members of the LGBT community.
I'll be out there working at Pridefest today wearing this shirt under my uniform for a lot of reasons.
For my step brother.
For my priest.
For my aunts who died before they could be legally married.
For my cousin.
For all of the cops I have worked with over the years, including one of the best partner's I've ever shared a sector car with.
For my classmate in High School who's parents made him sleep in a tent in his yard.
For the man who cried on my shoulder about losing his partner on 9/11.
For every call I went to where someone got kicked out of their house or who's family just didn't understand.
For anyone who's had to hide who they are.
I've got your back.
Love is Love.