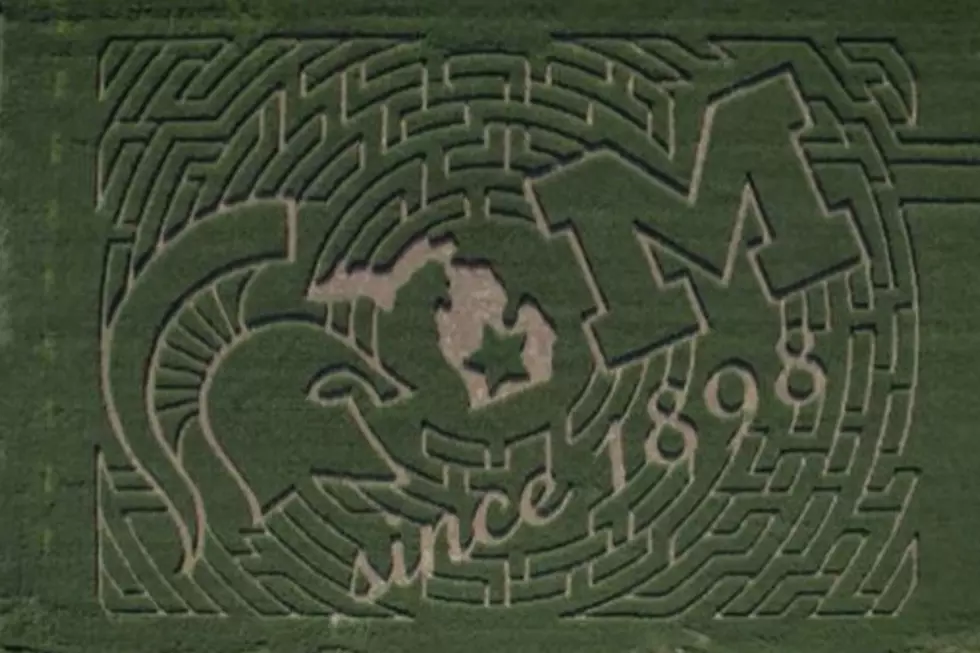 Webberville Farm Creates 12 Acre Michigan V. Michigan State Rivalry Maze
Choice Farm Market and Adventure via YouTube
Just in time for the big game this weekend, an Ingham County farm has created a maze that's not just Maze and Blue, but also pays tribute to the Green and White.
SEE ALSO:  Did You Know Pac-Man is Buried in the Clio Cemetery? 
Loretta Benjamin runs Choice Farms in Webberville. She tells WLNS-TV in Lansing that the maze is spread over 12 acres and has over four miles of trails.
Farming Meets Technology
She notes that the maze sports some cool technology including the ability to track how long it takes guests to finish the maze, something offered by very few attractions across the country.
"You scan with your camera the QR code and it will give you a fun fact about one of the universities or about agriculture," Benjamin says.
There are also ten check-in stations throughout the maze and 'Corn Cops' located throughout so they can help people who are struggling to find their way through the maze.
Benjamin says the farm also features a smaller maze for kids, featuring sing-a-long stations with educational facts about farming.
Inspiration for the Great Corn Maze
Benjamin notes that she was inspired to create the maze because she wants to help educate younger generations about the importance of farming.
"We want people to understand especially the young people. They're further removed from the farm than ever. And if they don't understand where their food and fiber come from. Their our future lawmakers, they're going to be making policies and they need to understand agriculture," said Benjamin.
Check out the videos of the maze below.
These Weather Memes Are Pure Michigan
These Michigan weather memes are the best of the best.
$18M Historic Randall's Point Walloon Lake Homestead
Currently
offered for $18 million,
making it one of the most expensive properties in the state, the compound comes with four cabins. Three of the cabins were built in the 1920s and the main log home was built in the 1970s. The original boathouse and barn remain. The homestead was founded by Bo Randall who was the founder of
Randall Made Knives
and a good friend of Ernest Hemingway who frequented the property for hunting. With over 5700 square feet of living space amongst the cabins, the compound is perfect for large families. A mix of modern and timeless history, this is truly a slice of Michigan history.
See Genesee County, Michigan's Most Famous Historic Places
These Genesee County buildings are part of the National Historic Places Registry