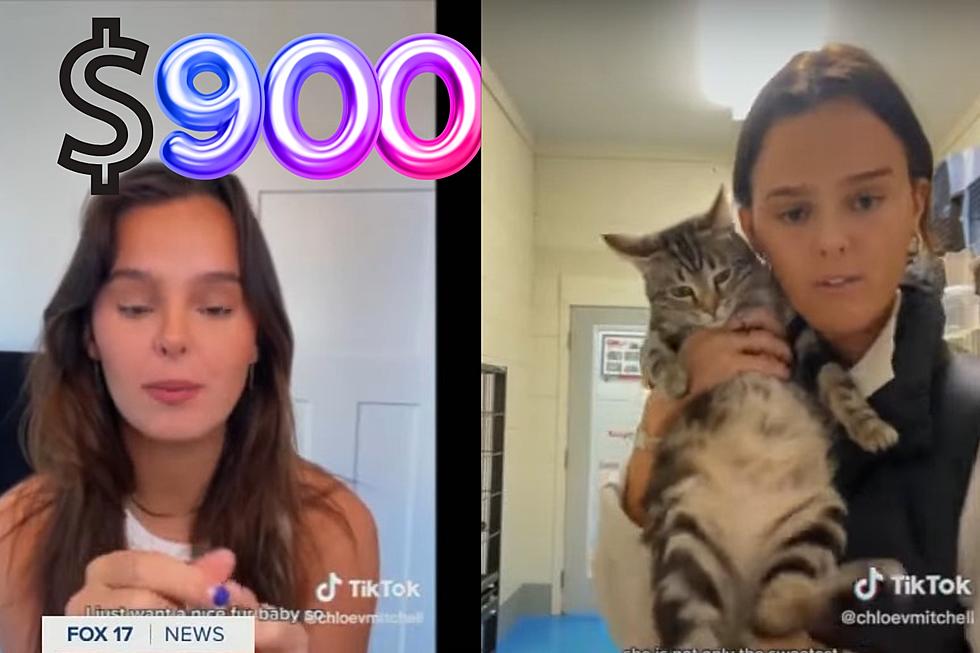 Michigan No-Kill Shelter & TikTok Star Enter Online Brawl Over Adoption Fee
Fox 17 WXMI via YouTube, Chloe Mitchell via YouTube, Canva
A popular Michigan social media influencer has her fans hissing over a West Michigan animal shelter's cat adoption fee.
Chloe Mitchell is a social media influencer who has several million followers on TikTok. She's embroiled in a disagreement with the Noah Project, a no-kill animal shelter in Muskegon.
A Journey to Find a Pet
Mitchell took her followers through the whole pet adoption process, outlining the process in her first video of the series.
"I'm a dog person or a cat person, because I'm a dog person, and I'm going to go adopt a cat," Mitchell said, donning a fake cat hat. "I'm going to a no-kill shelter and a humane society ... I just hope I find a nice one."
Mitchell notes that she anticipated spending about $25 on an adoption fee.
Finding the Perfect Pet
She posted the next clip as she found the perfect feline companion at the Noah Project.
"I'm at an animal shelter and this cage is open. And this little girl is out and about," she says. "She is so talkative ... she is so chill,"
Upon returning the next day to make the adoption official, Mitchell learned that the adoption fee was $900. She tells Lansing's Fox-47 that she fell in love with the cat before she learned of its adoption fee.
Mitchell claims the shelter told her the adoption fee was high because the cat was a rare and expensive breed. The Noah Project, however, disputes that claim.
Many of Mitchell's followers began to question the cat's pedigree, claiming it wasn't a purebred African Savannah.
Two Sides to Every Story
The Noah Project claims the cat's adoption fee was so high because it was part of two litters that came in from an older woman who had intentions of breeding cats for extra income. But the woman became overwhelmed by the number of cats and the shelter says she surrendered the animals.
The shelter says their costs to care for the animals contributed to the high adoption fee.
"Half of them were sick; we lost a few; one had legs amputated; a couple had anemia. So the medical costs were very high," said Mashele Garrett-Arndt, director of The Noah Project.

 
Internet Aftermath
Since Mitchell's videos have gone public, followers have been leaving angry messages on the shelter's voicemail system and leaving negative online reviews.
Garrett-Arndt says the negative publicity has made it difficult for the shelter to function.
These Michigan State Alums Have a Combined Net Worth of $26.8B
These former Michigan State Spartans are raking in the dough. From comedians to actors and sports legends to the inventor of the 'Big Mac.'
$55K Lansing Home Has Emergency Toilet and Cat Pics in a Closet
This $55,000 fixer-upper in Lansing, Michigan has an emergency toilet surrounded by cat photos in the front foyer.
Elementary School is Now Chic Luxury Home with Indoor Basketball Court
Presto Chango! Talk about breathing new life into something in a big way. Once upon a time, this was Perry Elementary School in Mt. Morris, Pennsylvania. Now, the former school is one of the coolest homes around. This place is 14,600 square feet of living space with 4 bedrooms, 4 full and 5 half bathrooms, a living/dining room with wet bar, gourmet kitchen, game room, gym, indoor basketball court, huge garage, and more. Originally listed for $2,375,000, this unique home just sold for $1,935,000.
Take a look inside and be inspired!