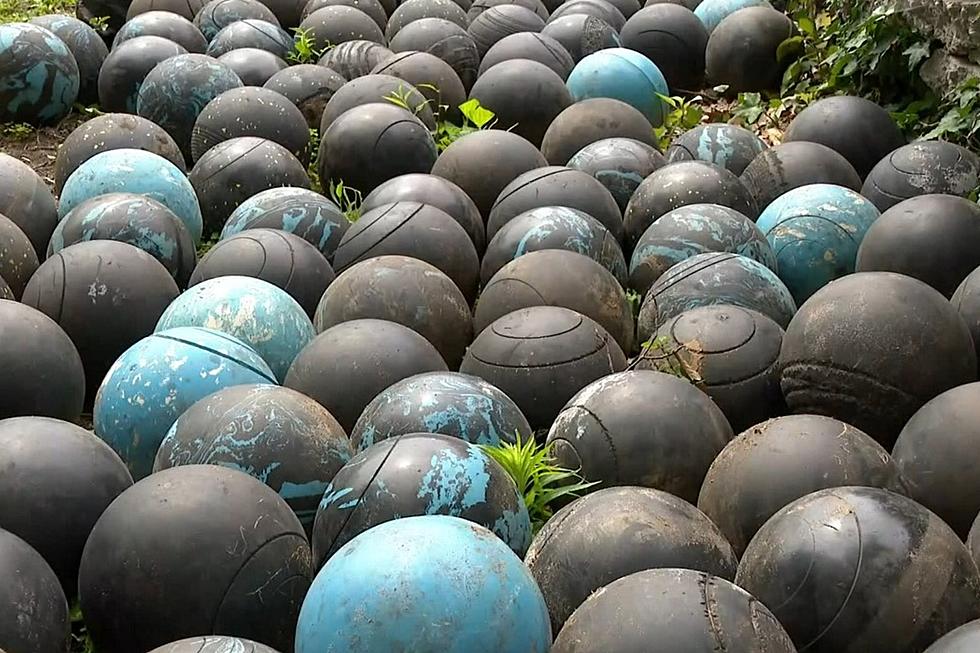 Michigan Man Finds 158 Bowling Balls Buried Under His House [VIDEO]
WZZM-TV
You never know what you're going to find when you dig into a do-it-yourself project, but a West Michigan man certainly didn't expect to find 158 bowling balls.
David Olson had to demolish a concrete staircase that led up to his Muskegon home. The cement pad was sloping and causing water to leak into the house. Olson decided that doing the work himself would save a lot of money.
An Unusual Find
After he got most of the concrete slab removed, Olson said he saw what appeared to be spheres protruding from the sand. He kept digging and found bowling balls. Lots and lots of bowling balls.
"It was full of bowling balls," Olson tells WZZM-TV. "The deeper I went down, the more I pulled out."
All in all, Olson found 158 bowling balls, most of which beared the name 'Brunswick' and were not drilled. He contacted the Brunswick office in Muskegon out of curiosity.
"They told me that back in the 1950s, they used to make damaged bowling balls available for people to take for free and use as landfill," added Olson. "There's no way to know for certain if that's what the previous homeowner did, but given where the bowling balls were found, it seems logical."

 
What Do You Do With All Those Balls?
Olson says he's given 10 of the balls to a local church group, a couple have been donated to a local museum, and he plans to use a few of them to decorate his landscape as a reminder of his unusual find.
Gov. Whitmer Toured a Better Made Chip Factory and People Lost Their Minds
Here are a few of the best (and worst) comments people made when Gov. Gretchen Whitmer visited the Better Made Potato Chip Factory in Detroit.
UP NEXT: Lies Michiganders Tell Themselves
In every state, Michigan included, there are lies people like to tell themselves. Well, they're really not LIES so to speak. Just half truths we fudge a little to help keep us sane.
Here are some of the most common white lies that us Michiganders tell ourselves.