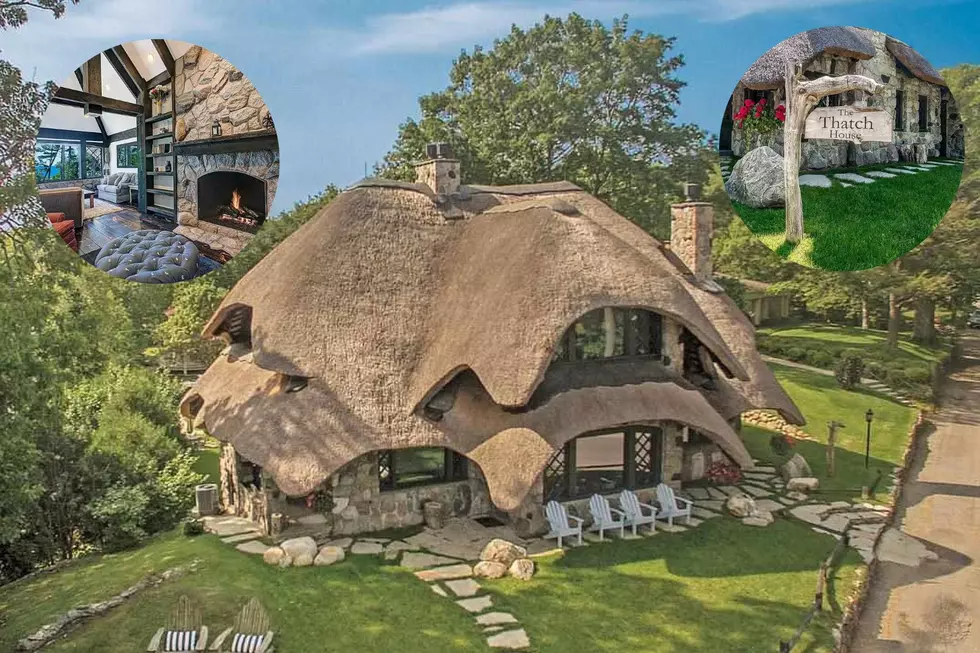 Pure Michigan! For $4.5M One of the Legendary Charlevoix Mushroom Houses Can Be Yours
Photos: Zillow
One look at the fairytale style and you'll be humming "Heigh-ho, Heigh-ho". One of the most "must-see" homes in northern Michigan is on the market, and let's face it, it's probably one of the most unique. Yes, one of the legendary Mushroom Homes is for sale.
Anyone that has ever been to Charlevoix, Michigan has probably seen the series of unique whimsical Hobbit-like cottages built along Park Avenue in front of Michigan Beach Park. The homes were the creative designs of the famous builder/architect Earl Young. The Michigan native made his mark throughout Charlevoix with his style of having his door, window, roof, and fireplace design distinction because of his use of curved lines. The Mushroom Homes are one of his most infamous by far, and now one can actually be yours.
The home knowns as The Thatch House has been listed for $4,500,000. The home was    Young's first home built in 1918. Although it was an original Young home, the current owner reimagined and redesigned the home to resemble that storybook vibe that Young created later in his years. The owner spared no expense in honoring the creation by bringing in specialized timber work, carefully erected with every beam layer, is unique and bold. The flowing roof is crafted from the finest natural thatch hand-reaped in Europe and shipped to the United States according to the listing. 
Inside you will find 7 bedrooms, and 7 bathrooms throughout the 6000-square foot enchanting cottage. Timeless landscaping and beautiful views make the setting storybook perfect.
Currently, the home is being offered as vacation and special events rental along with the other 3 Mushroom homes, but The Thatch House is just waiting for you to call it your own.
Take a look inside below!
Live Like A Storybook Character Inside the This Iconic Charlevoix Mushroom House
If you head to Charlevoix, Michigan you are sure to see the unique row of 4 Mushroom Homes situated on Park Avenue. The homes are the creation of artist design by Michigan-born builder/ architect Earl Young, the homes have become a bit of a tourist destination. Always something to marvel at with their storybook, Hobbit cottage-like appearance, the homes have become legendary, and now one can become yours. The Thatch House is not for sale for $4,500,000 and offers 7 bedrooms, 7 bathrooms, and 6000 square feet of whimsical living space. Take a look inside what can be your very own fairytale home.