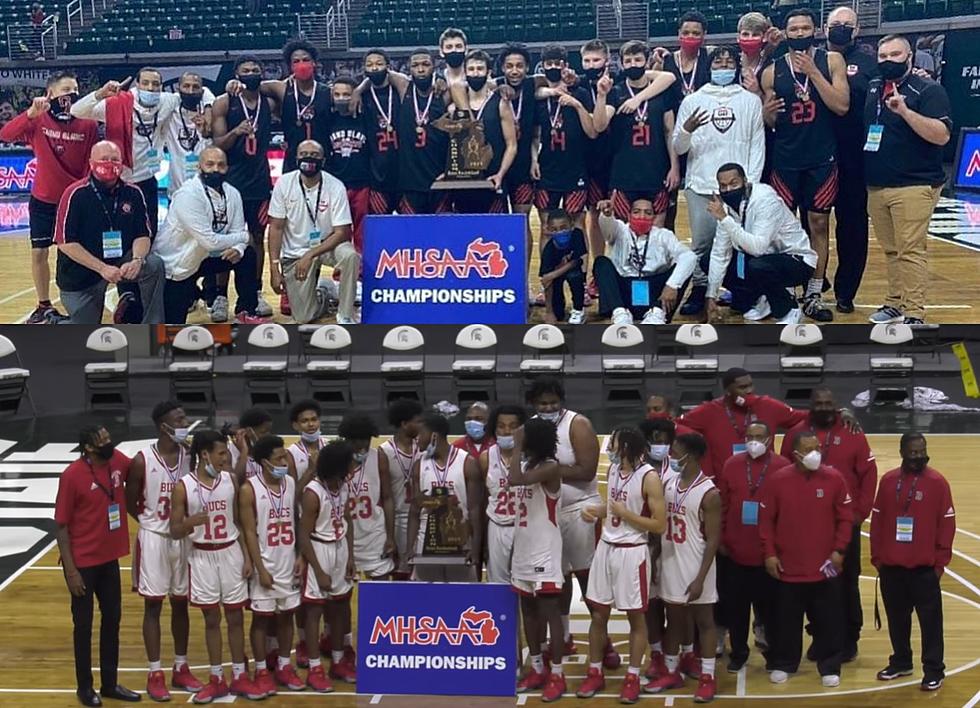 Grand Blanc and Beecher Both Bring Home Basketball State Championships
Grand Blanc / Beecher Facebook Pages
Beecher and Grand Blanc both capped off incredible basketball seasons by bringing home State Championship trophies.
Obviously this basketball season was a struggle for every team in Michigan. Playing through a pandemic only added to the adversity that any team faces while trying to win a championship. Both Grand Blanc and Beecher found ways to overcome the obstacles and raise the championship trophies for their division.
Grand Blanc won their first boys basketball state championship in school history this weekend. They beat Ann Arbor Huron 45 to 36 at The Breslin Center. It's hard to believe that a school like Grand Blanc has never won a state championship in boys basketball, but thanks to the years of hard work put in by Coach Thomas and his staff, the Bobcats are finally champions.
Beecher found themselves in familiar territory this weekend, winning their sixth state championship since 2012. Coach Williams has cemented his place as one of the greatest all time basketball coaches in Michigan.
Beecher dominated Iron Mountain from beginning to end in the state championship game. Buctown ended up winning 75 to 47 behind an epic performance from Keyon Menifield. You can see the show Keyon put on in the highlights above.
Iron Mountain was clearly outmatched in the game against Beecher, but that didn't stop their biggest star from shining on and off the court. Iron Mt player, Foster Wonders was Mr. Basketball Finalist. He stuck around in the tunnel to tell the Beecher players congratulations, and was actually late for his teams post game press conference. In the video below, you can see James Cummings from Beecher running to tell Wonders congrats on a great season, then the entire team joined in.
This is the kind of moment that should be shown when it comes to high school sports. The level of maturity and sportsmanship it takes for this to happen is off the charts.
MORE: Inspiring Quotes From Michigan Sports Figures
CHECK IT OUT: 100 sports records and the stories behind them