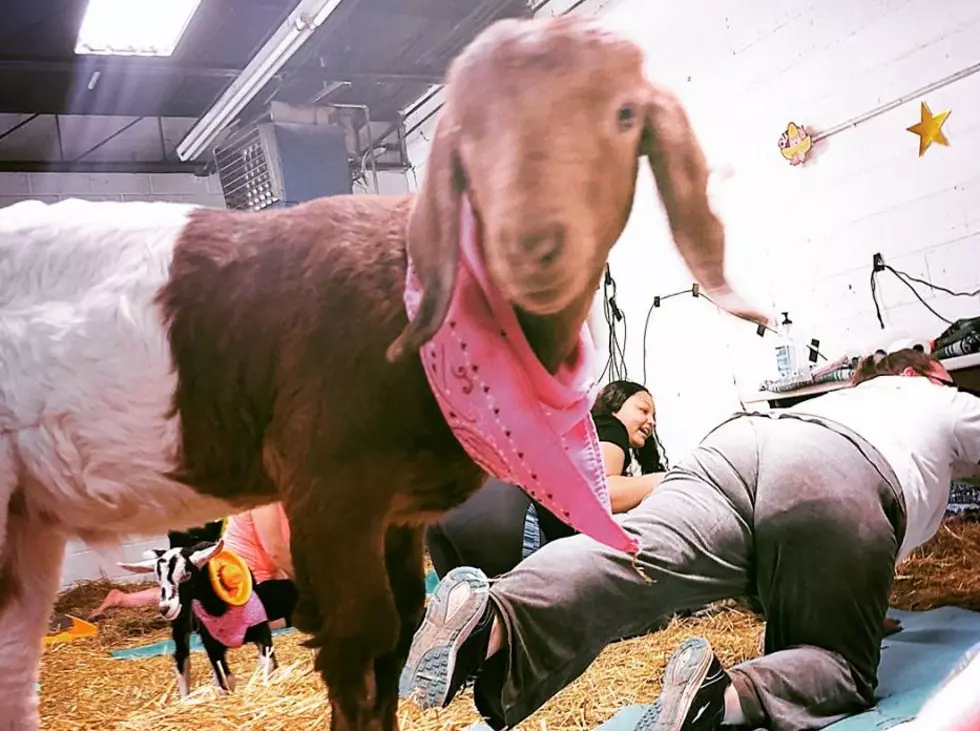 Goat Yoga – It's A Thing. I Did It. And I LOVED It! [PHOTOS]
via Pat & AJ
Yes, it's exactly what it sounds like. You do yoga. With goats. 
I can't even remember when or where I heard about it - probably on social media somewhere. I've done yoga on and off for about four years; I can't stand on my head or anything, but I can do all of the basics and I really enjoy it.
So why not take it to the next level?
Pingree Farms is an urban farm in Detroit, just off 7 Mile Road. It's about a 45-minute drive from Flint. Our son is 11 and has been doing yoga to help with his autism for a while now; their age limit is 14 but I thought I'd call and see if I could bring him.
Paid for our tickets, grabbed our yoga mats and drove south on I-75. The first rule? If there's anything you don't want the goats to chew on, keep them outside the gates. You put your mats down on some straw, lay back and start to breathe.
And then...they release the baby goats.
The climb on you. They sit with you. They'll chew on your fingers, your hair, and your clothes. They're big snugglers. And the joy in that room was palpable. Our faces hurt from smiling so much.
The instructor even said, "We might do a little yoga today, too." They're realistic about the fact that some people are just there for the goats. And that's totally okay.
Everybody was so happy when they left. I can't recommend it more, even if you only try it once. And if you can't make the trek to the D, there's goat yoga in Holly, too.
Goat Yoga In Detroit Is A Thing And I Did It