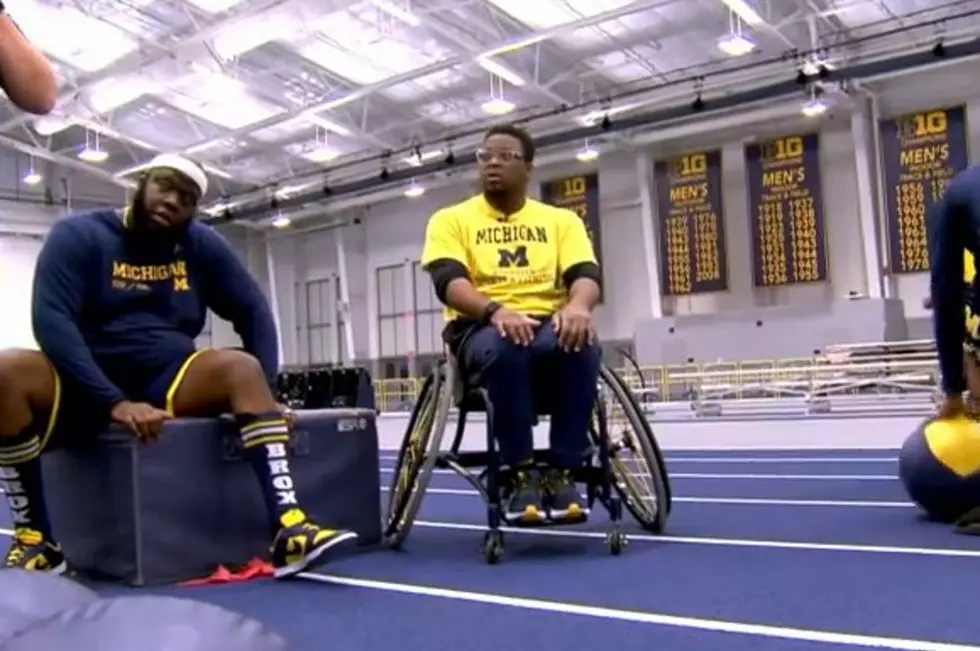 GMA Visits Ann Arbor to Surprise Hero Doctor Helping People With Disabilities
ABC/Good Morning America
Dr. Feranmi Okanlami is considered a hero among individuals with disabilities at the University of Michigan in Ann Arbor. ABC's 'Good Morning America' surprised the good doctor, awarding him $1 million in order to continue helping those who live with disabilities on a daily basis.
SEE ALSO:  Why Did Michigan Abandon The Central Time Zone? 
Okanlami is the Director of Disability Services and Adaptive Sports at the U of M campus in Ann Arbor. Once an All-American track star, Okanlami suffered from a spinal injury nearly 10 years ago and has since dedicated his life to helping others.
Okanlami's motto: "Disability is not inability."
Mom Joined the Celebration in Ann Arbor
The doc's mom accompanied Good Morning America's Robin Roberts this morning (10/20) as the show surprised him with an award from the Craig H. Nelsen Foundation, which is committed to helping those who live with spinal cord injuries.
"Feranmi has always been a child that made us proud," Okanlami's mother Bunmi told "Good Morning America. "His cervical injury was high enough that most people who have that are not expected to ever be able to walk or stand."
His mom went on to explain that Okanlami has always pushed on and in many has cases has beaten the odds.
A $1 Million Surprise
In the first video below, you'll see Robin Roberts speak with Dr. Okanlami's mother and son before the big surprise.
In the second video, you'll see Roberts reveal a $100,000 gift to Okanlami's program, helping athletes with disabilities. Later, Roberts reveals that there's an extra zero on the award, making the grant a full $1 million.
"It is beyond words," Okanlami says, as he soaks in the magnitude of the grant.
14 Famous People That Have Ties to Ann Arbor, Michigan
Ann Arbor, Michigan, the home of the Wolverines, has supplied the world with actors, musicians, a couple of Playboy Playmates, tech gurus, and more.
10 Trick or Treat Hot Spots in Genesee County to Get Great Candy
Whether you are looking for a high yield of free candy or searching for king-size trophy pieces, these neighborhoods throughout Genesee County are great options.
Michael Moore's Former Home on Torch Lake
Take a look inside one of Michael Moore's former Michigan homes, selling recently for just over $4.3 million.