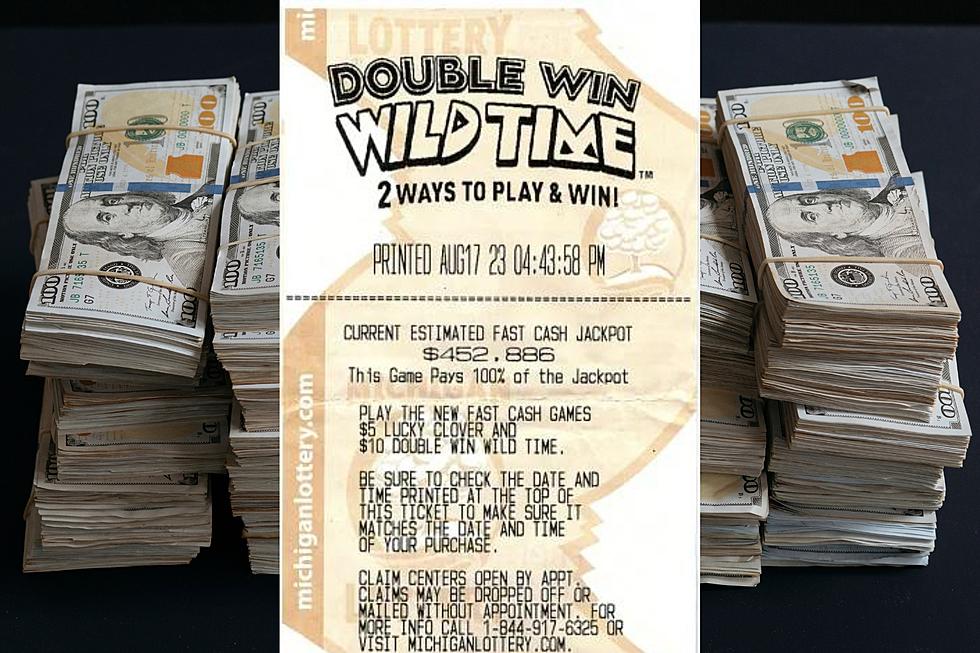 Genesee County Woman Wins $452K – Couldn't Believe Her Eyes
Michigan Lottery, Canva
A Genesee County woman couldn't believe her eyes when she won $452,886 on a Michigan Lottery Double Win Wild Time ticket.
Ticket Sold in Davison
The winning ticket was sold at MoJoe's Food and Spirits, which is located on North State Road in Davison. She and her husband were visiting MoJoe's on August 17 when she bought her winning ticket.
"My husband won $10 playing the Lucky 7s Fast Cash game and asked me to buy him another ticket," the woman told lottery officials. "While I was getting his ticket, I decided to buy two Double Win Wild Time tickets for myself."
The 70-year-old woman from Genesee County was in the right place at the right time because she was greeted with a surprise message when she scanned her second ticket.
"The first ticket wasn't a winner, but when I scanned the second ticket, I got a message I hadn't seen before. I got to better lighting, and looked over the ticket and saw it was a jackpot winner."
She Couldn't Believe Her Eyes
Even after looking the ticket over again, she still couldn't believe her eyes. She then took the ticket to her husband and asked him if she was indeed reading things correctly.
"When he looked at the ticket and realized it was a jackpot winner, he said a few choice words and then we started celebrating with everyone at MoJoe's."
Big Plans for the Money
The woman, who has chosen to remain anonymous, says she plans to use the money to pay off her house, send her husband and son on an Alaskan fishing trip, and share with family members.
Five Michiganians Whose Lives Were Ruined After Winning Big Lottery Jackpots
We all think winning the lottery would solve all of our problems. But you know what they say: "Be careful what you wish for."
Take a look at these five Michigan residents who won life-changing money from the Michigan Lottery. Unfortunately, all of their lives took a drastic turn for the worse after their wins.
Peek Inside Don & Patsy Lou Williamson's Beautiful Davison Home
This breathtaking home in Davison belonged to former Flint Mayor Don Williamson and his wife Patsy Lou Williamson who owned several car dealerships in the area. Their custom-designed home was built in 2010 and sits on 19 acres on the Potter Lake Peninsula. The main home is about 3,800 square feet and there's a stunning guest house on the property as well.
Inside Martin's Iconic Detroit Apartment Building
Remember Martin? The iconic building that served as the backdrop for the series is on the National Registry of Historic Places, thanks to its use in the show.
Although the show was filmed in Los Angeles, Detroit played an important role in the sitcom.