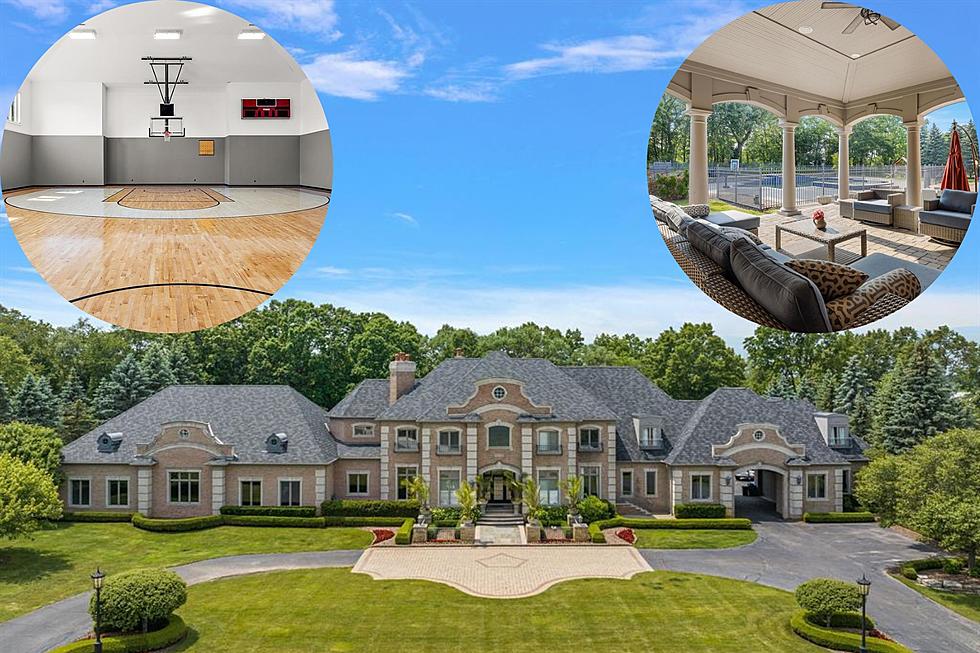 Former Pistons Player Jonas Jerebko's Stunning Rochester Mansion is Up for Grabs
Nina Roumayeh, Real Estate One, W. Bloomfield / Canva
This pricey pad in Rochester has actually been owned by two members of the Detroit Pistons team and before you ask - yes - there is a full- sized basketball court!
SEE ALSO:  Former Pistons Player John Salley Says Selling This 62-Room Detroit Mansion Was a Huge Mistake
Owned by Two Pistons Players
Before Jonas Jerebko got his hands on this stunning mansion, it was owned by Ben Gordon who played for the Detroit squad from 2009 to 2012. Gordon sold it to Jerebko for $2.2 million in 2016, and he's since made a couple of unsuccessful attempts to sell it.
Jerebko has reportedly made numerous renovations, including new flooring and makeovers to both kitchens, which you'll see in the photos below.
Now, it's back on the market for just a little under $4 million.
A Basketball Court, Home Theater, and Lots of Extras
This 18,000-square-foot baller's paradise features a home theater, fitness center, spa, hot tub, covered outdoor patio, and an in-ground pool.
The full-sized basketball court is state-of-the-art and features custom-lined maple floors.
There's not a guest house, but there's plenty of room to entertain with six bedrooms, four full bathrooms, and two half baths.
No Application Required
It's fun to dream, isn't it? You don't have to fill out a credit app or have a big down payment to enjoy the pictures below. This stunning Rochester mansion is presented by Nina Roumayeh of Real Estate One in West Bloomfield. See the Zillow listing here for more information.
Former Piston Jonas Jerebko's $4 Million Mansion
This stunning mansion in Rochester has actually been owned by two former members of the Detroit Pistons.
Ben Gordon, who played for the team from 2009 to 2012 sold it to Jonas Jerebko in 2016. Jerebko has attempted to sell it a few times over the years with no luck.
It's on the market again, this time for just under $4 million.
Geoffrey Fieger's Bloomfield Hills Home
Here's an opportunity to see inside this beautiful home belonging to attorney Geoffrey Fieger. The house is located in Bloomfield Hills with pictures courtesy of
TSA Custom Homes
.
LOOK: Do you know these iconic quotes from '70s TV shows
Stacker
looked through the vast array of groundbreaking 1970s television and identified 25 of its most iconic (and most memorable) quotes.