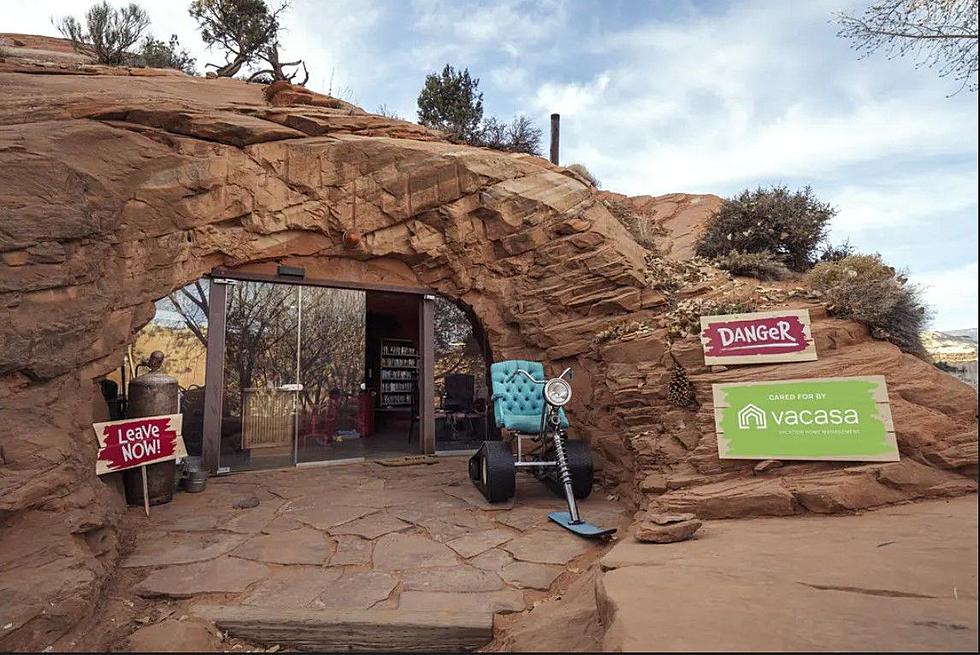 You Can Spend Your Holiday's High Above Who-ville in The Grinch's Cave
Vacasa
"Maybe Christmas (he thought) doesn't come from a store. Maybe Christmas perhaps means a little bit more" - The Grinch. Or maybe it's an overnight stay in the cave of the "Mean" one himself, The Grinch.
Vacasa, a vacation rental company, has collaborated with Dr. Suess Enterprises, to come up with the ultimate holiday overnight experience by recreating the Grinch's cave. You and your friends can live life miserably, not really, just like the green villain turned softy in a cave that has been Seussafied.
The multilevel 5,700-square-foot lair was built into a real mountain just north of Boulder, Utah. You will need to be slightly adventurous to get there since it is remote and will take some effort, and some 4 wheel drive, to make your way up Mt. Crumpit, but once you arrive you will see the journey is well worth it.
According to the Vacasa listing, the cave is pure Grinch complete with green fury shoes to wear. You will find the main bedroom, an additional guest bedroom, and two bathrooms, a study, and a music room. Of course, each of the rooms is decorated with the Grinch in mind and very much like the movie.
There is a playable pipe organ, his Santa costume, and a full kitchen stocked with Who-hash and Who-pudding. All of the furniture is styled after the Dr. Seuss style as well, and there's even a bed for Max the dog, the Grinch's faithful, yet often hesitant, four-legged sidekick.
Bookings are available for a frugal-friendly rate of just $19.57 a night in honor of the book's original release year. You can get more information about available dates here. 
Look: You Can Spend the Night Inside The Grinch's Cave
"Maybe Christmas (he thought) doesn't come from a store. Maybe Christmas perhaps means a little bit more." — The Grinch. That may be true, but spending the night in the Grinch's cave complete with Who-hash and Who-pudding could be cool too. You can rent the uniquely designed and decorated cave to spend a night in through Vacasa. Take a look inside the very Grinchy, yet adorable "home".
LOOK: The top holiday toys from the year you were born
With the holiday spirit in the air, it's the perfect time to dive into the history of iconic holiday gifts. Using national toy archives and data curated by
The Strong
from 1920 to today,
Stacker
searched for products that caught hold of the public zeitgeist through novelty, innovation, kitsch, quirk, or simply great timing, and then rocketed to success.