Stores We Wish Were Still in Town – J.'s Top Five
Being a lifelong resident of Flint, I wanted to reminisce about stores that were once in Flint and have now disappeared. Flint has a vast history from the automotive industry which made Flint a great area to live in and run a business. Some of these stores disappeared after the decline of the automotive world and some are gone due to the growing popularity of chain stores. Take a look at my top five stores that I miss in Flint.

CardCow
There used to be three locations of the Fair Store in Flint, Courtland Center, the South Flint Plaza and the Northwest Shopping Center. All of them closed through bankruptcy in the early 80's. They were full service stores with quality items at competitive prices. 
I worked at the Fair Store in Courtland Center while I worked my way through college. It would best be compared to a J.C. Penny, but it also had electronic and sports departments that most clothing stores didn't have. Ironically, J.C. Penny is now is the same Courtland center location that the Fair Store once occupied
his was one of the first high discount stores in our area in the late 50's and early 60's. I was very young then, but I remember shopping there with my parents.
My most memorable experience with Yankee Stores was a riding lawnmower that my dad bought there about 1959.
He paid $88 for it on sale. We used that riding lawnmower for more than 10 years and never had a problem with it.
There were Yankee Stores all around Flint. There was one on Saginaw Street in Burton, and the one at Dort and Atherton that even had an auto service bay.

Old School Flint
Downtown Flint was the home to Bill Lamb's Record Show. If my memory serves me right, it was located on Harrison Street, near the Flint Journal.
There was also a restaurant called "Uncle Bob's Diner" that was made out of an old railway car that was nearby.
Music was such a hot item in the 50's and 60's with the rock and roll revolution. From Elvis to the Beatles and the British Invasion, Bill lamb's Record Stores were the place to find that 45 or album that you just had to have!
Tim Gray
Montgomery Wards was a national chain, most closely aligned with a Sears type of store. Montgomery Wards' also issued and sold a lot from their catalog, much like Sears did in those days.
I remember on Wards store in the South Flint Plaza on Fenton Road and another in downtown Flint. I think there were more in this area, but I'm not sure of locations.
I do remember that I purchased one of my favorite "high tech" items at Montgomery Wards….a portable record player that ran off batteries. It was as high tech as it got in those days. I bought it in 1967 and had it for many years.
I ruined a lot of records with it because, as you might expect, it would skip rather easily from the forces of nature around you.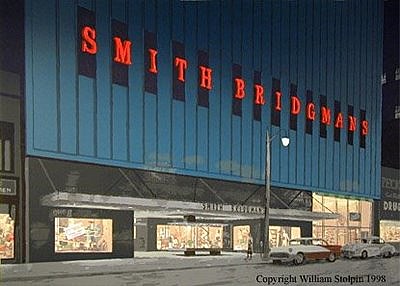 flintexpats
This was a high end retail store in downtown Flint on Saginaw Street. The most memorable thing about Smith-Bridgemans' was they had the only escalator I had ever seen as a kid.
I remember that we would take the bus downtown, and always head for a ride on the escalators at what we called Smith B's. It seems that they were always very tolerant of us as kids riding the escalators.
I never shopped there, or even bought anything there, but the rides on the escalators was always fun!