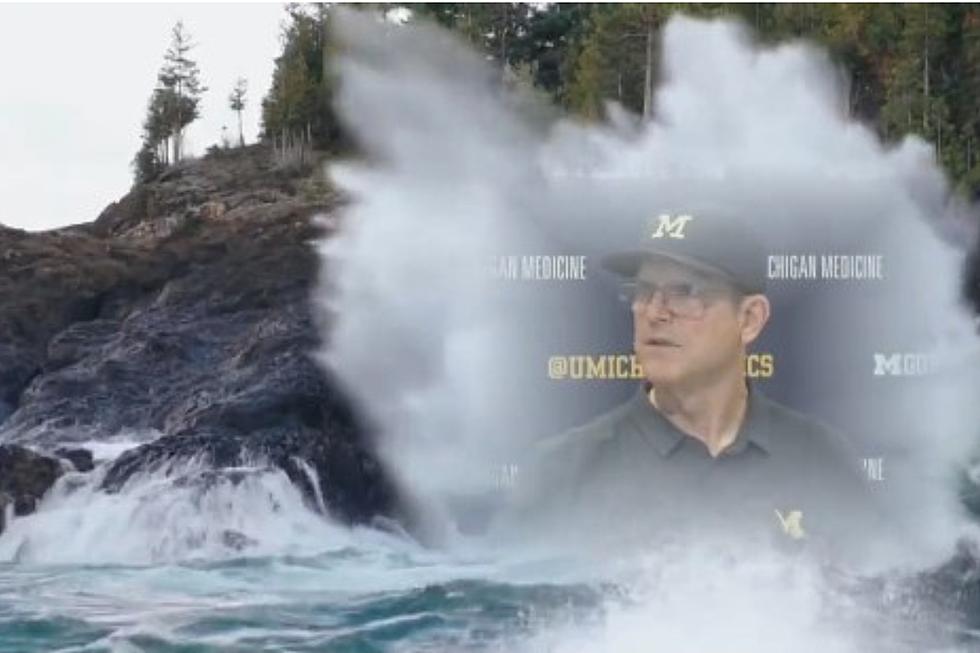 Ouch – Pure Michigan Parody Pokes Fun at Wolverines' Sign Stealing Scandal
Dave Holmes via X
Well, it was bound to happen. A parody of the Pure Michigan commercials has been created, poking fun at the University of Michigan's sign-stealing controversy.
Jim Harbaugh Controversy
University of Michigan Head Coach Jim Harbaugh is serving a three-game suspension for his part in a controversial sign-stealing plot. Harbaugh has denied having any knowledge of the sign-stealing scheme, allegedly orchestrated by ex-Wolverines staff member Connor Stalions, however, he has agreed to serve the suspension without litigation.
However, this puts the Wolverines head coach out of the game for this week's much-anticipated matchup against the Ohio State Buckeyes.
Ironically, the Pure Michigan spoof was created and narrated by Ohio broadcaster Dave Holmes. The WBNS-TV sports anchor created the video which mocks the Tim-Allen-style campaign created to trumpet Michigan tourist attractions.
Tim-Allen-Style Ad Needles Jim Harbaugh
The parody begins in the same manner as many Pure Michigan ads, with scenic shots of Michigan's beauty, but then quickly turns to footage of what appears to be Connor Stalions, recently fired linebacker coach Chris Partridge, and Jim Harbaugh.
"There's a place where the sunrise meets the horizon, where the water meets the shore," the ad begins. "And the truth meets the trash can. Where even the deepest of Great Lakes don't run as deep as the network of spies."
The ad goes on to reference Partridge's recent firing and calls Michigan "a state of denial."
"We'll take your tourism dollars. We'll take your signs," Holmes continues. "But we won't take accountability."
Although the parody is notably harsh, it's hard to say it's uncalled for. The alleged sign-stealing scheme really did make Michigan vulnerable to this sort of criticism.
Take a look at the clip on X below.
Take a Peak at U of M Coach Jim Harbaugh's Multi-Million Dollar Estate
University of Michigan's Head Football Coach Jim Harbaugh million dollar estate in California is quite the place. The estate has an 8,500-square-foot home and a guest house with five bedrooms. There are a total of eight bathrooms between them. The estate covers 1.3 acres in Atherton which is considered one of the most affluent locations in the area near Stanford University. The home just sold for $11.78M. Take a look inside.
Gallery Credit: Zillow
A Look Back at What Happened to Michigan's Popular Sugar Loaf Ski Resort
The once-popular northern Michigan ski resort was finally demolished in November of 202. Before its final demise, it lay in ruins for years. Considered at one time to be one of the best ski resorts around, the lodge would see 3,000 to 4,000 skiers a day and was once the largest employer in Leelanau County. Take a look at the creepy shambles Sugar Loaf was left in for years.
Gallery Credit: Riley Fagan
Michael Moore's Former Home on Torch Lake
Take a look inside one of Michael Moore's former Michigan homes, selling recently for just over $4.3 million.
Gallery Credit: George McIntyre