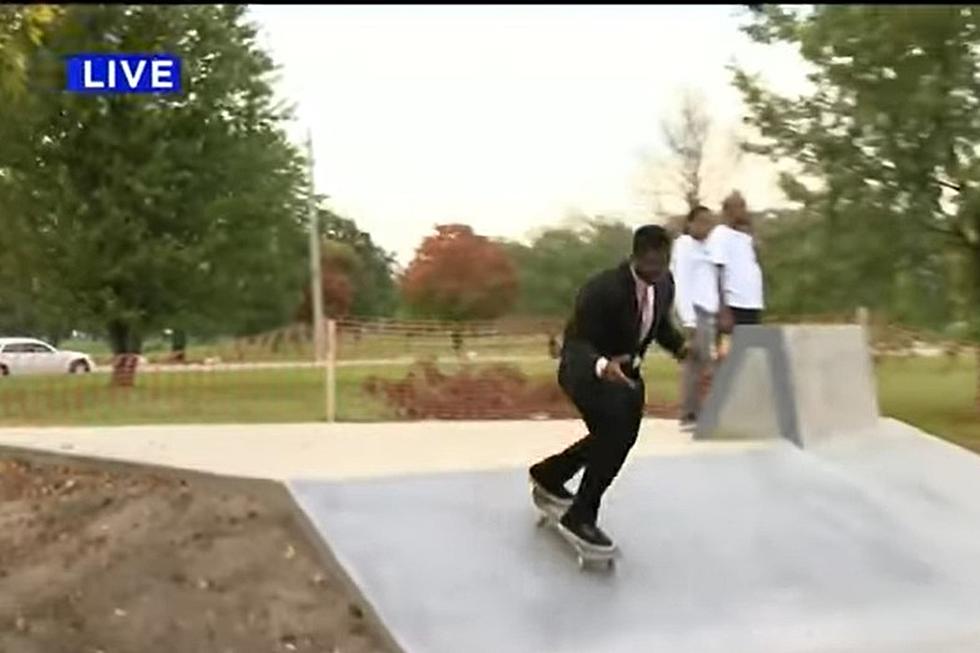 Michigan TV Reporter Shows Off Cool Skateboarding Skills During Live Shot [VIDEO]
Click On Detroit | Local 4 | WDIV via YouTube
A well-known TV reporter is going viral after showing off his crazy cool skateboarding skills on TV. Victor Williams was doing a live shot in Detroit, reporting on a new skateboarding park that is nearing completion.
You may have seen Victor Williams reporting for WDIV-TV in Detroit. The station is a featured channel on Spectrum TV service in the Flint area.
Williams covered the story better than any TV reporter we know could. After interviewing a Detroit area man - known as Mr. Premium - who's been giving free skateboard lessons to local kids, Williams hopped on his board to close out the story before sending it back to the studio.
"And so Mr. Premium is going to be out here every single Monday and Wednesday, skateboarding with everyone," Williams said as he nears the top of a ramp. "And trying his best to basically show them exactly what to do."
Williams' moves seemed to surprise the WDIV anchors back in the studio, who praised their coworker for his moves.
"Victor you are so cool!" Karen Drew exclaimed as Williams threw it back to the desk. "I knew he was cool, but that's a whole new level."
Williams told the crew he's been riding a skateboard since he was 8 years old.
Chandler Skatepark is located on Detroit's east side. The new 11,000 foot facility is expected to be fully open in just a few days.
Watch Williams' moves in the video below.
Take a Peek Inside Eminem's Oakland County Mansion
At one time, this mansion was known as the Kmart Mansion because it was owned by the CEO of Kmart before it was purchased by Eminem in 2003. The rapper lived in this house in Oakland County as recently as 2017 and has since purchased another beautiful home in Clinton Township.
The furniture inside the 17,500 sq. foot crib isn't Eminem's, but the outside pictures are reported to be older photos, so yes, we are led to believe the cars did belong to Mr. Mathers.
This Muskegon, Michigan House isn't Haunted, It just has Great Bones
Don't let the creepy skeleton deter you, this house has some great bones. And no, it's no haunted. Five Star Real Estate just came up with a hilarious way to get their point across; this house may not be super pretty to look at...yet. But it has great bones! And we're not just talking about the human skeleton in the pictures. This house has great bones for anyone out there with a DIY spirit and some time on their hands. Check out all the potential this house has to offer.